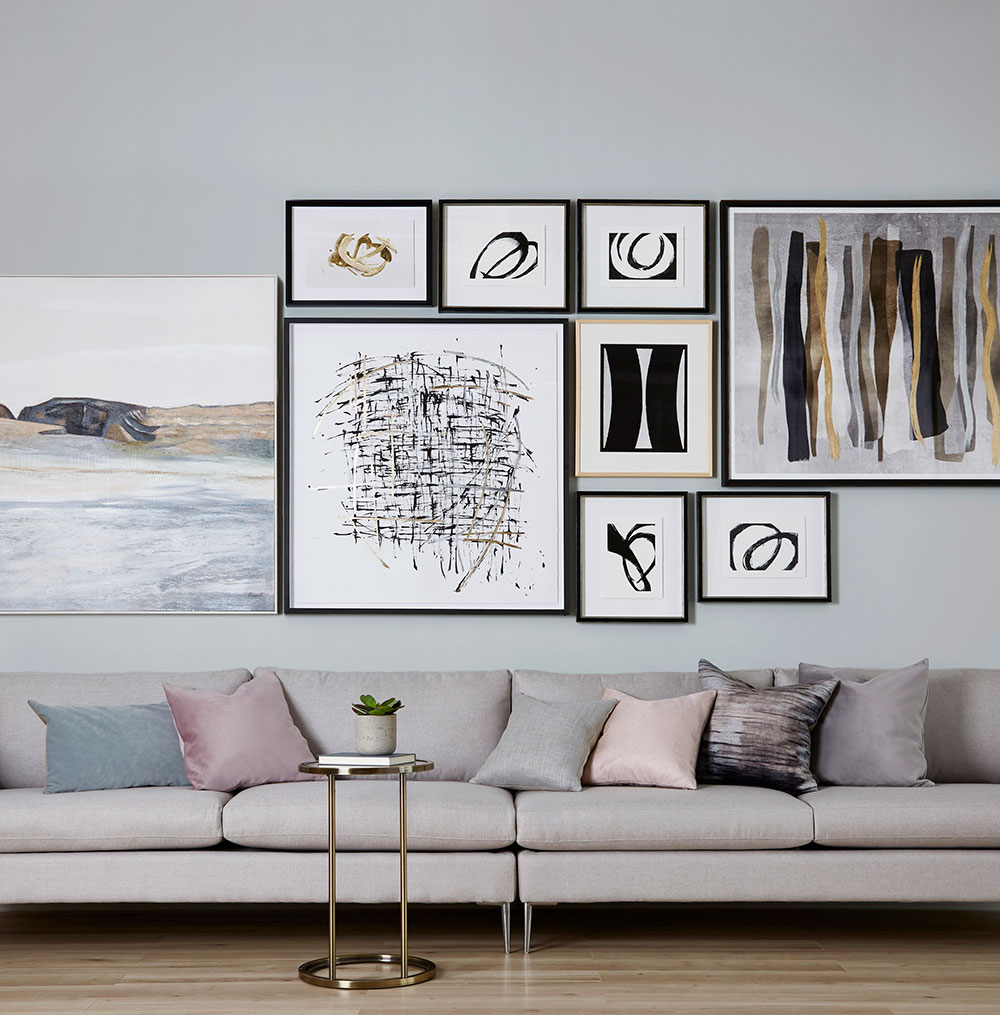 If you have a large, unused wall space in your home, take a cue from this room and create a statement wall with a personalized art collection and functional seating. If you're someone who entertains often, a statement wall like the one above is sure to impress while allowing for extra seating for guests. This concept works especially well in an open-concept home where lines between the function of each space are flexible.
Want to create a statement wall of your own? Here's how we designed ours in three simple steps:
Artwork. When planning out our gallery wall of art, we opted for a straight line along the top for streamlined uniformity but allowed the pieces below to fall organically so as not to look too structured. We used a variety of sizes and frames for the art but kept a consistency in the colour palette and theme. In this case, we chose mostly abstract pieces with curved and unruly shapes while sticking to a black, silver, and gold colour palette.
Extra-long sofa. Beneath our gallery wall, we wanted to create a comfortable seating area to make the space functional. When it comes to an extra-long sofa, there's no need for custom; you can purchase the left and the right arms of a sectional for the same effect at a more affordable price point. Here we used the left and right arms of our Pearce sectional upholstered in Natural Grey for a dramatic sofa that still feels fresh and light.
Decor. With an extra-long sofa, there are plenty of options when it comes to accessorizing. Here we used several individual cushions to complement and coordinate with the colours in the artwork above. We chose a variety of textures including velvets and silks to create a dynamic look, and opted for a small pull-up table along the sofa to keep the space feeling airy and light. The modern brass finish on this Winston round accent table was the ideal choice to complement the gold tones in the art.
Photography by A Plus Creative.