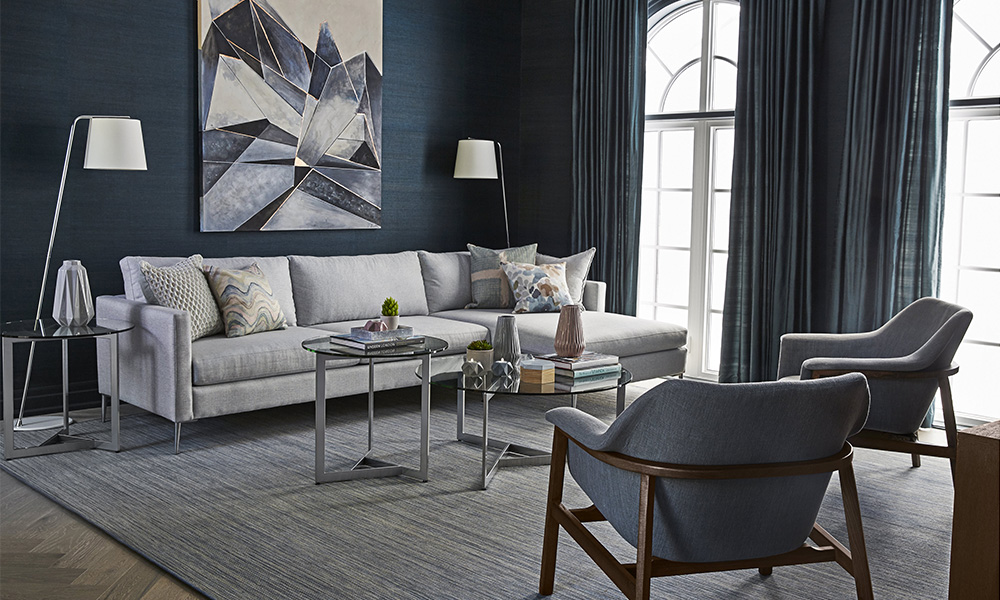 When it comes to lighting, style isn't the only thing that matters; scale is also incredibly important. When choosing a new lighting fixture, make sure to pay attention to how the new fixture will work with the proportions of its surroundings. Otherwise, you risk the light looking out of place with the rest of the space.
Below we share some tips for choosing the right scale of lighting based on your existing space:
The Size and Height of the Room
One of the first things to consider when selecting lighting fixtures for a space is the size and height of the room. For larger rooms with high ceilings, be sure to fill the space with more and larger lighting fixtures. Vaulted ceilings typically also allow for larger and more dramatic hanging fixtures.
Always Consider Eye Level
When sitting on a sofa or chair – or even sitting up reading in bed – you want the task lighting offered by a floor or table lamp nearby to hit at the right height. The bottom of the lamp shade should hit at or just below eye level to avoid irritable glare. Before shopping, sit on the sofa, chair, or bed you'd like to place the lamp next to, and measure the distance from the floor or table to your eye level to ensure you find the right fit.
Lamps and Side Tables
Consider the size of your table before deciding on the style of lighting to pair it with. A small side table has limited surface space, so try a floor lamp to conserve space on the table for drinks, decor, and books. For larger side tables, you can use a table lamp and still have enough room for these items. A general rule is to choose a lamp that is no taller than 1.5 times of the table, and a lampshade diameter that is no larger than the table's surface.
Brian's Tip: Floor lamps are great behind sofas where you don't have room for end tables, or if you have very small tables.
Lighting Over a Dining Table
For ceiling pendants and chandeliers over a formal dining table, kitchen island, or breakfast nook, always take the length of the table into consideration. A longer table can support a larger, linear chandelier or multiple fixtures, while a small table will likely support one smaller chandelier or pendant.
Choose fixtures that are two thirds to three quarters of the width or diameter of the table, and be sure to keep roughly half a foot of clearance from the fixture to the edge of the table to avoid any bumped heads. Centre your chandelier or pendant over the table or island. If you're using multiples, evenly space the lights above the surface.
For more tips on lighting and scale, watch Brian's Cityline segment on Three Interior Design Rules to Pick the Perfect Light Fixture below: