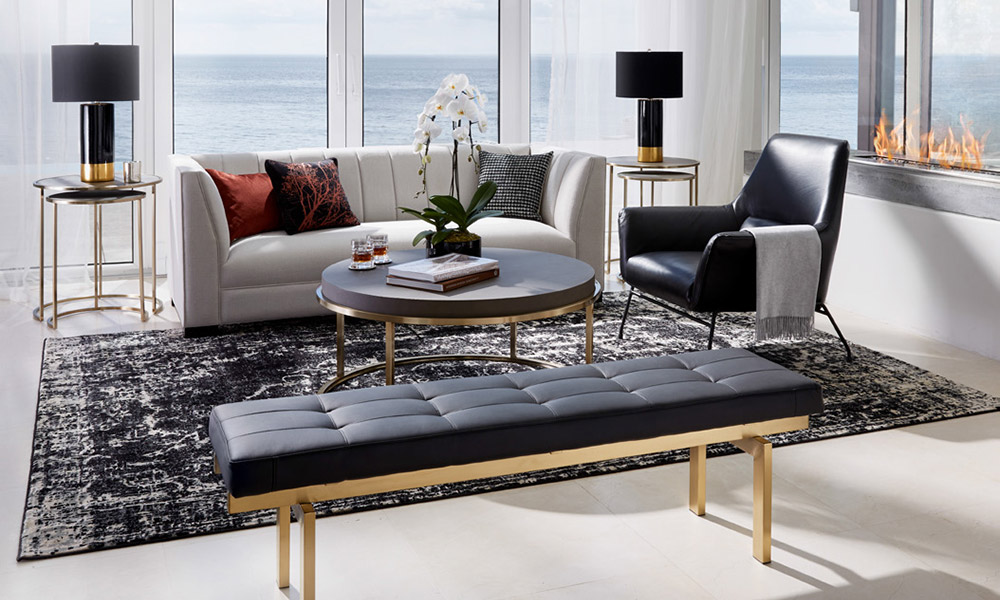 Bring an easy glamour to your living room this fall by creating a sophisticated space you can enjoy. Whether you're looking for a whole room makeover or just want to add a few pieces, keep these five tips in mind and decorate your room with an understated elegance.
Add a Touch of Black
Nothing anchors a room more than touches of black. Strike the right balance between too much (which can make a room feel dark and overbearing) and too little (where it makes no statement at all).
Brian's Tip: Look for furniture and accessories that have delicate profiles to keep the hits of black thoughtful in the space.
Warm Metallics
Warm metallic accents add instant glamour to the room. Accessories and finishes in soft mellow gold, pearlized bronze, warm copper and rose gold feel modern and help soften and warm the space.
Interesting Details
Furniture and decor with interesting details elevate the look of the room. Button tufting, stitching details and channel quilting are all simple ways to add a glamorous feel to furniture. For side tables, lighting and rugs, look for pieces with understated patterns and refined profiles to add a subtle sophistication to the room.
Luxe Materials
Glamour is just as much feel as it is look. Leather-like materials with a buttery softness partner well with a silky feeling rug. Luxurious upholstery with well appointed accent cushions helps create the tactile experience of the room.
Thoughtful Decor
A room feels pulled together with a few thoughtfully selected accessories. For a curated look, try mixing metallic finishes with glossy ceramics and milky glass vases.