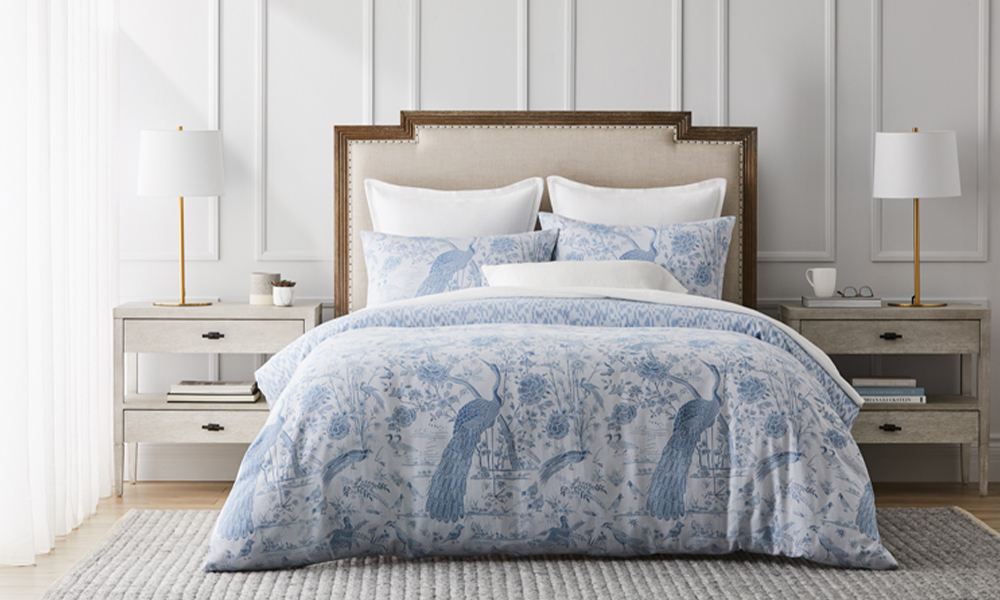 The bed is the largest piece of furniture in the bedroom. And that means it's packed with potential to make a big design statement. So, what better way to showcase your personality than with patterned bedding? It's the easiest and most impactful way to shake up your bedroom style and experiment with new looks for a space that feels fresh and full of charm. Whether printed on silky smooth Tencel or woven in Portugal with 100% cotton for a textured look and feel, patterned bedding is a quick way to add luxurious comfort and gorgeous style to any bedroom.
We're highlighting some of our favourite looks for the bedroom right now:
The Pastel Paisley
A paisley pattern is classic and refined. It looks gorgeous when woven subtly into soft toned bedding. Pair paisley with crisp white sheets for a fresh look.
The Oversized Floral
Sometimes with flowers, bigger is better. We love the look of larger-than-life florals in the bedroom. And when it's printed on silky smooth Tencel bedding? Even better.
The Chinoiserie-Inspired
Are you someone who loves Chinoiserie wallcoverings but aren't quite ready to commit? Chinoiserie-inspired bedding may be perfect for you. To keep your bedroom calming, go for a pattern with just one colour. We like particularly like varying shades of serene blues.
The Bright Blue Blooms Pattern
Make it feel like springtime all year round. A pattern that features branches with fresh blooms feels fresh any season. A few pops of deep colour on a cool blue palette make this bedding truly eye-catching.
Lead photo courtesy of Hudson's Bay