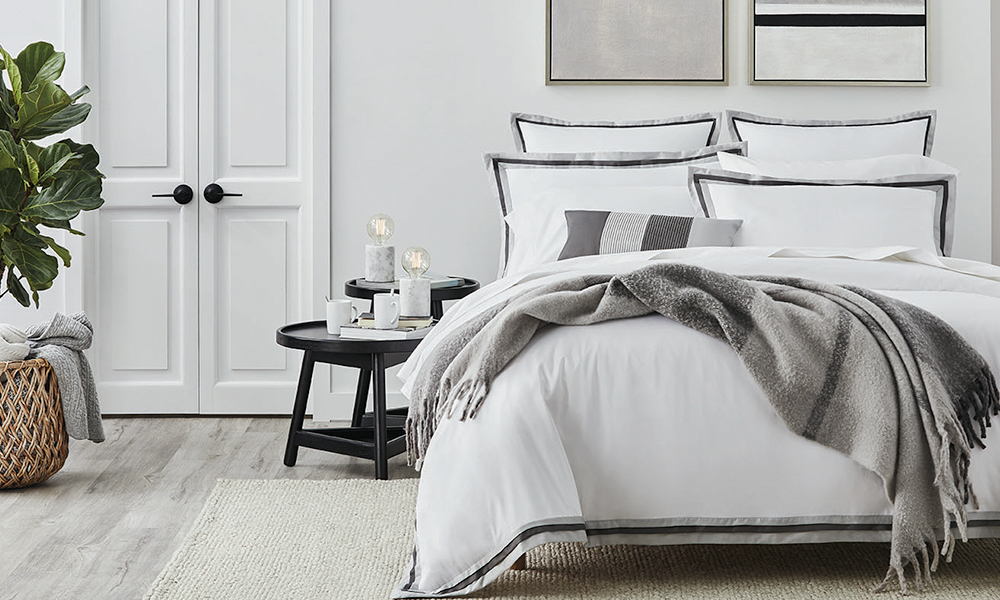 Spending more time at home these days means you're going to want your home to be a calming, cozy oasis from the outside world. Having a beautiful, comfortable bedroom to start and end each day – or maybe even work from in between – is key to enjoying your space. To help you turn your bedroom into a stylish sleep sanctuary for more peaceful nights, we're sharing our top tips below.
Keep your bedding fresh
When it comes to bedding, opt for high quality sheets that will make your sanctuary feel a little more luxurious. Change up your bedding often to keep things fresh. Try different materials like smooth sateen, soft linen, crisp percale, or silky Tencel, and experiment with new bedding patterns and solids often for a new look. Consider washing everything more often if you're spending more time in the bedroom. You'll want to have at least three sets of sheets on hand – one on the bed, one in the laundry, and one in the linen closet.
Adjust the environment
Since a lot of us are working out of bed these days, you might want to adjust the environment from day to night. During the day, fold your duvet to the front of the bed and just use a blanket. In the evening, pull the duvet back up for a cozy sleep.
Pile on the pillows
Add comfort with more than just your basic sleeping pillows. Mix in euro shams and regular sham pillows as these will allow you to more comfortably prop yourself up when reading, talking on the phone, or working on a tablet in bed.
Block out the noise
Not only do soft textures like rugs and upholstered headboards add a luxurious feel, they also help insulate the room to block out any distracting noise, meaning a better sleep – and more focused workspace – for you.
Brian's Tip: "I almost always recommend an upholstered headboard. They add a real coziness and block out noise for a good night's sleep. It's also really comfortable to lean against when working from bed or watching TV."
Choose the right light
Wall sconces or table lamps on either side of the bed add an inviting glow in the evenings. For overhead lighting, install a dimmer switch to make sure you get just the right amount of light, morning through night.
Try aromatherapy
Many people swear by lavender as the go-to essential oil for sleep and relaxation. It's an incredibly soothing scent and has even been used as a natural remedy for anxiety. Try some lavender oil in a room diffuser or a lavender pillow spray to mist on your bed each night for an instant sleep sanctuary.
Fluffy robes and spa slippers
For the spa experience at home, invest in a high-quality cotton robe and plush slippers for your ensuite to make you feel like you're getting the royal treatment every day.
Set the right sleep temperature
Getting the right temperature is key to creating a bedroom sanctuary and getting quality sleep. Set the thermostat a little lower than the rest of the house if you can, crack a window for better ventilation, or try a temperature control duvet with technology to cool you down when you're too hot and warm you up when you're feeling chilly.
Photography courtesy of Hudson's Bay