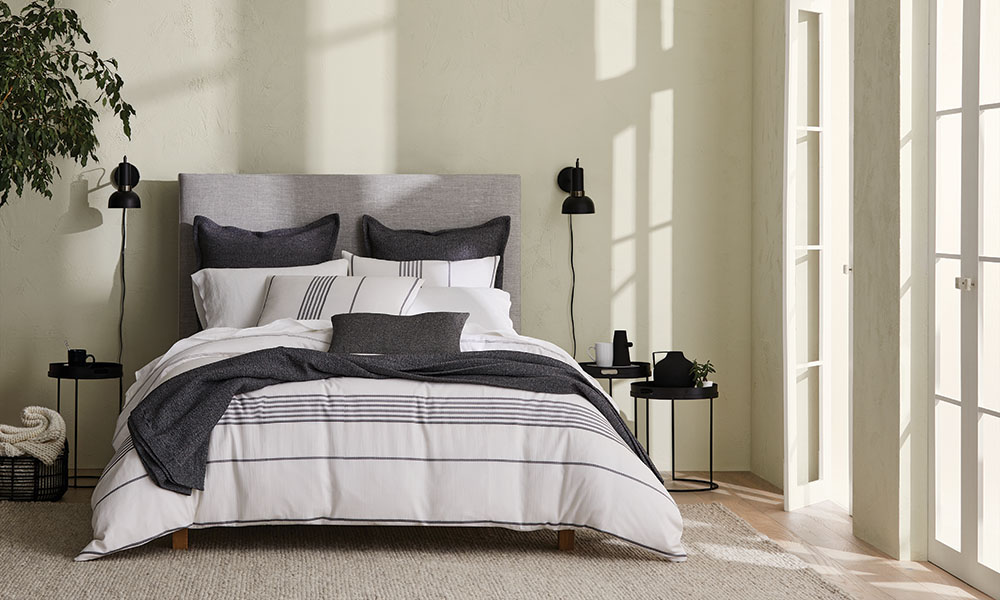 We all crave a good night's sleep, and there's nothing more luxurious than slipping into a perfectly styled bed at the end of the day. From an impossibly fluffy duvet to artfully arranged pillows, a Pinterest-worthy bed can seem like an unattainable dream. But a few simple steps each morning will take you from basic to extra-inviting come nightfall. Here's Brian's formula to making the perfect bed, featuring a few pro secrets and styling tricks.
1. The Sheets
Start with the flat sheet. Place it reverse side up and fold the top over so that the finished side of the sheet is exposed.
2. The Duvet
For a fluffy looking duvet with tons of volume, the secret is in the fold. Lay the duvet over the bed and fold it in half from the top of the bed down. Then fold that top section in half again, this time bringing it back up towards the top, in an "s" fold, to create a nice thick section in front of the pillows.
3. The Euro Shams
For the pillows, start with large Euro squares at the back, placed upright against the headboard. This not only adds height, but also layers in stylish pattern or texture. Use two Euros for a queen or full bed and three for a king.
4. The Shams
Next, place your pillow shams in front of the Euros. Pillow shams are used to cover extra sleeping pillows and they add polish to the bed. Be sure to use the correct size for your bed, whether it's queen/full or king.
5. The Sleeping Pillows
Layer your sleeping pillows in next and place them in front of the Euro shams.
Brian's Tip: When your sleeping pillowcase starts to look wrinkled, tuck it between your sham and decorative cushion, so it's covered.
6. The Decorative Pillows
Finally, mix in decorative cushions for additional pattern and contrast. A group of three creates a perfectly layered look that breaks up the symmetry of the other pillows. Or go with a pair of toss pillows in two different sizes: try one in a neat square and the second in a longer lumbar style.
Watch below for more of Brian's bed-making tips.
Photography courtesy of Hudson's Bay