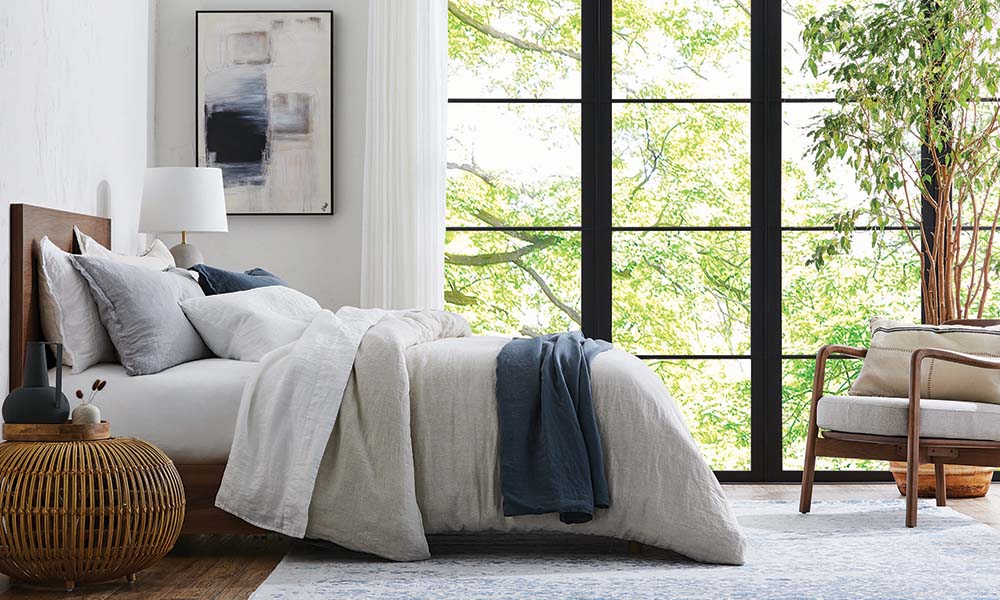 Trust us when we say, now is the time to consider a summer bedroom makeover. More than any other space in the house, the bedroom represents a true place of comfort. It's a quiet retreat at the end of a long day, a place to spend lazy weekends reading, but most importantly where we rest and recharge. During the fall and winter, we look to flannel sheets and faux fur throws to combat the early darkness and cold nights that accompany the season. Now that summer has arrived, it's time to lighten up the bedroom and create a relaxing and inviting refuge for the warmer months.
Here are a few tips for an easy summer bedroom makeover:
Keep it feeling light and bright
For the perfect summer bed, look to the relaxed texture of French linen in natural hues. Lightweight and breathable, French linen sheets and duvet covers get softer with use and look effortlessly stylish. Layer in other textures like a woven matelassé coverlet or lightweight cotton knit blanket. Consider swapping heavier drapery to linen panels to allow more natural light in. And now is the perfect time to switch to a temperature enhancing duvet that helps regulate body heat to give you a cooler, better sleep.
Brian's Tip: On warmer nights, use a coverlet or light blanket with sheets to keep you covered but cool.
Have fun with accents
You don't need to completely redo your bedroom for the season but bringing in a few accent cushions or a new lamp can help capture the laidback feeling of summer. Easily changed accessories in natural textures add a fresh, summery look to the room. Go for pieces with washed wood finishes and linen backed pillows in a gelato inspired palette of soft pink or minty green.
Let nature in
Plants, fresh flowers, or branches can give the bedroom an instant infusion of summertime. Greenery not only adds life to a space, plants also help to keep the air clean in your bedroom which can create a better sleep environment. They also give you a connection to nature and the outdoors, which we tend to crave in the summer months. For a beachy inspired look, put your plants in baskets made from natural materials like woven hyacinth.
Want more warm weather bedding tips? Check out Brian's advice in this video:
View this post on Instagram