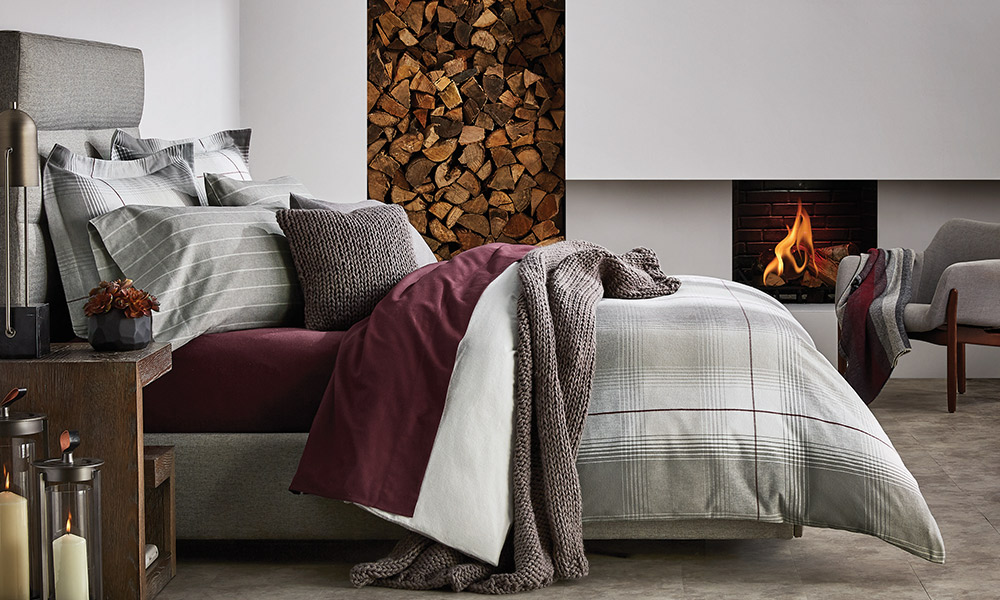 Pictured: Collin Flannel Bed
1. Flannel fabric is brushed for extra softness
The softest flannels undergo a process of being brushed by fine, metal brushes to create thin fibres. This process makes the fabric luxuriously soft on skin, making for the perfect cozy bed you'll love jumping into at the end of the day.
2. Flannel ups the warmth, without the added bulk
Flannel sheets will keep you warmer than other fabrics, since it's a far better insulator than other materials. Because of the short fibres and fluffy pile of flannel, the fabric has more space between the fibres for trapping air, which ultimately traps more heat.
Pictured: Carson Flannel Bed
3. Flannel is a great excuse to bring in seasonal pattern
If you're someone who typically doesn't like to shy away from a solid white bed, flannel can be a great seasonal excuse to experiment with pattern. Classic flannel plaids look luxuriously cozy in the winter months. Start with a flannel sheet set if you want to bring in just a little bit of pattern or colour.
4. Flannel is easier to care for than other winter bedding
Silken or wool bedding can be difficult to care for as they need specialty dry-cleaning techniques. Flannel is a great winter fabric that is lower maintenance –  just machine wash in warm or cold water, avoid fabric softener as this will stiffen the fabric, and wash and dry sheets on a gentle cycle to avoid pilling.
For more on flannel bedding, check out this CityLine clip
Photography courtesy of Hudson's Bay