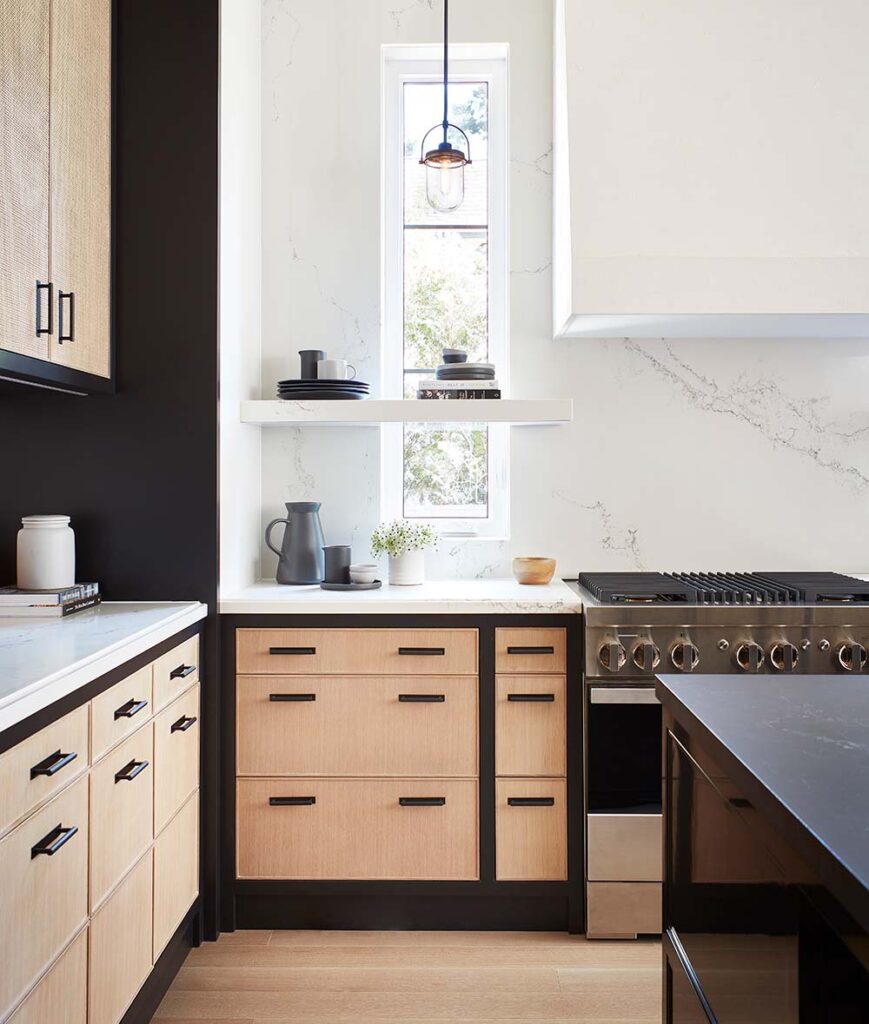 The kitchen can be the most exciting, and overwhelming, space to design and renovate at home. When it comes to creating your dream kitchen, there are so many design elements to consider. Think lighting, cabinets, appliances, islands, counters and backsplashes, just to start. Brian recently answered your kitchen design questions covering topic from x, y to z. Ready to start planning a functional and stylish kitchen that's perfect for you? Read on for all his tips and advice.
Countertops + Backsplashes
What's the best countertop material to use?
Brian: It depends on your lifestyle. We're doing a lot of marble. But even if marble is sealed, it will etch and stain over time, so you have to be ready to embrace and love that patina. Quartzites are natural materials that are very strong like granite but look more like marble. They're great but very expensive. And then there are manmade quartz materials like Ceasarstone, Silestone, and Dekton. These can handle heat, stains, everything. If you have an active family, manmade quartz would be a great choice.
How do you choose a backsplash that compliments the countertop?
Brian: Usually through colour. If you have a solid countertop, maybe you do a subway tile in the same colour or an octagon.
Will hex tiles as a backsplash become dated quickly?
Brian: I don't think so. Hexagon tiles are classic, and we've been using them since the 1920s. However, it depends on the colour – bolder colours and patterns may go out of style. If it's a neutral colour especially, it will last.
Flooring + Finishes
Is black hardware out?
Brian: No, black is a neutral and it offers a nice contrast in a kitchen. I typically like matte black. It's a little softer and doesn't show marks.
How many different types of metal can you use in a kitchen?
Brian: I would say two. You could do two different colours, then have several different finishes. For example, you could do stainless and brass, but mix it up by having some pieces be shiny and others matte. But I wouldn't do three different colours, like black and brass and nickel. I think it's just too much.
Tile, luxury vinyl, or hardwood for flooring?
Brian: Your kitchen flooring choice depends on your lifestyle. If it's a busy house with a lot of traffic, especially from pets and children, luxury vinyl is great. My preference is for natural wood, but sometimes it's just not practical. The luxury vinyls look so real these days, and if you can match it to the natural wood in other areas of the home, that's perfect.
Pot filler – yay or nay?
Brian: I don't use them. I don't like a faucet without a drain underneath it. If a pot filler ever goes off accidentally, I don't want my oven filling up with water. In fact, in some jurisdictions, they won't allow them because of the risk of leaking and causing damage.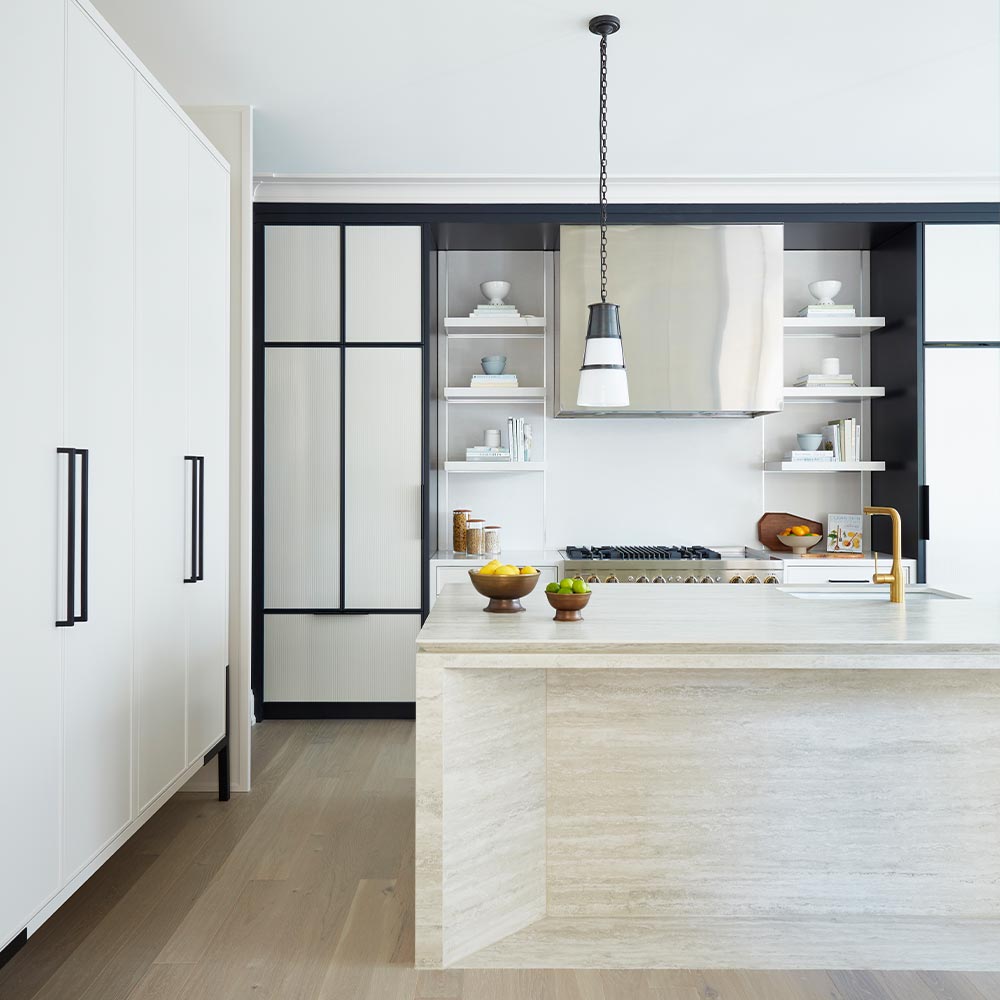 Cabinets
How do you decide what colour cabinets to get?
Brian: I like to go subtle with the cabinet colour because it's not something you want to change often. Think about the foundational colours you have throughout your house and how the cabinets connect with that. I would say keep it more neutral, then have fun with the backsplash and wall colour if you like.
Is the trend fewer upper cabinets and more open shelves?
Brian: The trend in kitchens is fewer upper cabinets but not less storage. We're doing a lot of open shelves. That makes it a little more comfortable when you're working at the countertop because you're not in front of a door. It's also a great way to style and personalize a kitchen.
Design + Renovation Tips
Where do we stand on white kitchens?
Brian: I think, depending on the design, white kitchens never go out of style. You can update them with new counters, furniture, and paint. A classic traditional or very simple modern kitchen won't go out of style. I mean, we're getting tired of them because we've seen so many, but I think now it's about mixing the look up with subtle colours, woods, and metals to warm it up.
What's a good way to inject personality into the kitchen?
Brian: An easy way to inject personality into the kitchen is with colour. Find a great wall colour, cabinet colour, or high-durability vinyl wallcovering. You can also inject personality with interesting tiles for the backsplash, unique counter stools, or a cool runner in front of the sink.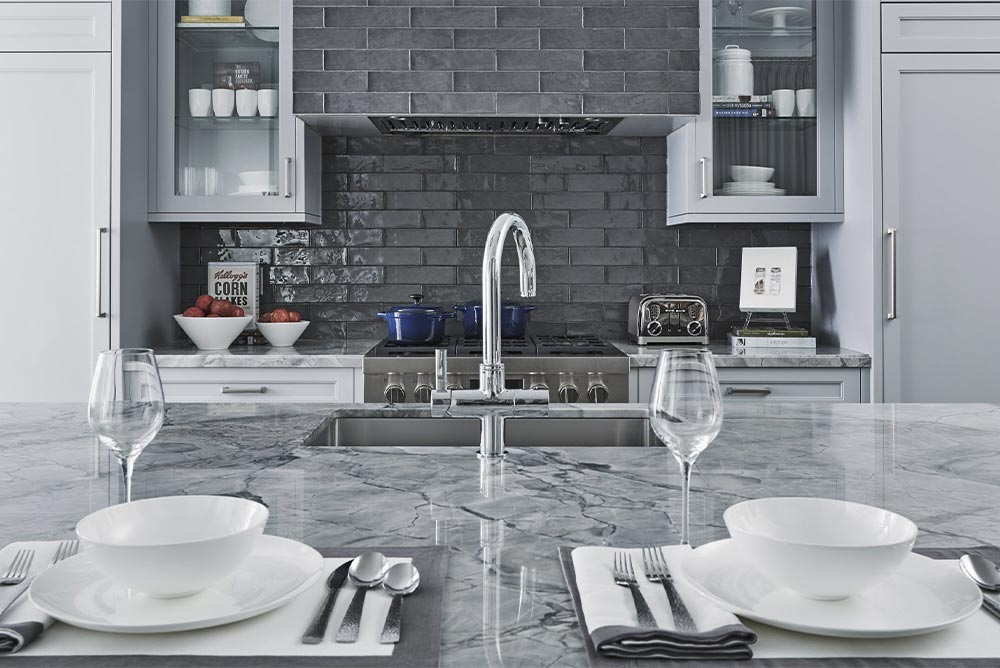 Is it better to start with the appliances you want or the cabinetry layout first?
Brian: You have to know what appliances you're using before you design the kitchen, because appliances come in many different sizes. You need to know whether you're doing wall ovens, how large of a dishwasher you'll have, and if you're doing a slide-in range or a freestanding one, for example.
I can't afford a full renovation. Is it worth it to change the countertops from laminate to quartz as an update?
Brian: Yes, if you want to update your kitchen but can't afford a full reno, changing the countertop and backsplash is a great way to do it. For example, you can update laminate to stone and add a tile backsplash. And maybe paint your cabinets and change the hardware.
Photography by Angus Fergusson and A Plus Creative