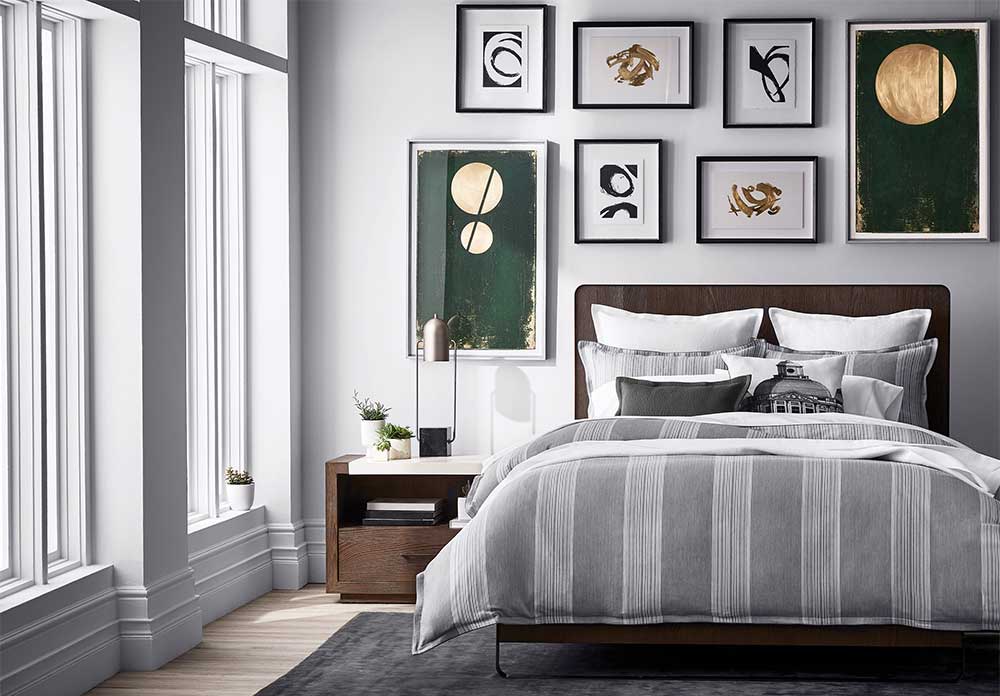 Artwork gives a home colour, pattern, and most importantly, a soulfulness. It's personal and a direct expression of your style and point of view. Selecting and displaying artwork is one of the most exciting – but also intimidating – aspects of creating a space you love. The good news is that there are no real rules around how to buy and display art. With our tips below in mind, you can easily build your own art collection with confidence.
Go big
Don't be timid when it comes to choosing art. A common mistake is to buy and display art that's too small for the space. Consider larger format pieces and aim to fill the wall.
Multiply
If you have a number of smaller pieces you love, group them together in a gallery style. The key to a successful gallery wall is selecting art pieces that evoke a consistent mood. Hang the pieces in either a grid format or an organic, free flowing formation.
Consider height
When deciding where to hang a piece, don't worry about how much wall space is above your art. It's more important that your art relates to the furniture in the space and hanging it too high can create a disconnected look. Ideal placement will depend on the proportion of furniture, the size of the art pieces, and the dimensions of the wall, but a simple guideline is to hang pieces six to eight inches above your furniture.
Go local
Support local artists and select unique pieces of art to buy that reflect your personal style. Consider attending nearby art events featuring emerging artists, check out community art fairs, and connect with local artists and galleries on Instagram.
Use your intuition
Above all, buy and display art that you love. Don't worry about your coordinating with your decor. If you're truly drawn to the piece and have designed a space that you love, it will look good. Trust your intuition and don't overthink it.
Act fast
When you find a piece of art that really speaks to you, don't hesitate. Unless you're purchasing photography or a limited-run print, art is one-of-a-kind, so when you fall for a piece, act fast and don't miss out.
Photography courtesy of Hudson's Bay