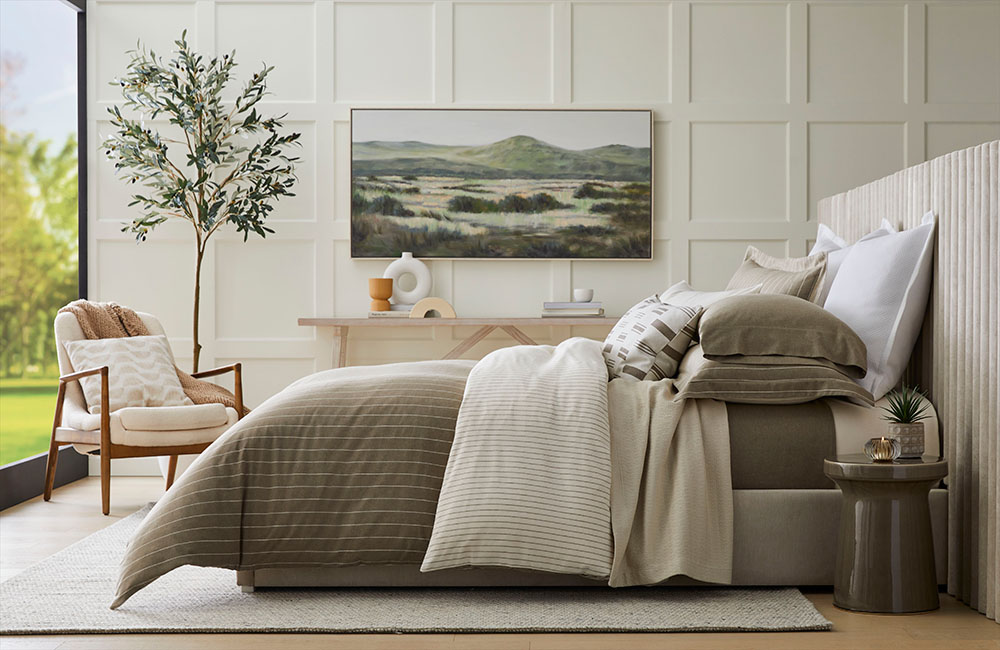 Neutral bedrooms have been having a moment, and it's easy to understand why. These earthy, airy spaces can be incredibly calming, a quality we often crave at the beginning and end of our busy days. It's refreshing to have a space that feels tranquil and limits distractions when you're going through the ritual of a morning routine or unwinding during your nightly one. What's more, a neutral bedroom offers a blank canvas and timeless look that's easy to update over time if, in a few seasons, you decide to embrace a few pops of colour in your bedding or art.
It goes without mention that neutral bedrooms can be incredibly beautiful, too. However, as with any more monochromatic space, there are a few key steps to making sure yours still has plenty of eye-catching interest and doesn't fall flat. Here are our simple tips for creating a calming, cozy neutral bedroom you're going to love looking at, just as much as you love spending time in.
1. Choose your base colour for the walls + larger pieces
The first step in designing your neutral bedroom is to decide if you want your bedroom to be cool and fresh or warm and sunny. If you're more interested in the warm and sunny, look for a base colour with undertones of reds, yellows, or oranges. If you prefer cool and fresh, find a base colour with undertones of blues, purples, or greens. Stick entirely to cool or warm tones – whichever you decide on – to help bring a satisfactory cohesion to the space. If you aren't sure, hold your samples up against a white piece of paper or ask a customer expert for some advice. Once you've made your choice, envelop your space in the colour through your larger items like the rug, bedframe, and wallpaper or paint. Everything doesn't have to match, but the hues should be similar and complementary.
2. Layer in contrasting accent colours
Once you've got all your larger base pieces settled on, it's time to layer in a bit of contrast through accent colours. You'll want to select two to three accents colours, peppering them throughout the space. If you chose a lighter, warm cream base, for example, you might want to add in contrast with some deep brown or mid-beige accents through toss cushions, a side table, bedding, or smaller décor. Aim to use a light, mid, and deep colour throughout your base and accents to add some variation to all those neutral hues.
3. Incorporate texture
The key to any neutral, more monochromatic space is to have some fun with texture. Since you won't be going bold with bright colours on the walls or through your art, you're going to want to focus on incorporating plenty of interesting textures to add allure to the room. Think about laying down a classic jute rug, pretty rattan baskets, a channeled headboard, boucle accent chair, or a cerused oak console table for some beautiful texture that both looks and feels great. When it comes to texture in a neutral bedroom, the more variation, the better.
4. Add cozy, soundproofing accents
To make a very calming, quiet space, you'll want to have some soundproofing in the room. The best ways to limit noise are with a large area rug and an upholstered headboard, especially an oversized one if you can. This will soundproof the room from any distracting acoustics that might interrupt your evening reading hour or your sleep through the night. Create some cozy and make your space extra inviting with lots of softness from throw blankets, bedding, and plush pillows. Doing so will make your bedroom that much dreamier and a space you love crawling back to at the end of a long day.
5. Bring in some life
The perfect pairing to a neutral bedroom, plants and greenery can add an even deeper sense of calm to a space. It's no surprise that real plants will improve the air quality. But even if you choose to go faux or opt to add a painting with a beautiful, earthy landscape, these touches will help make your space feel more tranquil by connecting you to nature. We'd consider earthy greens a neutral, yet these subtle pops of colour will bring a refreshed quality to your space and liven up the room, quite literally.
Photography by A Plus Creative