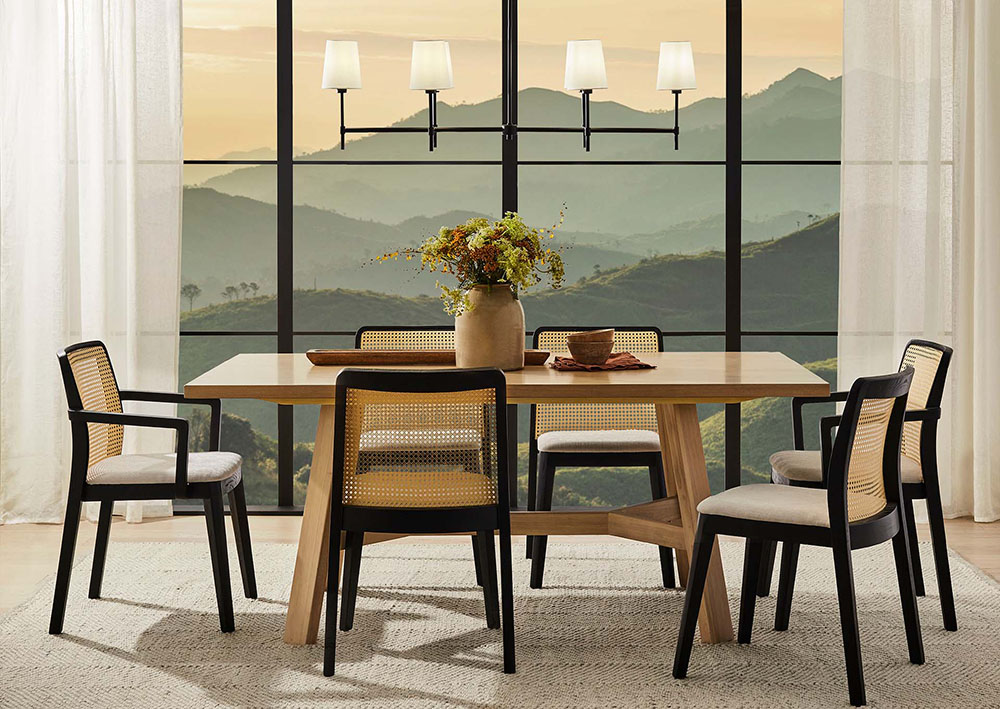 Design mistakes happen to the best of us. After all, isn't creating a home you love found in the process of all those trials and tribulations? We'd say so. And sometimes, it takes knowing what you didn't work and what you don't like to truly appreciate what does. But to give you an unfair advantage, we're sharing a list of five design mistakes – and how to solve them – in the list below.
If you missed part one of our design mistakes series, click here to read the first editorial filled with solutions for other common errors to effectively avoid.
1. Thinking everything has to match
Gone are the days of matching everything in the same style. In fact, this cookie-cutter formula can often result in spaces that simply feel cold and devoid of character. Instead, aim to use a mix of styles that you love and it'll add plenty of soul and personality to your home. Create that eclectic sensibility through different colours, materials, patterns, profiles, or design eras. There are many ways to shake up your look, so that it feels anything but expected. To maintain a sense of cohesion, choose one overall design style as a base and then pepper in accent pieces from other aesthetics for a dose of welcome contrast.
2. Having only one light source
Lighting plays a huge part in the experience of a space and – to our collective dismay – can be commonly undervalued. Aim to create a layered look for your lighting focusing on a mix of ambient, accent, and task lighting. Ambient or general lighting will light up the majority of the space with an overall glow, and typically includes overhead lighting such as pot lights, track lights, pendants and ceiling lights. Accent lighting will draw attention to focal points in the room, such as art, wall tapestries, plants, or anything else you want to show off. This brighter lighting is typically derived from wall sconces, directional fixtures, or bulbs in track and recessed lighting. Lastly, task lighting is incorporated to aid in tasks like reading, cooking, or working. This type of lighting often includes table and floor lamps, hanging fixtures, and under cabinet lighting.
3. Not measuring your space
Measuring your space is a simple act, but often overlooked. However, a little bit of due diligence can alleviate a lot of unforeseen stress when it comes to this common design mistake. Before planning any room makeover, be sure to take stock of all your measurements. Keep the info where it's easy to access and double check everything before you place any orders. More than just measuring the walls and ceiling heights, it's also a good idea to measure entry points and staircases so that when things arrive, you know they'll make it into the space.
4. Choosing aesthetics over comfort
While we're big fans of beautiful spaces, we are much bigger fans of those that also allow you to live life comfortably. The best rooms strike a balance between the two concepts, not sacrificing one for the other. If you're drawn to a particularly beautiful yet uncomfortable chair, for example, recognize that this won't be a piece you or guests will enjoy sitting in, and continue your search for something that fits both needs. It's also important to consider the materials you'd like in your space, based on you and your family's lifestyle. For example, in a household with little ones and pets, upholstered pieces and wood furniture may be preferable to glass or mirrored options, when sharper edges and visible fingerprint marks require more upkeep.
5. Ignoring traffic flow
Traffic flow is another aspect of home decorating that can often be overlooked, resulting in an easily avoidable design mistake. It's key in defining spaces, creating safety, and effectively directing people through a home. In general, it's recommended to allow for about 18" of space between furniture pieces, so that you don't risk bumping into things and hurting yourself – or damaging the piece itself. Another thing to consider is the layout of furniture pieces throughout a space. Avoid blocking off areas with the backs of furniture. And be mindful of obstructing access with a table or long chaise. Unless your placement is intentional, to create some definition and entice people to enter the space from another point.
Photography by A Plus Creative