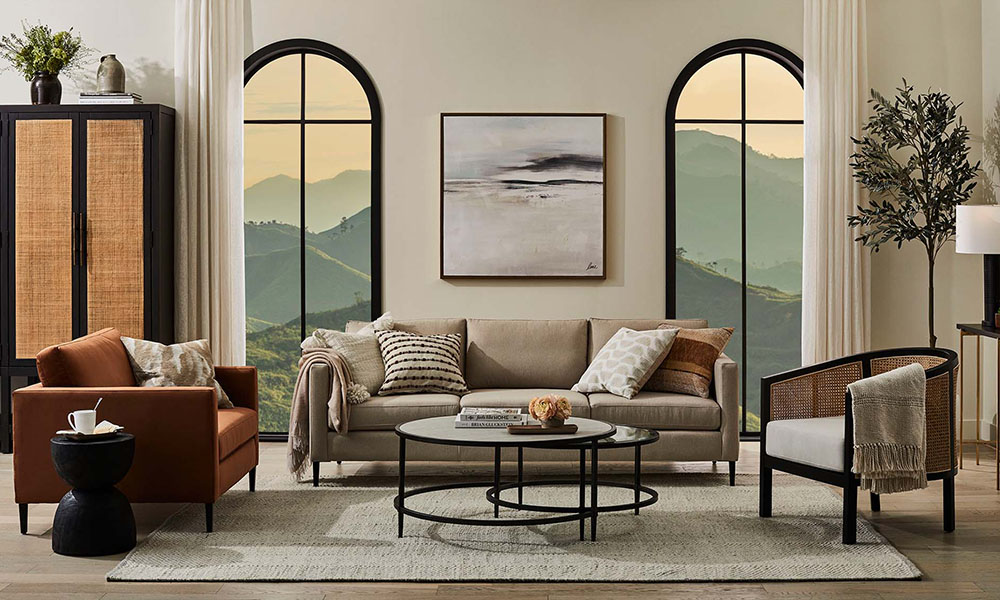 Looking to discover your design style? You've come to the right place.
We have to admit, there's nothing quite like coming home – whether it's been a day, a week, or just a couple hours running errands around town. Our homes welcome us in with the promise of rest, relaxation, and fun with family and friends. It's a space to experiment with our creative side, whether you're into cooking, DIY projects, or practicing dance routines. Even more special than that is a home that you can walk into and instantly recognize as your own by the story it tells through paint, pattern, furniture, and decor.
If you haven't yet discovered your design style – that signature mix that best represents you – we're sharing our top tips below to uncover yours. And do keep in mind that design styles can be constantly evolving, have no hard and fast rules, and can include blends of multiple styles for an eclectic look.
Create a moodboard of spaces you love
One of the best places to discover your design style, Pinterest is a home aficionados dream for its ability to inspire with fresh ideas to help decorate. If you aren't sure of your design style or how you should go about decorating, try creating a Pinterest board and pinning interior images you love over the course of a few months, then take some time to notice similarities between the Pins. What sorts of interiors, colours, and details appear most often? Use that information to help you discover consistencies in your style.
Think about the way you dress
One of the first things interior designer Brian Gluckstein will take into consideration when working with a new client is the way they dress. Most often, the way someone dresses will offer cues to the way they'd like to experience their interior, too. For example, someone who loves vintage jewellery might also love glam, gilded furniture,. On the other hand, someone who dresses in streamlined cuts and limited colours might be more minimalist when it comes to their interior. What are the tried-and-true staples of your wardrobe? These might be helpful indicators for determining your personal decor style, too.
Consider how you live
When it comes to interiors – as much as with clothing – form isn't the only important factor. Consider the function you need in your home, and what works for you and your household's lifestyle. If you have pets or young kids, it may not make sense to have a ton of light, bright furniture pieces like in Scandinavian-inspired interiors. Hate clutter? Consider going minimalist to help you feel relaxed in your space and inspire you to continue living light. Like to feel like your interior isn't too precious? Opt for an industrial look with lots of aged metals, rustic woods, and leathers that grow softer over time.
Here's a recap of twelve of the most common design styles. And remember you can blend these looks and put your own spin on things for a look that suits you:
Modern – Clean lines and sleek finishes, with occasional pops of colour.
Traditional – Classic shapes, functional pieces, and a more formal aesthetic.
Transitional – A blend between modern and traditional.
Scandinavian – Minimal yet inviting, with lots of light woods and light neutrals.
Minimalist – Pared back and focused on the essentials.
Boho – Natural materials like cane and rattan mixed with playful colour and pattern.
Eclectic – Aspects of many different design styles paired together.
Modern Farmhouse – Rustic yet refined, with a lighter base and lots of black accents.
Glam – Glimmering finishes with rich colours and textures.
Industrial – Factory-inspired materials with a masculine edge.
Coastal – Beachy, with lots of white-washed woods and blue accents.
Mid-Century Modern – An aesthetic born from the 50s, with warm woods and sleek profiles.
Photography by A Plus Creative