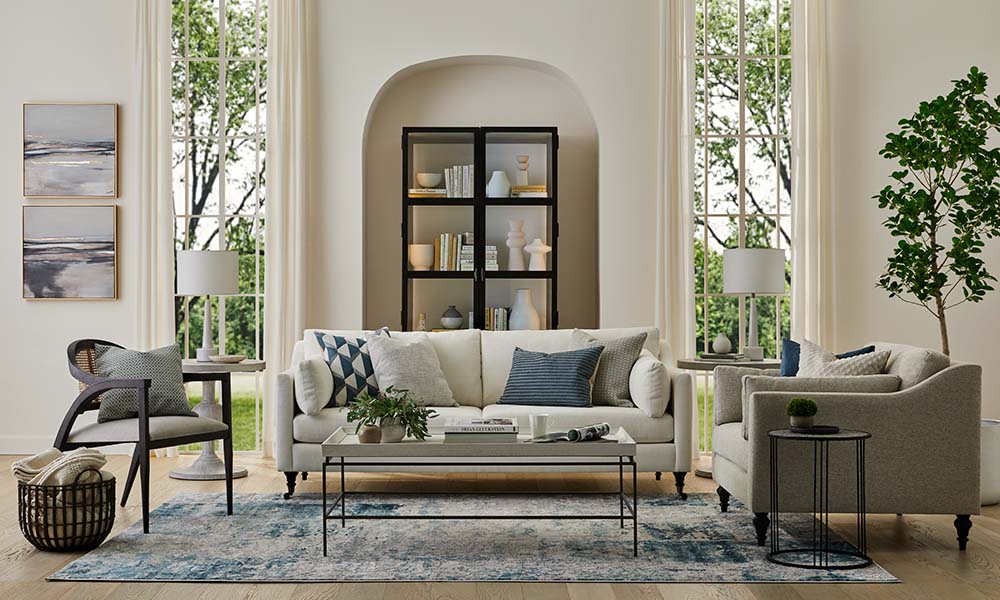 If you're looking for a home that feels inviting and with a hint of rustic charm, you'll love the modern farmhouse style. This particular décor aesthetic has grown incredibly popular over the last few years. In fact, you'd be hard pressed to pick up a design magazine or scroll through Instagram or Pinterest without being faced with several examples. Inspired by those countryside homes that are a place of cozy refuge, this classic style brings us back to our roots with natural materials, earthy hues, and an emphasis on practicality over polish. Modern profiles and a bright base bring a contemporary edge to these comfortable, lived in interiors.
Love the modern farmhouse style but not sure where to start with your own design? Here are five steps to achieving the look in your home:
1. Incorporate the architecture
The key to achieving a modern farmhouse interior starts with the architecture. If you don't already live in a frame-style farmhouse with exposed wood beams, bleached wood floors, and black framed windows, consider adding elements that channel the look. Think shiplap walls or a black steel cabinet that mimics the look of those famous farmhouse windows. Bringing in these elements of the style's architecture will help connect your space with the décor you choose to fill it with.
2. Start with a bright, neutral base
It may go without saying at this point, but the modern farmhouse style is all about interiors that are light and bright. Think plenty of warm whites and taupes through your furniture, rugs, and décor. Creamy slipcovered sofas and warm white painted walls blend seamlessly with this décor aesthetic. Plus your home will feel bright and sunshine-filled, all year long.
3. Focus on natural materials
With a lighter colour palette, it's important to make sure nothing feels too precious in this style of interior. Bring in a sense of rustic earthiness to your home with natural materials like linens, cottons, woods, and stone. Bring in these materials through larger pieces like sofas and coffee tables, as well as through smaller details like candlesticks and accent cushions. The options are virtually endless.
4. Incorporate something distressed
Add some soul to the space by choosing one – or a few – distressed items to place throughout. A weathered wood console, aged frame, distressed rug, or fringed cushion are just a few ideas that are sure to bring some additional charm to your modern farmhouse interior, making it feel cozy and lived in.
5. Bring in black accents
With all that light and bright from your neutral base, you're going to want to add some contrast throughout. Black accents are quintessential to modern farmhouse style, and they add a great sense of drama while still keeping the space neutral. Consider black candlestick holders, matte black light fixtures, sleek black metal or wooden legs on furniture, or a simple black basket filled with cozy throws.
For more farmhouse inspiration, check out this CityLine clip:
Photography courtesy of Hudson's Bay