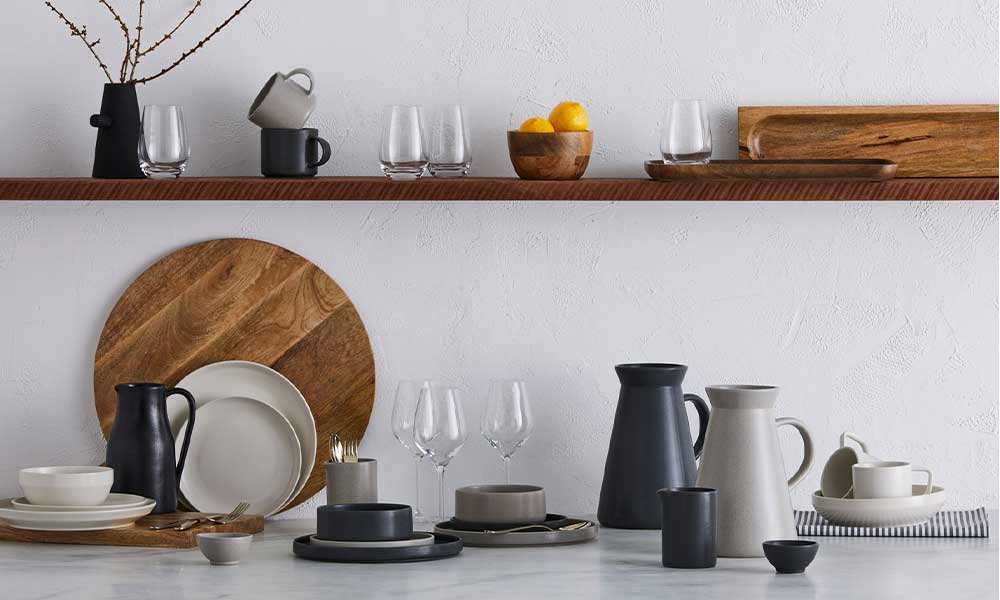 Even if cooking isn't your strong suit, we've all learned a thing or two in the kitchen over the past year during all this time at home. Having the time to slow down and cook meals, whether out of necessity, curiosity, or sheer boredom has made us all better chefs – and we think it's safe to say you'd be hard-pressed to find someone that thinks otherwise. From weekend brunch to Monday night dinner, we've pretty much got the bases covered, and dining slow at home has become a staple in almost all of our lives.
As we dive into more meals in our own spaces, we've rounded up a few of our favourite trends when it comes to dining at home these days:
Comfort is Key
Whether it's a big cozy sectional or a pair of your favourite joggers, comfort truly is king these days. We're seeing that translated to the kitchen with sturdy stoneware in modern profiles and minimalist colourways, as well as with fuss-free wood serveware and soft linen napkins that have a natural ease, beautiful texture, and effortless cool that are perfect for everyday dining.
Leisure Time
With extra time at home and a newfound gratitude for the simple pleasures in life, we're happy to spend a little longer at the table than usual with the ones we love most. Don't be afraid to draw out your dinners with more than the main course, using those freshly sharpened cooking skills to get creative with appetizers and desserts that'll give you an excuse to linger a little longer than necessary. Invest in comfortable dining chairs with upholstered seats and a spacious table that will create the perfect setting for lengthy meals at the table.
Go Virtual
Just because you can't have friends over for dinner in person doesn't mean you can't enjoy and experience a meal together online. Beyond just scheduling a Zoom call, we love the idea of providing each guest with a shopping list of ingredients – or even a takeout menu – so that you can enjoy the same meal or food from the same restaurant over the course of the evening. Virtual cooking classes are also a huge trend, and we think they're here for the long haul, so now is the perfect time to get inspired and expand your existing culinary skills.
Photography by A Plus Creative