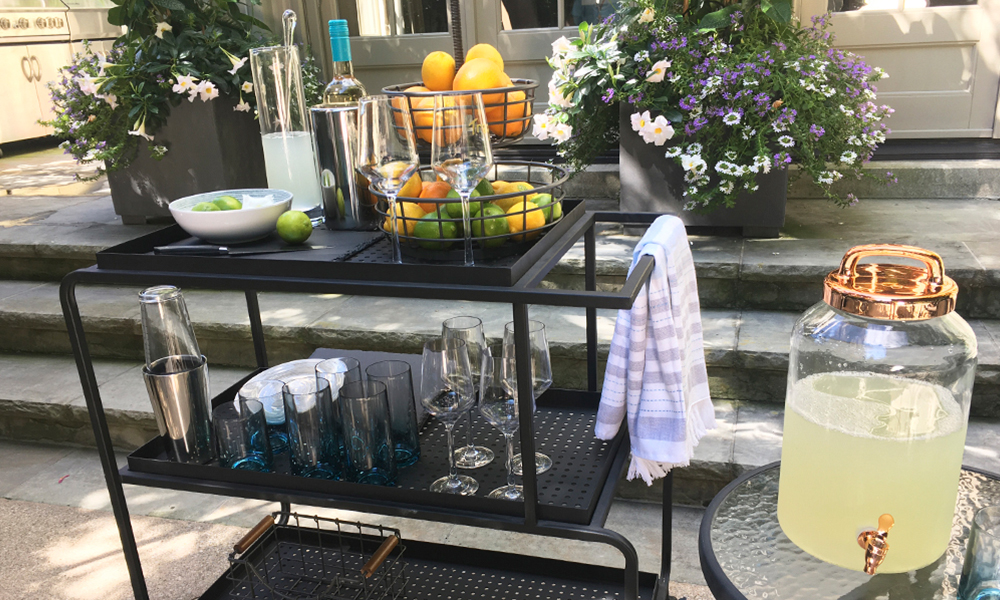 While we've all been spending more time at home this past while, many of us have many of us have turned to different ways to develop our culinary skills. For some of us, that's meant experimenting with cocktails and playing bartender. Recreating your favourite beverages from the comfort of home can be lots of fun. In fact, some are calling it the revival of cocktail culture. And it makes sense – we've got plenty of time to experiment with new recipes. And outdoor entertaining is certainly one of the nicest ways to relax and unwind with family and friends this summer. With that in mind, we're here with some easy tips to set up the perfect outdoor bar.
If you're looking to serve cocktails and mocktails on the patio this season, here are a few tips to get you started.
1. Keep it Cool
Find a shady spot to set up your outdoor bar. Cooler temperatures will help keep your drinks cool and prevent ice from melting too quickly on a hot summer day. Add an umbrella, depending on the time of day, to keep your bar in a cool spot.
2.

Choose a Multipurpose Piece
A tip if you live in a smaller footprint home or have a small outdoor space – why not opt for something multipurpose to use to set up your outdoor bar? A potting station, work bench, console table, or even an indoor bar cart you already own, are all great options to use for an occasional outdoor bar and they won't take up any extra storage space in your home. Try to opt for pieces that can stand up to the sun, wind, and rain that are likely to hit your patio.
3. Go for Easy Drink Service
An important outdoor bar tip is when it comes to drinkware. Go for unbreakable melamine and Tritan glasses and serveware to avoid breakages on the patio. Minimize the amount of bartending you'll need to do with a signature cocktail served in a large dispenser for people to help themselves and leave an erasable marker on the bar to allow guests to write their name on their glass so that no one confuses their drink for someone else's.
4. Don't Forget the Ambience
If you're using your outdoor bar at night, place string lights or lanterns around your bar to add a romantic glow when the sun goes down. Candles in large hurricane vases propped up on the bar will also do the trick. Be sure to choose a playlist to suit your mood or fit with the theme of the drinks you're making, then sit back, relax, and enjoy the day!
Photography by GlucksteinHome