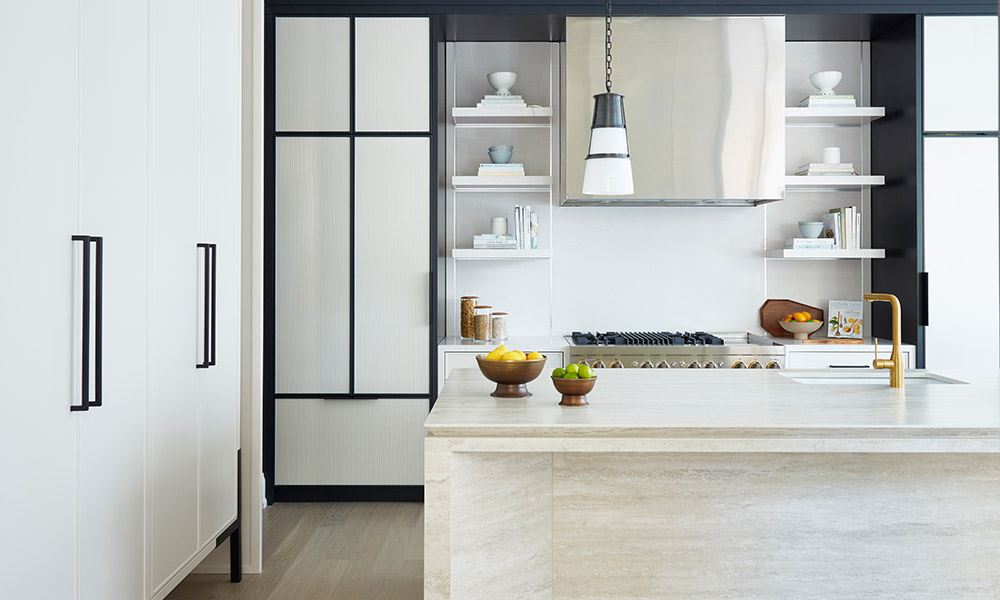 Some people think monochrome kitchens can be boring. And they definitely can be – if done in a way that's lacking any inherent soulfulness. But many of us have monochrome kitchens, because let's face it – kitchen renovations are time-consuming and costly, and if you're someone who doesn't think they can live with a bold backsplash or colourful cabinets for years to come, neutral is definitely the way to go. And the reasoning doesn't end there – we love these pared back kitchens because they tend to look sleek and clean, and they make bright, uplifting spaces to prep for daily meals.
The key to a monochromatic kitchen lies in injecting plenty of soulfulness for a space that feels full of personality – because they really can be just as exciting as a bold, colourful kitchen. Here are our tips for filling a monochromatic kitchen with heaps of soul, taking cues from one of Brian Gluckstein's most recent kitchen designs:
Never Underestimate the Power of Texture
Especially in monochromatic spaces, texture is incredibly important for bringing a space to life. Pulling from the same colour family, incorporate a variety of textures you're excited about to make sure your look doesn't fall flat. In this space Brian opted for a soulful, honed travertine-look island that extends onto the floor, and back-painted fluted glass panels on the pantry and refrigerator doors for a touch of Art Deco-inspired texture.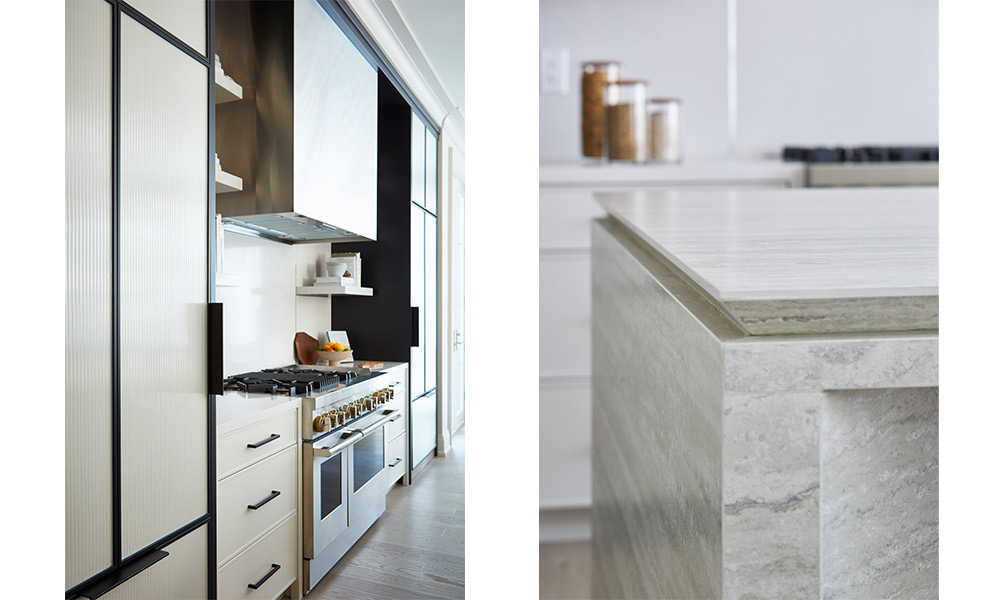 Benjamin Moore OC-20 Pale Oak walls and cabinetry, Dekton by Cosentino Sterling in Travertine island
Add Warmth
Warm hues tend to feel a little more soulful because of their cozy, earthy undertones. Here Brian used a warm white paint for the walls and cabinetry, which paired well with the warm white oak floors and warm travertine-look island. When designing a space, once you decide on sticking to a warm palette, make sure to commit to it for every material you choose – that way, it will look cohesive and overall be soothing to the eye.
Show Off Your Personality
Keep a few of your favourite decorative heirlooms or cherished cookbooks on display. Having a few personal items that you love will make your space feel happier and totally unique to you. Here Brian used colour-coordinating cookbooks and added a few décor pieces to bring life to the space.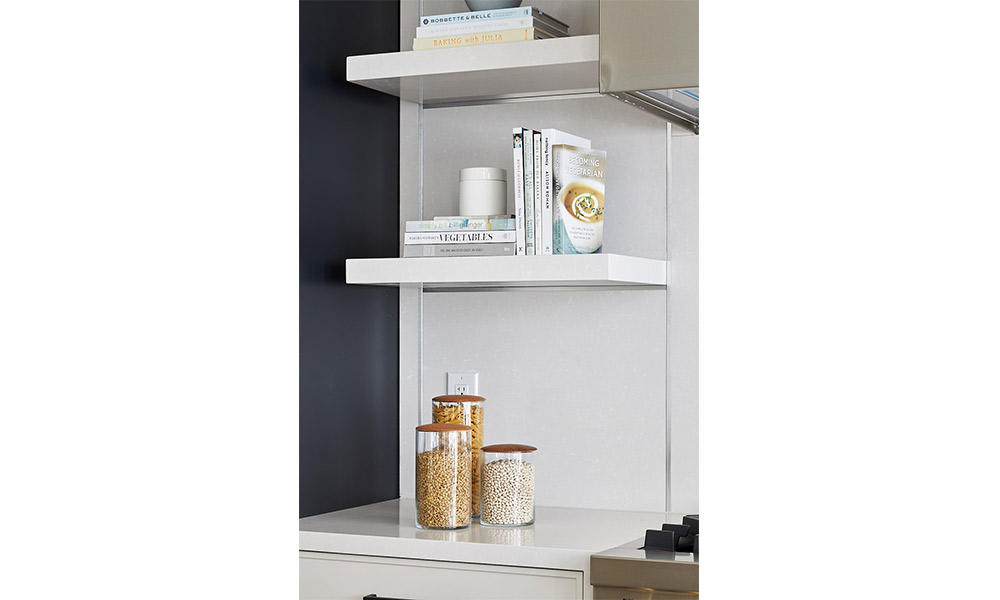 Shop GlucksteinHome dinnerware at Hudson's Bay
Create Some Contrast
No space is complete without a little contrast, and this couldn't be truer for monochromatic spaces. Make your space more eye-catching through dark, dramatic accents and varied metals. In this kitchen, Brian added contrast to all that warm white with industrial-style stark black metal framing to the pantry and refrigerator, sleek black chairs and a smoked glass table at the banquette, and a mix of brass and copper accents throughout.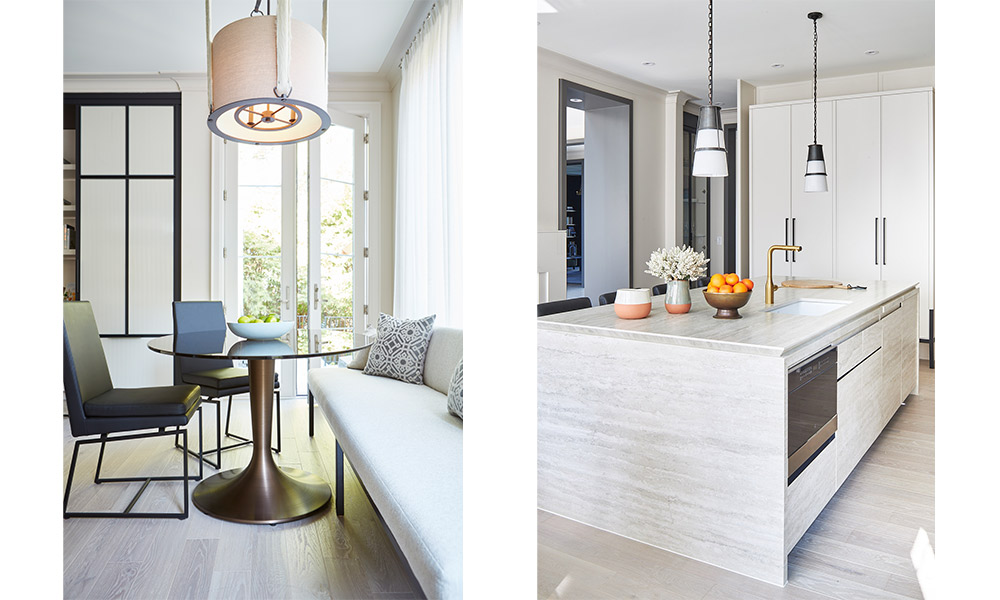 GlucksteinHome Nathan Dining Chairs, GlucksteinHome tulip table, Grohe Essence Kitchen Faucet in Brushed Cool Sunrise
Shop GlucksteinHome dining room furniture at Hudson's Bay
Photography courtesy of Angus Fergusson (1, 5&6) Jason Hartog (2, 3&4)