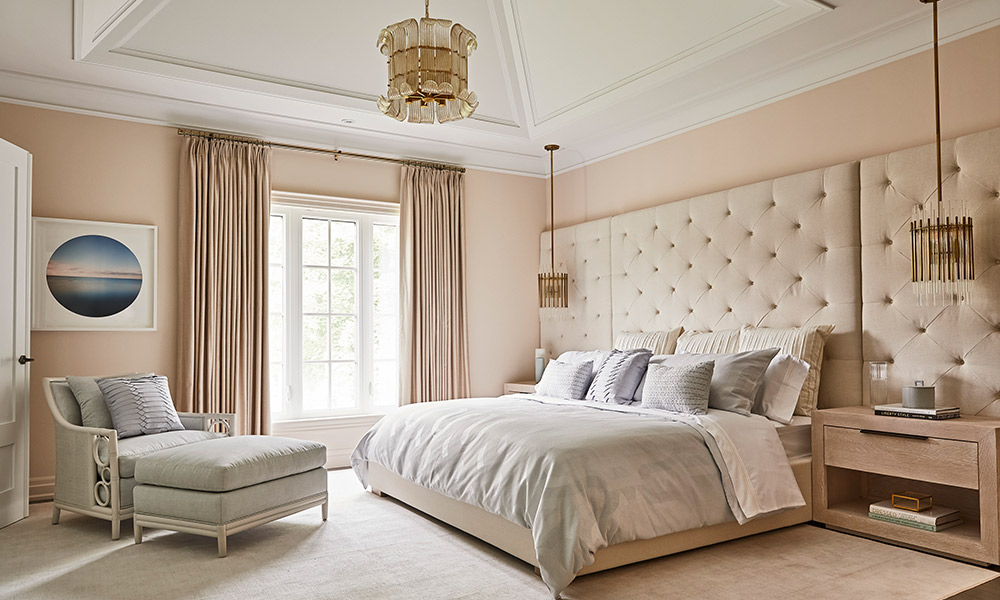 Hanley tufted bed, Westwick nightstands
With darkness still streaming in through the window, trading the warmth and coziness of your bedroom for the colder temperatures outside makes waking up a little more challenging this time of year. In the depths of winter, it can be hard to jump out of bed as soon as the alarm goes off, but a few tweaks to your morning can make starting your day something to look forward to. Try all of these tips, or just a few, to reset your morning and start the day feeling refreshed and ready.
In the Bathroom

Bianco Bath Accessories
Most people start their day in the bathroom and having an organized one can help the morning remain stress free. Use a tray on the counter to lay out necessities for the next day – think razor or makeup brushes – the night before. Keep toothbrushes handy in a holder and store other essentials, like cotton swabs, on the counter in a pretty container. If a hot shower is your go-to for warming up on cold mornings, stock up on plush towels to wrap up the heat a little longer.
Shop GlucksteinHome bath at Hudson's Bay
In the Kitchen

Oliver Dinnerware
Sitting down to enjoy breakfast on a workday might seem a bit luxurious, but it's a habit worth forming. Stock the fridge with fresh fruit and yogurt for quick to assemble parfaits which look beautiful in white bone china dinnerware. Not only is it incredibly durable, but bone china keeps food warmer longer on the plate and in the mug – which is essential for that first coffee of the day.
Shop GlucksteinHome dining at Hudson's Bay
In the Bedroom

Temperature Enhancing Duvet
To start your morning off on the right note, it is equally important to establish a good nighttime routine. Make your bedroom a serene escape by putting away phones and iPads before bed. Invest in bedding in a colour or pattern you love and don't forget about the pillows and duvet. A temperature enhancing duvet helps regulate body heat throughout the night, making for a more comfortable slumber. Establish a consistent bedtime that gives you enough sleep to wake up feeling rested in the morning.
Shop GlucksteinHome bedding at Hudson's Bay.
Photography by A Plus (1) & courtesy of Hudson's Bay