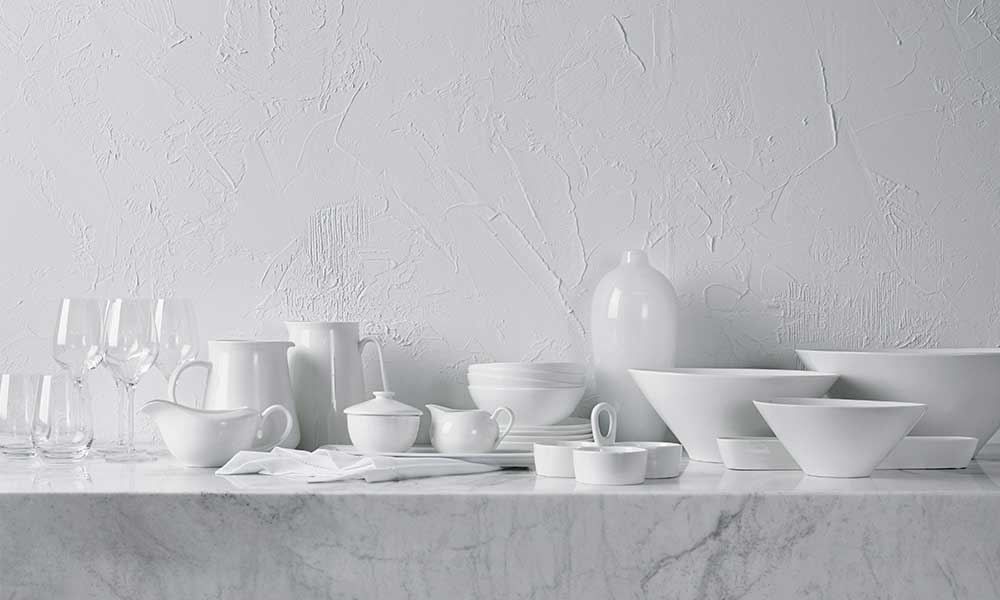 Whether you're just starting out, moving into a new home, or embracing entertaining, dinnerware is part of your daily life from morning to night. From a casual breakfast at the kitchen island to a formal celebration with family and friends, the right pieces will elevate your meal. To be sure to set your table with dinnerware that suits your style, read our dinnerware guide get to know the different materials, shapes, and options available.
Bone China
Delicate yet extremely durable and long lasting, bone china is the highest grade of dinnerware. It has a slightly more translucent look than porcelain. Although it's known as a special occasion material, bone china is actually perfect for everyday use because of its strength. Depending on the embellishment of the specific pattern, bone china is often dishwasher and microwave safe.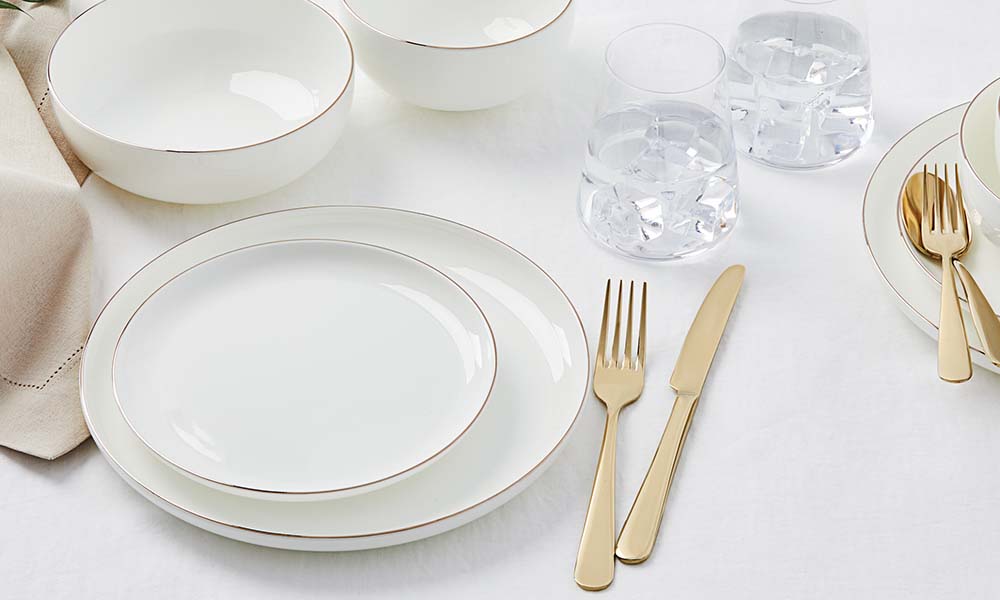 Porcelain
Smooth and fine, porcelain dinnerware has a mirror-like sheen. It's stronger than stoneware but less expensive than fine china. The elegant, glossy surface of porcelain makes this material a popular choice for both everyday and elevated dining experiences. Unless the style includes metallic accents, porcelain dinnerware is typically safe for the dishwasher and microwave.
Stoneware
Stoneware is a heavy, durable material, making it a family-friendly option for everyday use. This kind of dinnerware has an opaque finish and takes rich colour far better than other materials. The beautiful, glazed appearance and richly-coloured ceramic makes stoneware ideal for layering with all-white place settings.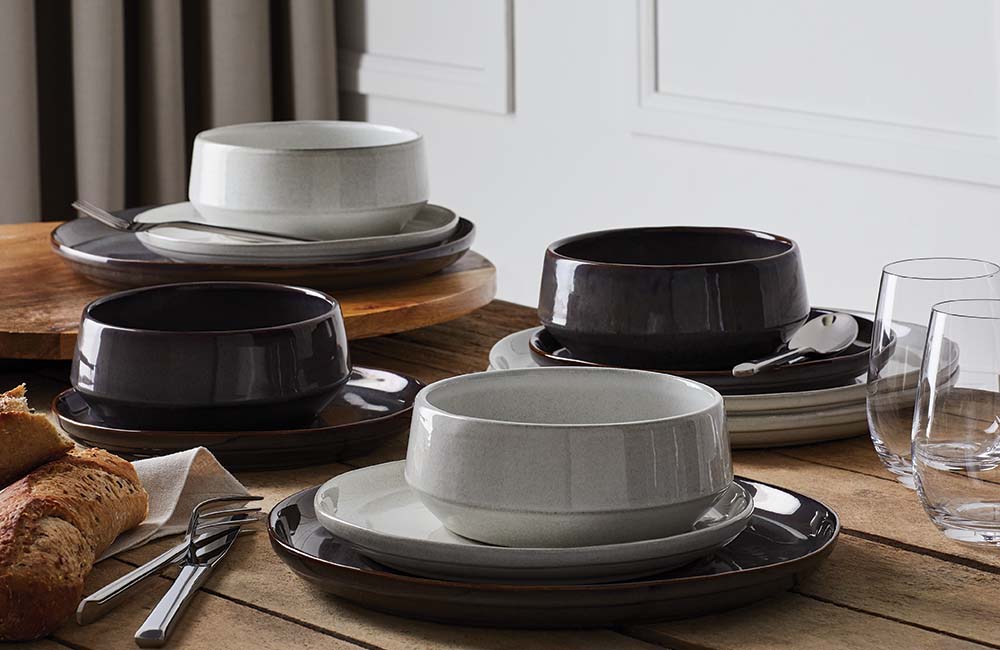 Melamine
Shatterproof melamine dinnerware is the perfect solution for outdoor entertaining, especially when dining with small children. Sold in spring and summer seasons, melamine dinnerware has come a long way in recent years and it's easy to find it in a range of stylish profiles, colours and patterns.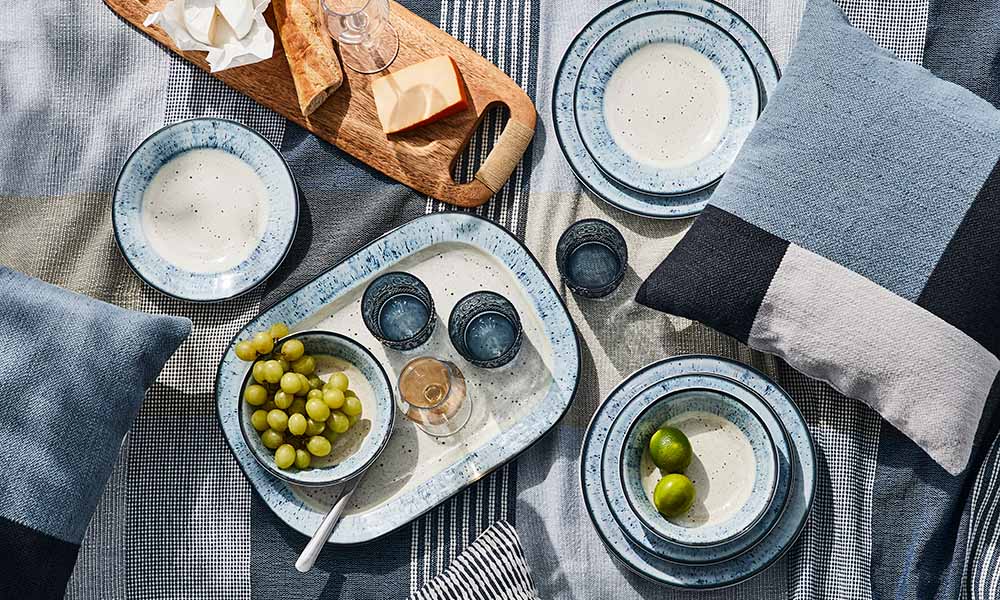 Next up in our dinnerware guide, are a few more points to consider. Do you want to build your dinnerware collection with place settings, a box set, individual pieces, or a combination? It really depends on your personal dining and entertaining style.
Place settings: Formal dinnerware is generally sold by place settings, which include the key pieces that one person would need at the table. A five-piece place setting typically includes a dinner plate, salad plate, bread plate, cup, and saucer. A three-piece place setting might include a dinner plate, salad plate, and bowl. Additional pieces, such as accent plates, espresso cups, and serving platters complete the table in the same style.
Boxed Sets: A convenient option, boxed dinnerware sets consist of multiple place settings, designed to serve everyone at the table. A boxed set normally contains 16 pieces, which is service for four people, although some higher-count box sets include 32 pieces. No matter the size of the set, it would usually include a dinner plate, side plate, bowl, and mug for each place setting.
Open Stock: Some dinnerware collections are available as open stock, meaning they are sold individually, piece-by-piece. This is a great option when you need a few specific items, want to have extra pieces on hand, or like to mix and match with your current dinnerware collection.