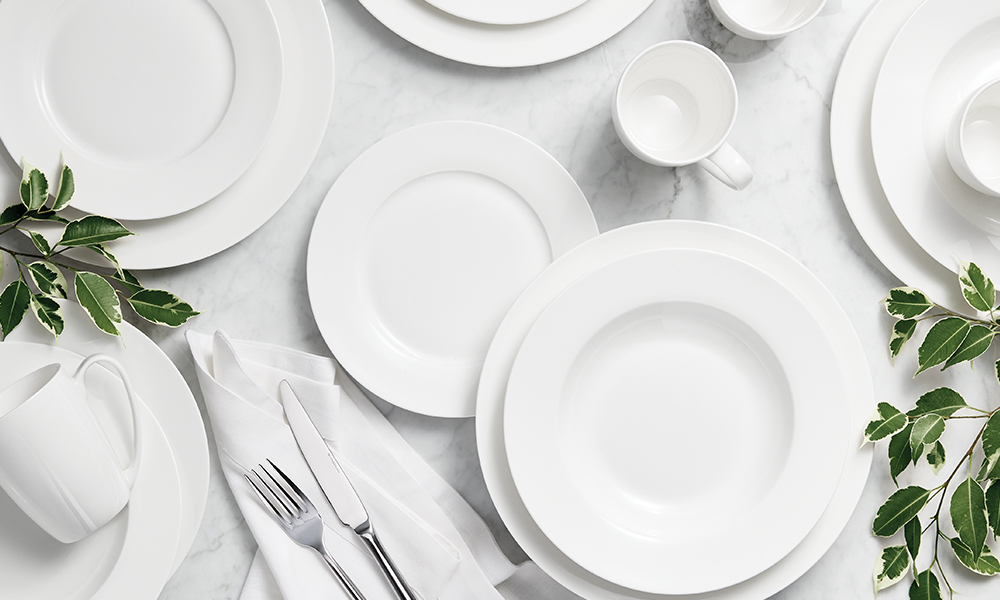 Maybe it was your university dorm, or the first apartment you shared after graduation, but at some point, we've all lived in a home with a kitchen full of mismatched dishes. When the time comes to stock your cupboards with a full set of dinnerware, the options feel limitless. While you might be drawn to a specific pattern or colour, the material that the dishes are made of will determine how to care for them. To keep dinnerware looking great and help extend the life of your dishes, follow our handy list of dos and don'ts for how to care for dinnerware.
Do read the care instructions before purchasing
Finding out dinnerware is handwash only once you get it home is just like discovering your favourite new sweater must be taken to the dry cleaners. If easy care and dishwasher-safe is what you're after, look for the care instructions – always stamped on the back of the dinnerware – before you fall in love.
Don't dismiss bone china for everyday use
Previously reserved for holiday get-togethers and dinner party guests, bone china is making its way to the everyday table. Durable and hardwearing, bone china is not only incredibly strong but also relatively easy to care for as many sets are dishwasher safe, like the Brian Gluckstein for Lenox patterns.
Do separate flatware from dishes
When clearing the table after a meal, it is easy to pile up forks and knives on the plate to make easier transport to the kitchen. If washing by hand, separate plates from cutlery in the sink to avoid accidental scratching or chips. When using the dishwasher, load it with some spacing between plates to reduce the possibility of breakage from vibrations from the machine.
Don't forget about storage
You may not have thought much about putting your dishes away, but how you store your dinnerware can also impact their longevity. Too much weight on your dinnerware can cause stress and lead to breakage. Stack same sized items together and try to limit to no more than four to six pieces per column to help distribute the weight.
Photography courtesy of Hudson's Bay