If you're looking for easy ideas to update a room this season, you're not alone. There are few things more exciting than the start of a new season. Temperatures shift and we feel inspired to shake up our stale routines. A change of season offers a fresh perspective and compels us to make some updates to many areas of our life, whether that's swapping out a dark, wintery wardrobe for a fresh spring one, or changing the look of our interiors, too. It's the perfect time to refresh the rooms in our homes, and we're highlighting four of the easiest, most impactful ways to do just that with the list below.
1. Toss in some new cushions
We've said it before, and we'll say it again: new toss cushions are one of the easiest and most effective ideas to update any room. Cushions are a low investment way to experiment with new colours, textures, and patterns. And the overall effect breathes new life into your space. Right now, we're seeing a lot of woven textures and abstract patterns in earthy hues like soft creams, warm rusts, and tranquil blues. Don't be afraid to mix up your patterns and shapes to create a more interesting, layered look.
2. Change up your art
According to interior designer Brian Gluckstein, art is the soul of the home. If yours feels like it's lacking a little, consider investing in a new piece, changing up the placement of a piece you already own, or embracing a little weekend DIY to create something totally unique. Whatever you choose to hang on your walls, from a cool abstract piece to a calming nature scene, to framed black and white family photos, opt for something that will bring joy to your everyday.
3. Layer in new lighting
There's so much variety when it comes to lighting and lots of fun ways to try something new. Add to your collection with a new floor lamp, table lamp, pendant or set of sconces. Or just consider a new location within your home for a favourite fixture to live. For a modern update, think about choosing pieces with a black metal finish or sleek, rounded profile. For a vintage-inspired update, look to pieces that incorporate satin gold and brass metals, vintage-inspired profiles, or the aesthetic of aged plaster finishes.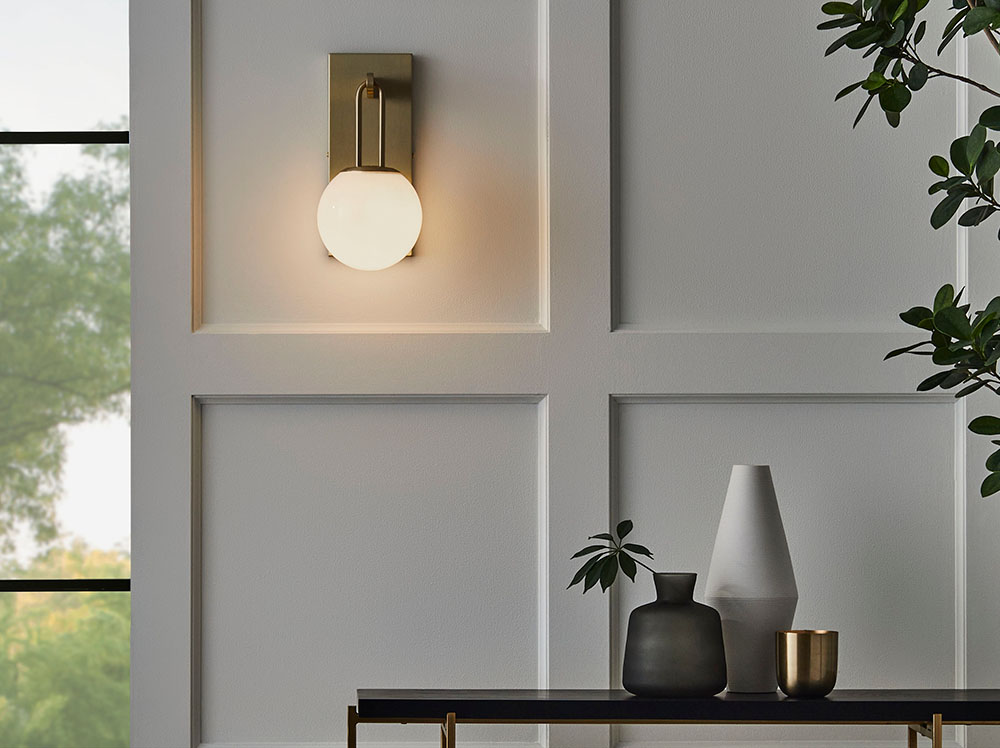 4. Try out a statement piece
Feeling like the décor in your room is all one note? An easy idea to update a space is to create a new focal point with a statement-making item. This could be anything from a uniquely shaped vase to a cool, slingback accent chair to a colourful velvet sofa. When it comes to statement pieces, embrace the unexpected. We're sure you'll enjoy the view as your eye naturally draws to this special piece every time you walk into the room.
Photography by A Plus Creative