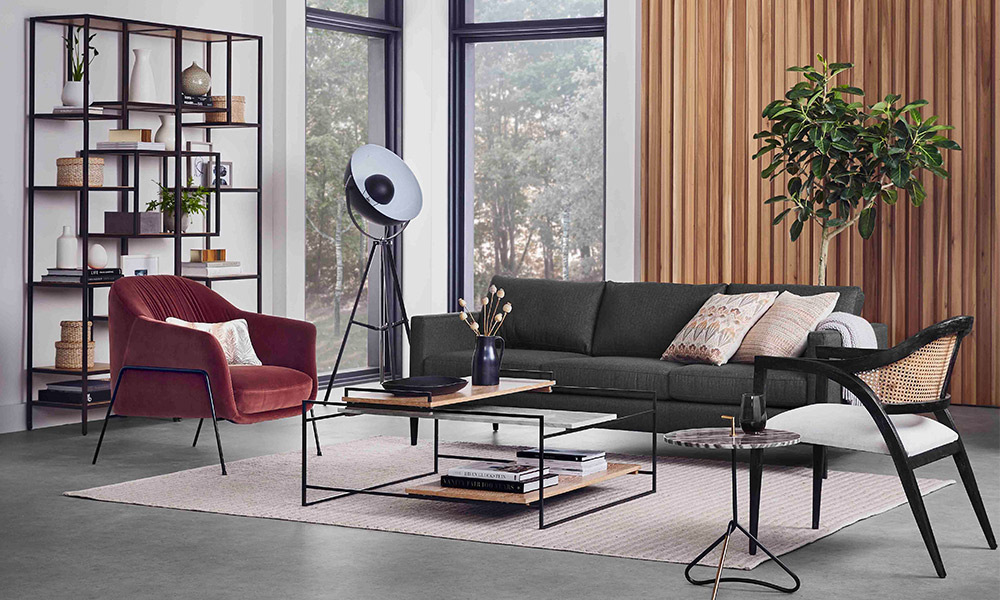 GlucksteinHome Lamar etagere, Finley accent chair, Garcia floor lamp, James sofa, Palmer coffee table, Serena accent chair
With the change of season in full swing, we're yearning for spaces that feel both moody and inviting. This fall, we've designed a cool, cozy living room that feels just right. It's a snug space that's full of drama, from striking black accents to rich upholstery in deep hues. This stylish room transitions perfectly into fall, enticing us to stay in and host friends and family with hot drinks or curl up with a great book by the fire as the temperatures drop.
To offer up some inspiration on creating your own stylish haven this season, here are four tips to get this cool, cozy look in your home.
1. Bring in plenty of black
Black is always moody and striking. From matte metal frames to Onyx-stained wood to opaque, glossy stoneware, we're big on black this season. In this space we used a lighter rug and added brighter toss cushions to strike a balance with the darker accents.
2. Mix materials and textures
Using a variety of materials and textures adds an eclectic feel. In our cool, cozy living room, we incorporated marble and wood surfaces, caning, brushed brass, soft velvet upholstery, and embroidered cushions for a space that is as appealing to the touch as it is on the eyes.
3. Balance curved and geometric profiles
We aimed for a mix of linear and curved pieces to create balance and allow better flow throughout the space. Here we paired cool rounded accent chairs with a modern, streamlined sofa and used rounded decor on a geometric etagere.
4. Create layers
Some of our favourite new furniture pieces from our fall collection incorporate layered surfaces. Not only do these varying heights add dimension to a space, they offer much-needed flexibility when arranging books, decor, and any other important objets you may want to keep out on display.
Photography courtesy of Hudson's Bay