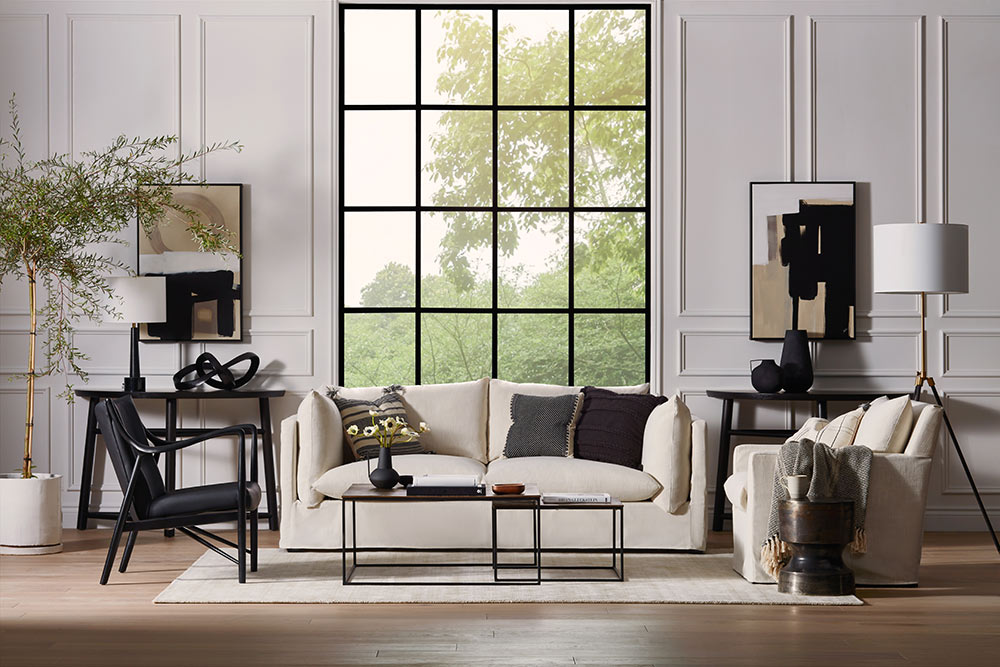 It's that time of year when the bittersweet end of summer's long, hot days is upon us. And while the season certainly has been wonderful, we can't help but get excited for cozy fall living. After a summer spent in the heat, it's refreshing to get back to appreciating those quiet corners indoors. This season – and every season, really – we're looking to strike that perfect balance of high style and casual comfort for a modern, relaxed living room that's just as lovely to spend time in as it is to look at. While we always love a modern, monochromatic look, we're particularly inspired by spaces that feel casual enough to sit back and put your feet up. In short, where nothing is too precious to keep us from living exactly as we please.
And so, here we share our top tips for achieving that modern relaxed look:
1. Add Plush Comfort
There's nothing quite like sinking into a comfy sofa at the end of the day – or in the middle of it, for that matter. Slipcovered furniture adds a cool, casual look to the living room and pairs beautifully with sleek, modern accent chairs. You can also ground the space with a cozy, textured rug, and consider an underpad for an ultra-comfortable space.
2. Mix Curves and Clean Lines
A blend of soft curves and clean lines makes for a well-balanced space with good flow, so look for art and décor that features rounded shapes to make a living room feel full. For contrast and an air of modernity, mix soft, plush upholstery with furniture pieces that are more angular and sleek.
3. Balance Light and Dark
We love the aesthetic of light and dark hues in a space – it's a beautiful way to play with contrast. Lighter hues can make a space feel larger, brighter, and naturally inviting, while some pops of black and charcoal add a sense of drama and intrigue. Balance it all out with a few neutral shades in between, like beiges and greys, to soften that contrast just a little for a more relaxed feel.
4. Bring in the Warmth
In the cooler season, we're all about layering warmth into the space through cozy textiles, ambient lighting, and earthy hues. Think table lamps, candlelight, soft throws, and piles of textured cushions. Similarly, natural finishes like aged brass and matte ceramics add a bit of hygge to the living room.
Photography courtesy of Hudson's Bay