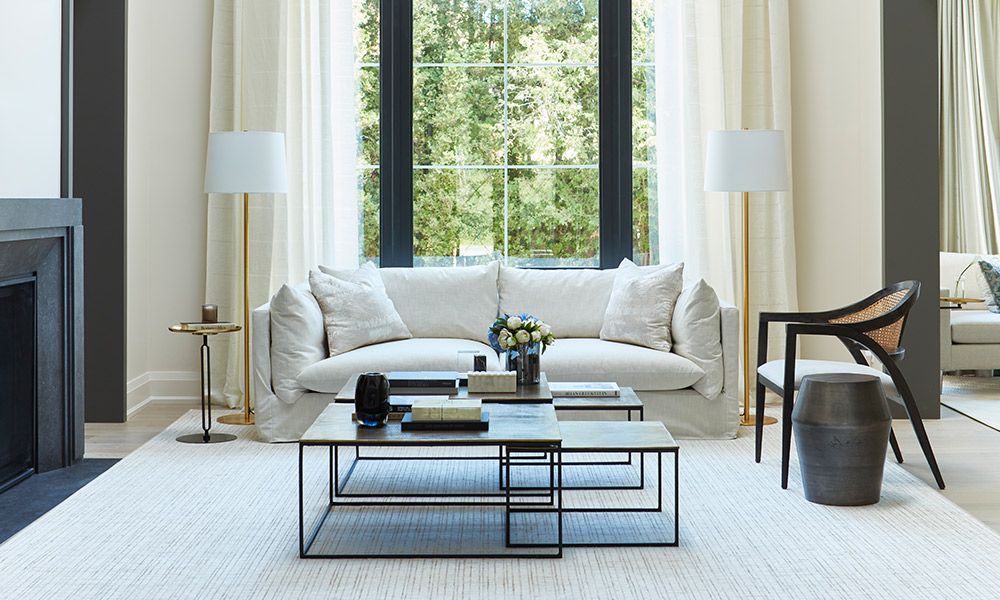 Choosing a sofa is one of the biggest furniture decisions you'll make in your home. That's why it's so important to feel confident in your investment. Your sofa is a piece you'll use nearly every single day, and something you'll want to last for years to come. Not only will you want your sofa to suit your aesthetic, you'll want it to fit the space it's in, be comfortable, and stand up to your household's lifestyle. Not the easiest of feats, is it?
We're sharing some of our best tips to help you choose the perfect sofa for you.
Start with your layout
Create a layout of the room and decide how you plan to arrange furniture within the space. Start with the larger items like the sofa. Will you have it up against a wall or floating in the room? If you're looking to get a sectional, think about which side you'll want the chaise on. You'll want to avoid blocking traffic flow. Consider other pieces you're planning to purchase and be sure to include them in your layout too.
Establish the look you want
Investing in a new sofa is a big decision, so it's a good idea to spend some time thinking about your vision for the look and style. Collect images on Pinterest, Instagram, or through magazines and take note of repeating themes throughout the sofas you save. Think beyond just colour and fabric. Other factors to consider include the style arm you like, how many seat cushions you want, and if you want legs on your sofa.

Brian's Tip: If you have a smaller footprint space, consider a sofa that's up on legs. It's an airier look that makes a space feel larger.
Know your measurements
Be sure to take measurements in your space before going to the store or shopping online. It's important to know not only what size sofa you'd like, but what size of sofa you can fit through your front door, in your elevator, or up and down the stairs. It's easy to fall for a sofa without doing your due diligence. Save yourself a lot hassle by having your measurements top of mind and know what you can and can't welcome into your space.
Choose a fabric and colour that suits your lifestyle
Do you have kids or pets at home? You may want to opt for low-maintenance and durable material like polyester or leather. And slightly darker colours may feel like a more worry-free choice, unless your sofa is going in a more formal, lesser-used living space. If you don't have kids or pets, a velvet sofa or lighter coloured fabric won't be out of the question. These days, there are even stain and spill-resistant fabrics like Crypton that make it even easier to achieve your dream look, if you're someone who can't resist a white sofa even with little ones running around.

Opt for a comfortable fill
Depending on the look and feel you'd like for your sofa, you have a few choices when it comes to fill. Soy-based polyurethane cushions are extremely comfortable and durable, with a high density that will stand up to regular use over time. Cushions are often finished in either a fibre wrap seat for an extra layer of comfort, or hypoallergenic feather-down for added softness. Fibre-wrapped seats tend to look a little more tailored and structured, while feather-down looks relaxed and fluffy.
Photography courtesy of Angus Fergusson (lead), Hudson's Bay (2-3)