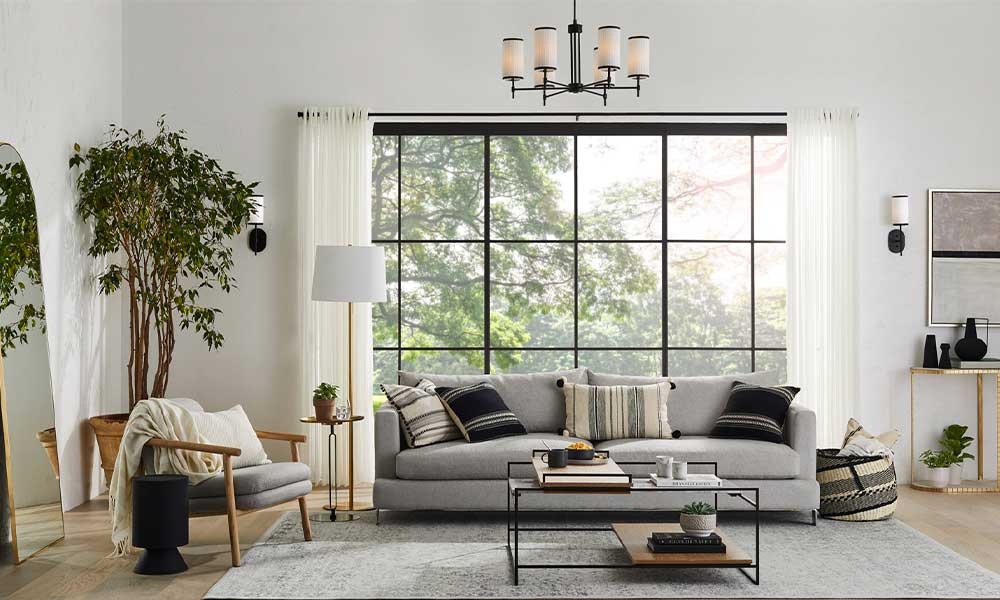 It's no surprise that white walls are on trend at the moment. Not only do they make rooms feel brighter but they're also versatile and allow us to change up our décor more easily. For those of us who like to update our home's look frequently, white walls can be a game changer. Whether you chose the look or moved into an already painted space, if you're living with white walls, you may be looking for ways to add warmth to all that bright and airy space.
Here are five of our favourite ways to warm up white walls for a beautifully styled interior that feels anything but stark:
1. Wood
We've said it before, and we'll say it again; wood is a great way to inject some warmth in a space. The natural colours and textures connect us back to nature and create a soothing environment to spend time in. And white walls offer an incredible blank canvas to pair with the woods of your choosing. Lately, blonde oak has been a favourite for flooring. We love the detail of an accent chair with a wooden frame. And a mixed material coffee table that pairs wood with marble and matte black metal adds interest to a space.
2. Greenery
Worried about your white space feeling lifeless? A quick fix, plants breathe life into a space, quite literally. Opt for plants of all shapes and sizes, from impressive trees to small potted plants scattered on surfaces throughout. Just be sure to pay attention to the care and light that each plant requires. Choose options that are feasible for you to maintain with your lifestyle. Otherwise, go faux!
3. Rich textures
Texture can come in so many forms. Indeed it's an element you should never overlook when decorating a space, particularly an all-white one. Layers of texture will make your space look more interesting and feel more comfortable, too. This season, we're drawn to earthy woven toss cushions with fringes and tassels, stylish baskets made of hyacinth and seagrass, and thick, distressed rugs, to name a few.
4. Mixed metals
There are few things duller than a space that ends up feeling sterile because every single piece of hardware is the same. Using a mix of finishes is a sure-fire way to make a space feel richer in character. We recommend mixing no more than two or three metals to keep a little cohesion, while creating a dynamic, soulful look. We love the pairing of brushed brass and matte black metal. The look at one end offers a warm vintage charm, and at the other adds a sleek modernity to the space.
5. Architectural details
Architectural details are another incredible way to warm up a white space because they build a look that feels rich in history. Panel moulding could make a white space feel a little more like a Parisian apartment, while black framed windows add an industrial edge, and lighting with fluted milk glass plays on the Art Deco era. These details create intrigue that draw the eye in and create the sense that you're living somewhere with a colourful past.
Lead photograph by A Plus Creative