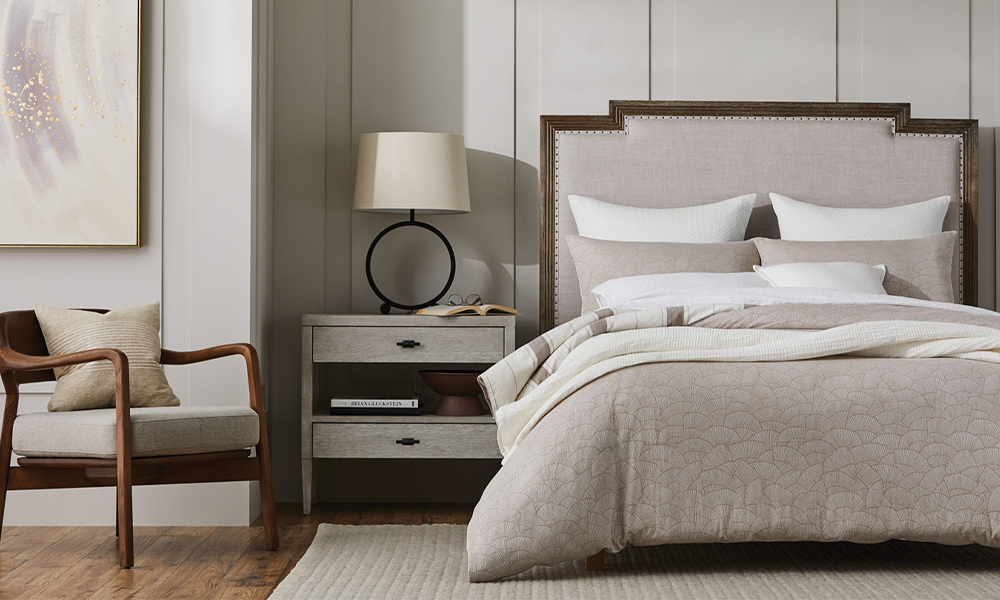 For most of us, the bedroom is where we go to spend some of the quieter moments of our day. Whether it's a morning mediation routine or the place you unwind with a good book at the end of the day, our bedrooms offer a respite from daily distractions. As we've spent more time at home, the lines have blurred in our private spaces and the bedroom isn't necessarily the restful sanctuary it once was. The time has come to reclaim that space as a calm, relaxing retreat. Our five quick and easy tips will get you started.
Start with the Basics
To make your bedroom retreat as welcoming as possible, you'll want to start with a really fluffy duvet. Then add a lot of pillows to prop you up for reading a book or working on an iPad in bed.
Perfect the Lighting
Sconces or table lamps offer a soft glow on either side of the bed for reading. Install a dimmer switch for overhead lighting to get just the right amount, day or night.
Think about The Bed
Upholstered headboards not only add a real coziness to the bedroom, they also block out noise for a good night's sleep. It's also really comfortable to lean against when working from bed or watching TV, which truly captures the retreat feel.
Make it cozy
Warm up the bedroom with different textures. Cozy knit blankets add extra warmth on a cool evening and a large area rug over hardwood flooring adds softness underfoot and absorbs sound.
Add the Finishing Touches
It's nice to be able to reach over and have a glass of water in the evening. A bedside carafe is not only convenient but also helps to create the feeling of a bedroom retreat.
Photography by Hudson's Bay