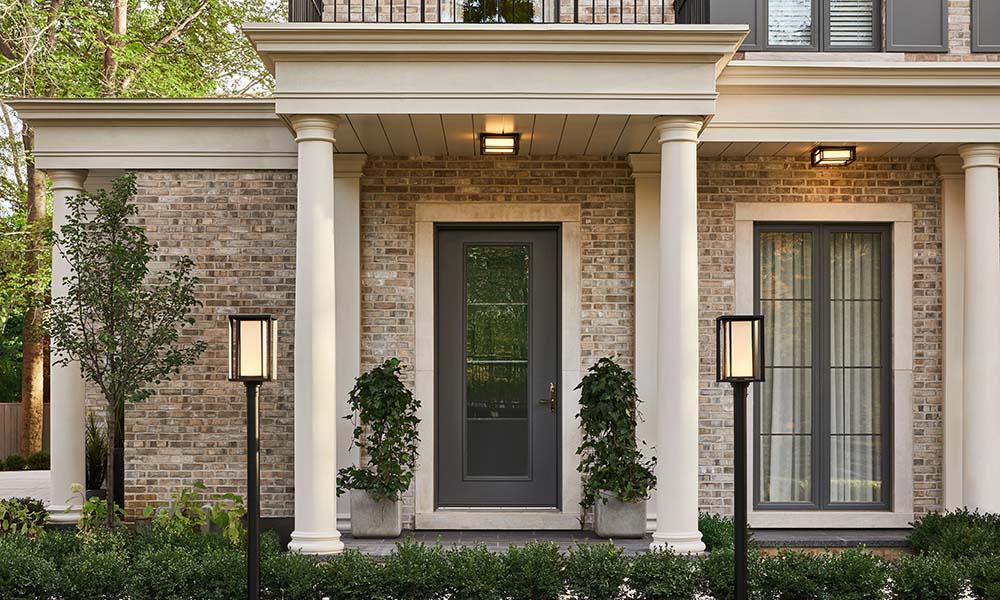 These days, many of us are turning our attention to our home's exterior. After all, the power of curb appeal can't be underrated. Elevating your home's exterior not only adds value, but it's also an opportunity to express your personal style. If need help getting your outdoor lighting right, you're not alone. In fact, Brian recently answered your top questions about exterior lighting. Read on below for his best advice about trends, styles, placement, installation, and more.
Be sure to follow @glucksteinhome on Instagram to submit your questions for our next Ask Me Anything with Brian.
Outdoor lighting trends
What are the trends for outdoor lighting right now?
Brian: In general, there's a much larger focus on outdoor lighting. And a trend to putting as much thought on the lighting outside of the home as the inside. There's a greater range of options and styles when it comes to outdoor lighting. It's so accessible online. We're seeing people use a variety of lighting, from posts to sconces to pendants, to create drama around the house. It's also better for security and draws you into the garden to enjoy more of the space at night.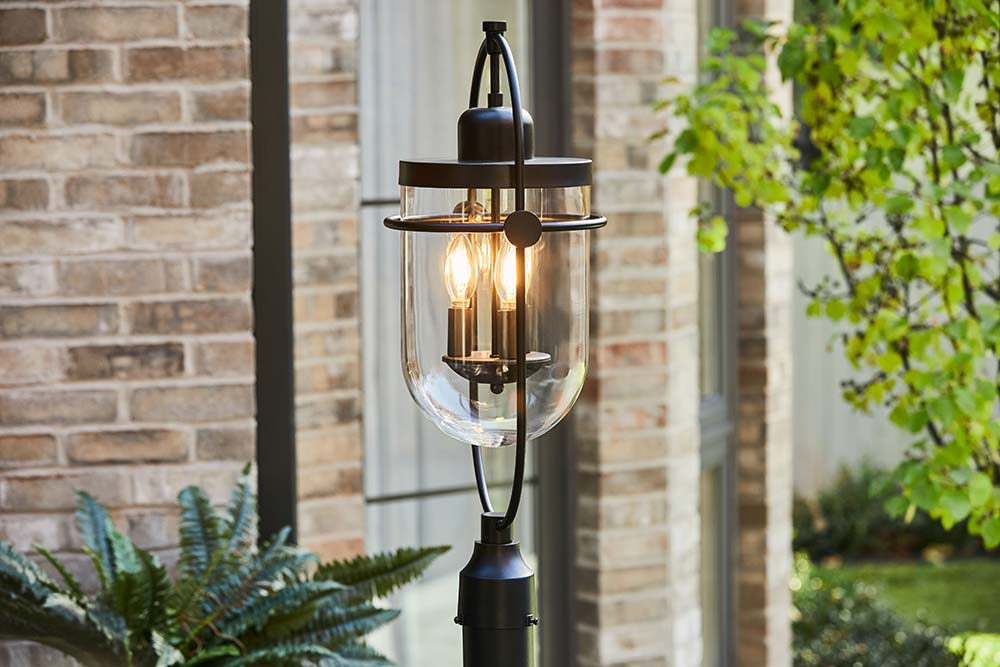 Selection + styles
How do I choose the right style of lighting for my home?
Brian: You want your lighting style to be in keeping with the architecture or interior style of your home, whichever you prefer. If it's a traditional home and you want to extend that look through your lighting, go for something traditional. If it's a traditional home, but the interiors are modern, you might want to continue that eclectic look outdoors. Sometimes it's cool to have a traditional house with modern lighting. Your outdoor lighting should reflect your design point of view.
Do all the outdoor lights have to match?
Brian: Yes, I would say that outdoor lights should be part of the same style. There are so many other elements outside your house with doors, brick, railings, and landscaping. You don't need to bring in more contrast by mixing your lighting styles.
Should I opt for a fan or a pendant on a covered back porch?
Brian: If it's a semi-enclosed area where you're not getting a lot of breeze and you want to get some circulation, go for a fan. If it's already an open area where you get some wind, you probably wouldn't need a fan.
How should I use landscape lighting around trees and hydrangeas?
Brian: You want to strategically place lighting with an aim to create focal points in the garden, lighting up dramatic elements. You don't need to light every tree or hydrangea. The idea isn't to replicate daylight, but to create a mood with soft lighting that feels like moonlight. I like to mix lighting hanging underneath porticos, hanging on walls, and garden lighting.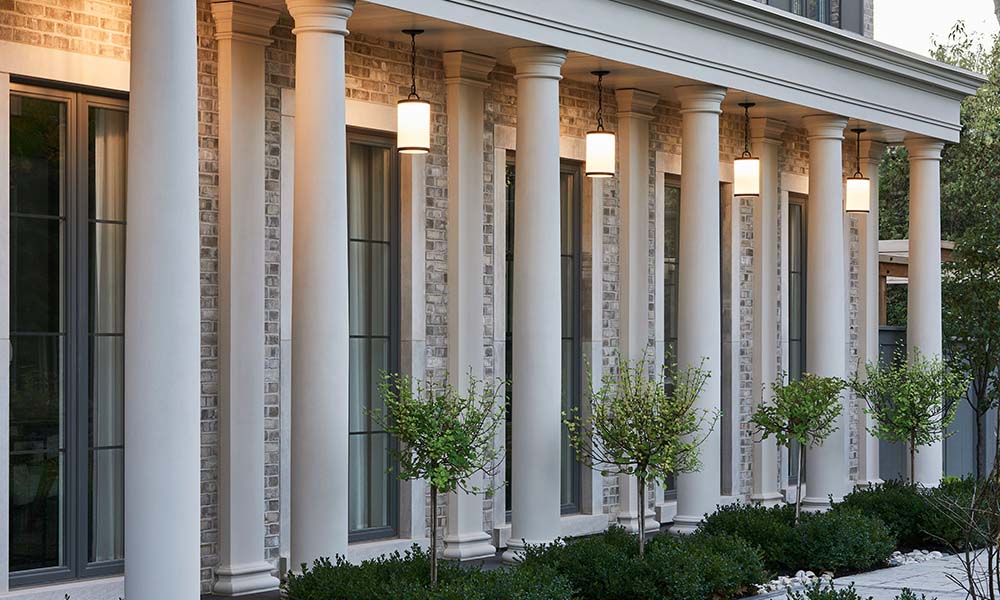 Placement + installation
How low should a pendant hang?
Brian: An outdoor pendant should hang just so there's enough distance above your head when you're walking up to it. You want it a bit higher than an interior light, so it doesn't swing too much on windy days.
How high should sconces be placed?
Brian: Similar to inside the home, sconces should be placed about 5.5 to 6 feet from the ground, if it's next to the door.
Can outdoor pot lights be converted to hanging pendants?
Brian: Yes, with the help of an electrician you could convert an outdoor pot light to a pendant. I personally don't like when people put pot lights under the eaves. I don't love the hotspots they create on brick. You don't want to over light the structure. Instead, you want to create beauty by lighting up the garden.
Can I change my outdoor lighting myself?
Brian: I always recommend hiring an electrician to do any electrical work.
Photography by A Plus Creative