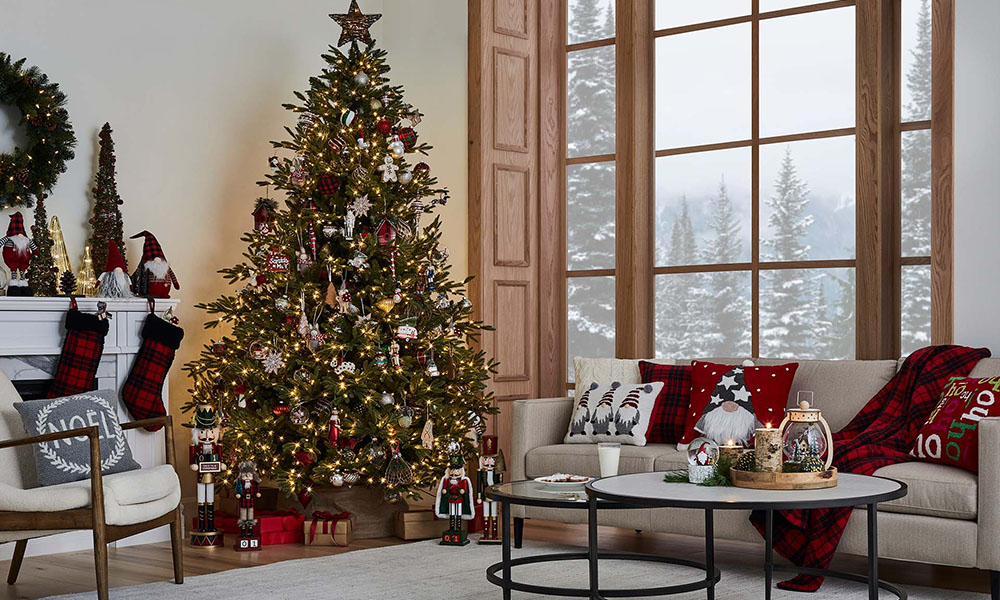 Nothing kicks off the holiday season like an afternoon spent decorating the Christmas tree. After all, your tree is the festive centrepiece of your home all holiday season long. And we all want a perfectly tree that's beautiful, balanced, and showcases our style. If you need some tips or inspiration this season, just read on for Brian's step-by-step guide to decorating the perfect Christmas tree.
1. Choose your tree
Of course, before you start decorating your Christmas tree, you'll have to pick out your perfect one. These days, there are a ton of options when it comes to faux trees to fit every size and style of home. If you have a smaller square footage, you may want to opt for a pencil tree that takes up less space, whereas if you have the room, you could go for a 7.5 to 9 foot showstopper. For a stylish wintery touch, consider a tree with white flocking for a snowy look or purchase flocking spray for a tree you already own. Also be sure to opt for a pre-lit tree, which makes for a quicker set-up so you can get to the best part decorating.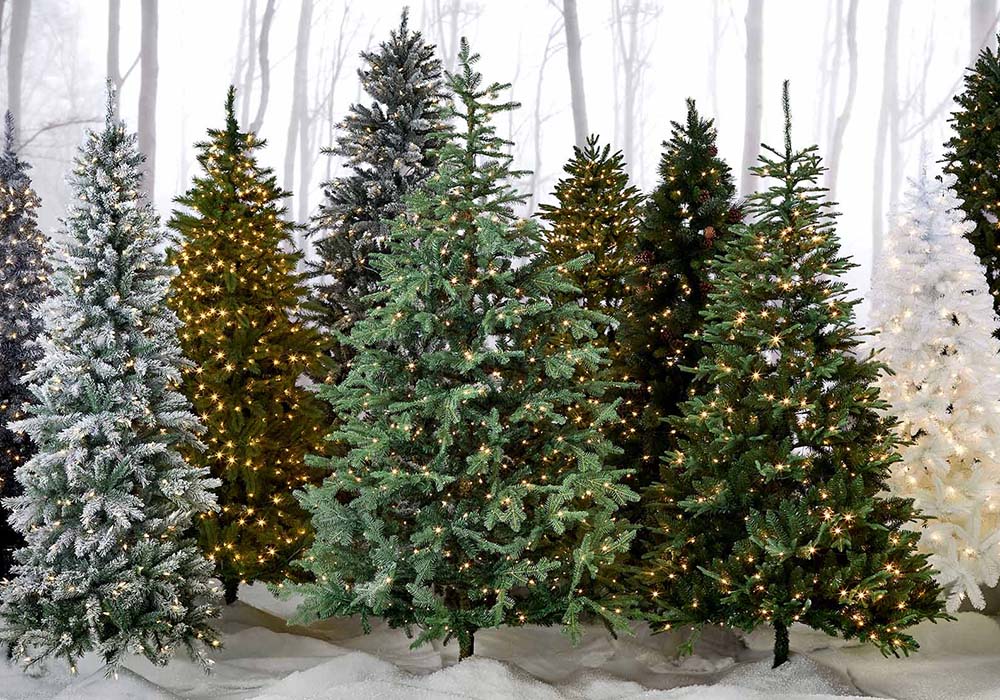 2. Choose your theme
This is probably the most important step when it comes to Christmas decorating – nailing down the theme. Brian's tip to finding the perfect theme for you? Go with a style that suits your personal aesthetic as well as the space you live in. Even if you have stacks of ornaments boxed up in storage, you can pick and choose what makes it onto the tree to streamline the look you're after this year. If your home and personal style leans more traditional, opt for a red and green theme with classic motifs. If you like the modern look, go for a more minimal, monochromatic collection. Love an ultra-feminine look? Try a pastel-hued collection with plenty of soft pinks and delicate ornaments. If you're into a look with classic glamour, try a collection that's full of silver and gold for plenty of sparkle and shine.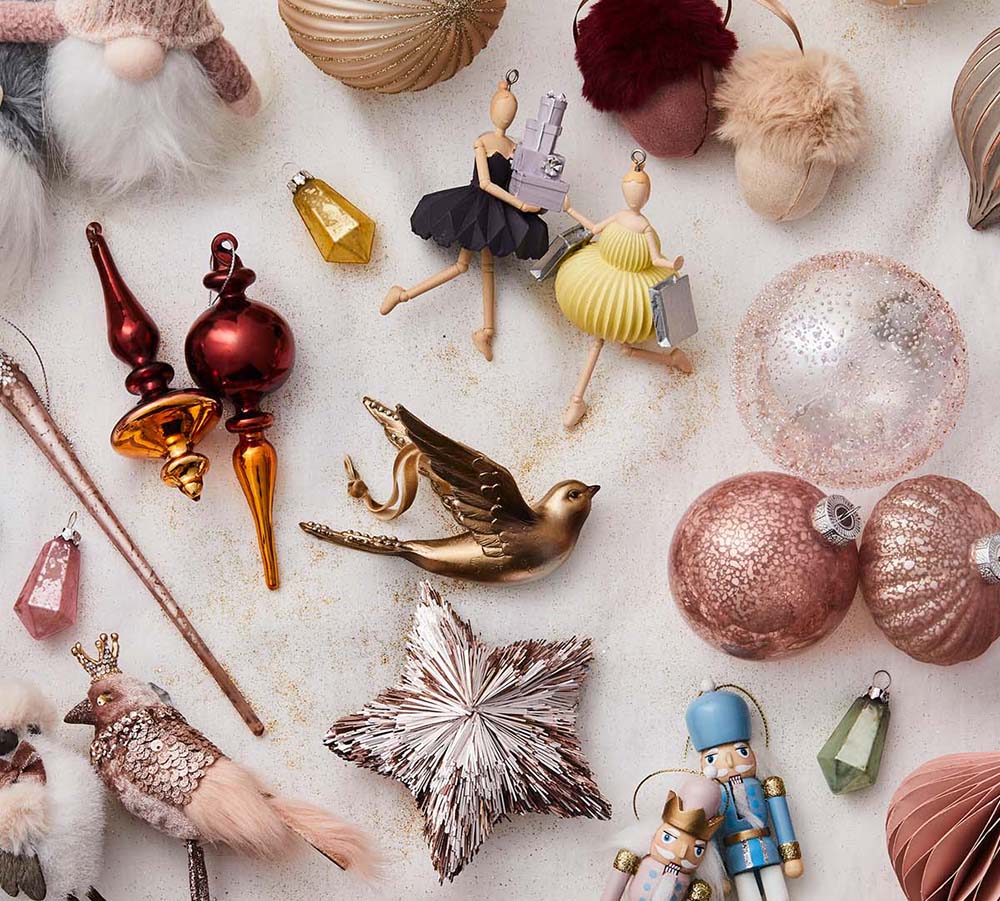 3. Start with the base ornaments
Base ornaments are those larger, round ornaments that will make up the majority of the pieces on your Christmas tree and really set your colour scheme. Hang these towards the inside of the tree to help to build the overall look. Choose base ornaments in up to three colours or materials and place them all the way around the tree. This will lay the backdrop for all those extra-special featured ornaments that you'll want to take centre stage. To make this decorating step easy, look for base ornaments packaged in convenient box sets.

4. Layer in feature ornaments
Brian suggests using a 3:1 ratio of base ornaments to unique ornaments for an evenly decorated Christmas tree. For unique ornaments, you'll want to mix shapes (finials, teardrops), finishes (matte, shiny, glitter) and special items (porcelain animals, nutcrackers, pinecones and acorns). Aim to add these feature ornaments in odd numbers, like three or five. Go for larger odd groupings of the same ornament on a larger tree, and fewer for a smaller tree. Be sure to place your more fragile ornaments higher up on the tree, where they're less likely to get caught by children or pets.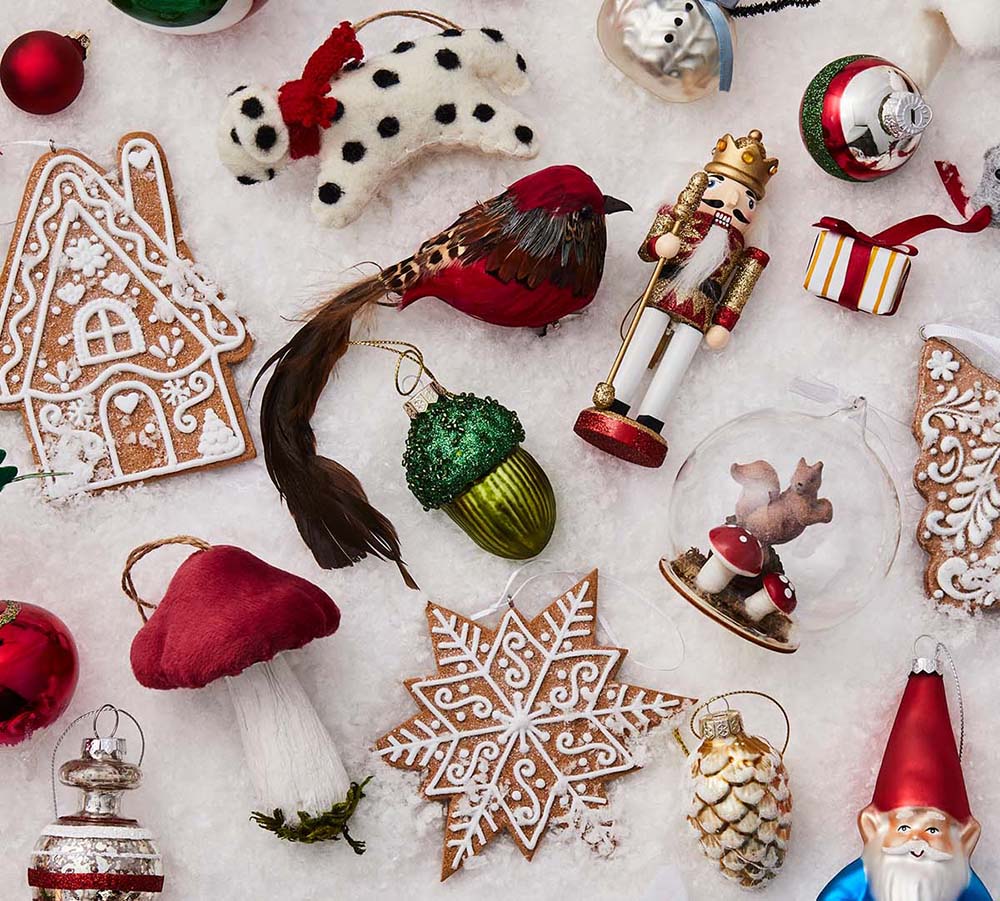 5. Choose a tree topper and skirt
No perfectly decorated Christmas tree is complete without the right accessories. A tree topper and skirt are two pieces that really bring the tree to life and reinforce your overall theme. For a more traditional tree, go with a classic silver or gold star topper. If your theme is more playful or glamorous, try something more whimsical like a crystal snowflake. Gather a few upper tree branches to bend and place into the base of the topper for additional support. Don't forget a tree skirt to ground the look and add warmth. For something that feels a little more special, opt for a skirt in soft faux fur, cable knit, or a quilted style.

Photography by A Plus Creative