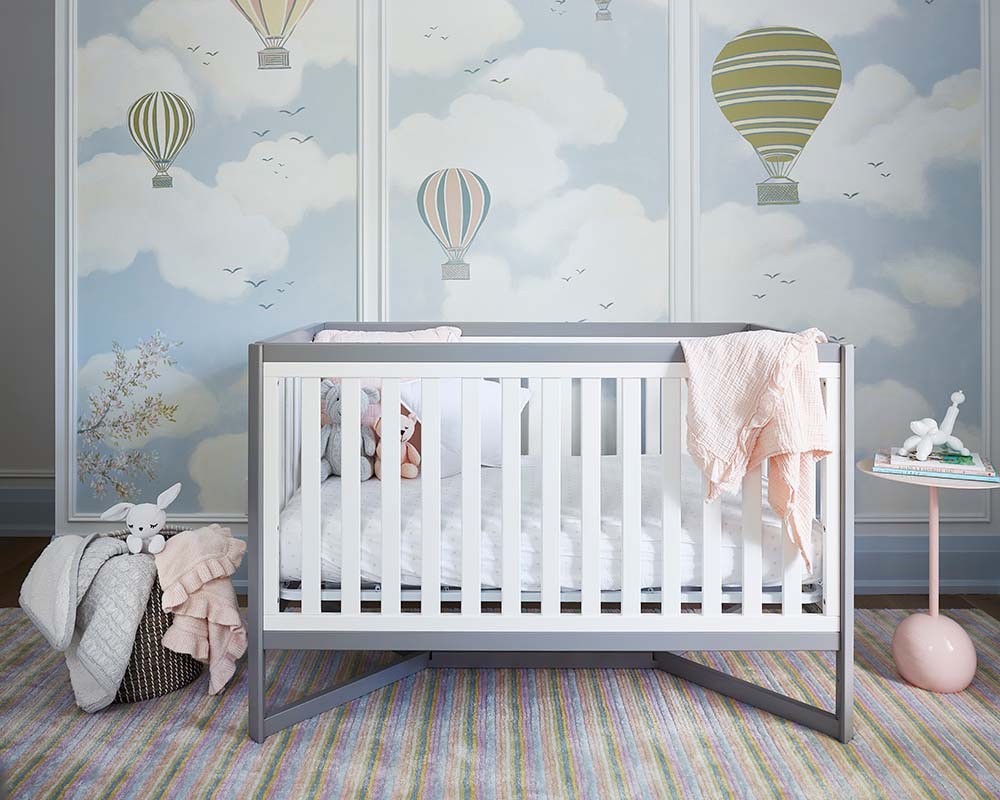 When it comes to the nursery, there's no doubt that you're going to spend a lot of time in the space. To help you design and set up a nursery that's both stylish and comfortable, Brian recently answered your questions about creating the perfect room for your baby. Read on for Brian's nursery design tips.
Be sure to follow @glucksteinhome on Instagram to submit your questions for our next Ask Me Anything with Brian.
What are the trends for baby's rooms these days?
Brian: I think the trend is towards a more contemporary look, going more modern with the furniture and the cribs. There's also a trend towards more crafted items – incorporating woven baskets for toys, knit blankets, and stuffed animals.
My walls are white and I don't want to paint them. How else can I bring in colour?
Brian: An high impact way to add colour to the nursery is through window coverings, area rugs, and brightly coloured pillows. You could also add a slipcover on the chair. Other easy options would be to use throws, crib sheets, and other accessories in fun colours. You could also consider painting just the ceiling, while leaving the walls white.
What are some good ideas for art in a baby's room?
Brian: I love wall murals, and there are so many options these days. A gallery wall is another great idea for the nursery. To create one, find a collection of simple frames and a cute book that has illustrations and you can do your gallery wall with illustrations from the book. I also like abstract pieces for a nursery – they can really evoke a sense of calm and can be transitioned out of the space once your child has grown. 
How do I make the nursery feel really cozy?
Brian: A cozy, comfortable feeling is really important in a nursery. You'll want soft lighting, plenty of throws, blankets, and pillows. And definitely a very comfy chair.
What are some tips for a functional nursery in a very small space?
Brian: When your baby's room is a smaller space, keep the design light and monochromatic. Opt for minimal furniture and stick to the essentials with a change table, crib, and chair. Minimize clutter and keep everything very neat.
What should I look for in nursery furniture?
Brian: Look for furniture that suits your design aesthetic. You'll be spending so much time in there, so you'll want to love the space. Also look for furniture that can transition as your child grows, such as a crib turns into a toddler bed, or a change table that converts into a beautiful dresser.
Do dark colours work in a nursery?
Brian: Personally, I like a brighter, more cheerful nursery. You could paint a dark rich colour on the ceiling or area rug, but you're going to sleep deprived as it is, so I don't think you'll want to spend a lot of time in a dark space.
Photography by Angus Fergusson