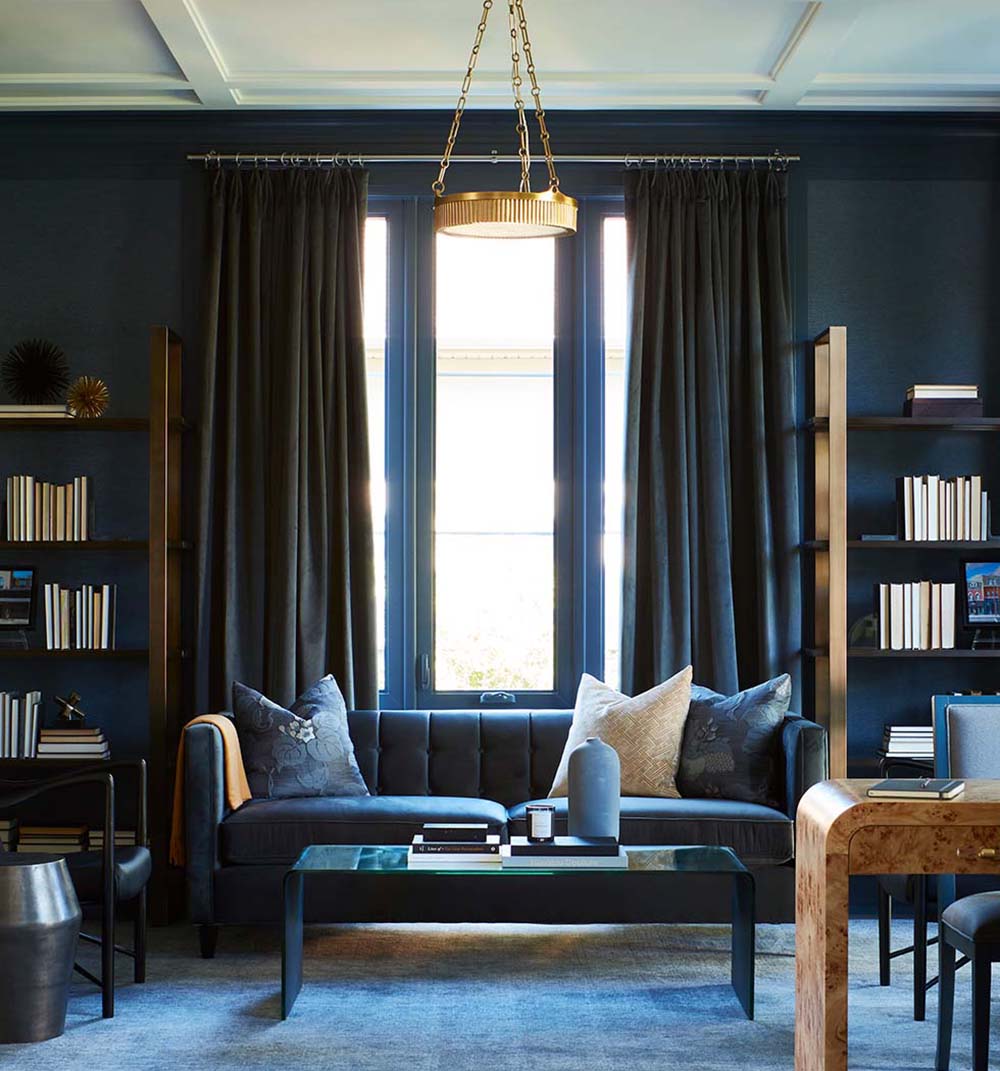 In an age where everyone seems to be obsessed with bright white interiors, dark and moody rooms can often be overlooked when it comes to designing a home. And we get it; light, sun-filled spaces can have an incredibly uplifting effect on our moods and help instill a sense of calm. And while we love bright spaces as much as the next design enthusiast, we also think there's plenty of room and reason for those dark, dramatic spaces, too.
Deep dark colours done well can add some much-needed moodiness to a home, add character, style, and tons of coziness. Even if you're someone who loves light and bright, not every room in your home necessarily should be. Especially if the rest of your home is white and airy, bringing in a bit of darkness can create contrast, better define different areas, and add variety.
Sold? Here are our top five tips for incorporating a dark and moody room into your home:
1. Choose a room in need of drama
Areas that are more frequented in the evenings where you'll want a romantic, dramatic feel like the dining room or study are perfect for this style, especially accompanied by candlelight and mirrored accents. Powder rooms are also ideal because they can add unexpected drama to the home and will delight you and your guests. Plus, you won't have to splurge on heaps of materials due to the smaller square footage.
2. Use rich colour on more than just the walls
Painting both the walls and trim a deep colour makes the room even more dramatic and really envelops the space for an ultra-cozy look. Even more, it can make the space appear taller, too. And when it comes to the walls, don't be afraid to go glossy with your paint for an especially glamorous look that will brighten the darkest of rooms by allowing light to reflect off the walls.
3. Embrace bold upholstery
Dark and moody rooms are a great opportunity to go for bolder upholstery, especially if you're someone who might typically shy away from rich hues. Since the space will be full of deep, dark colour, opting for similarly rich fabrics on the sofa or accent chairs is far less intimidating and will blend into the space seamlessly creating a cocoon effect.
4. Add some light contrast
As with any space, it's important to bring in some contrast so that things don't fall flat. Aim for lighter flooring or a rug to brighten up the space and have one or two pieces of furniture be in a lighter colour so the space doesn't feel too heavy. Don't forget to add in those luminous accents like cushions, throws, books and décor to soften the room and make it more inviting.
5. Incorporate some shine
Be it with aged brass lighting, sleek silver hardware, a mirrored table, or abstract art with gold brushstrokes, bring in metallic accents to add some shine to your dark and moody room. Brightening it up will make it all the more glamorous.
Lead photo by Angus Fergusson