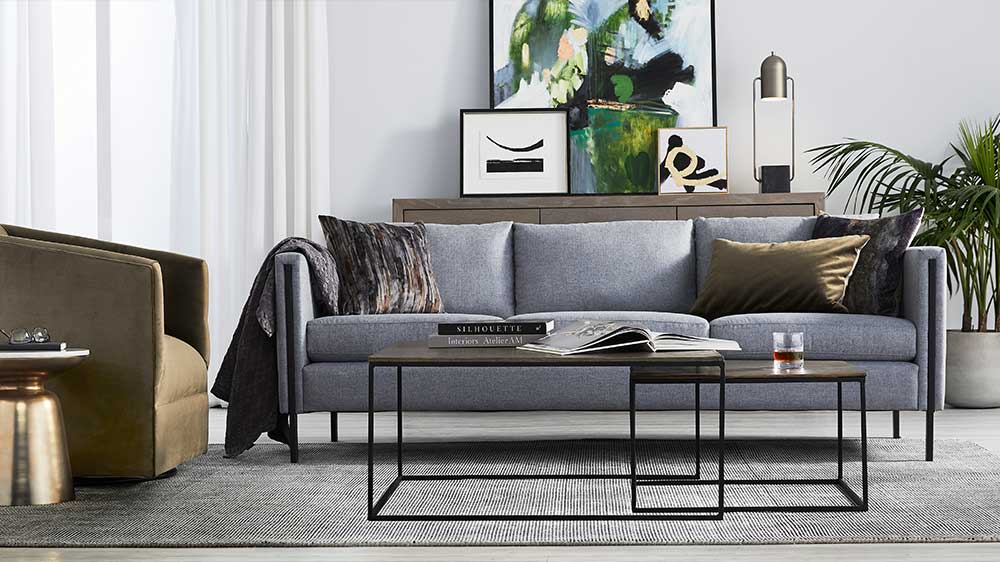 Wondering how to design a room that's both trendy and has timeless style? While we all yearn for a space that we're excited to show off and come home to, we don't necessarily want an overly trendy room that calls for a complete refresh in just a year or two.
To help you find the right balance for a cool space that ages well, we've created a foolproof framework for planning your timeless design.
Start with an earthy, neutral palette
A serene, neutral base for the walls and larger pieces of furniture will help to ground the room. It also provides the perfect canvas for a few trendy accents and decor. Opt for earthy tones like soft taupes, warm whites, pale greys, and deep greens that will stand the test of time.
Sleek is always in style
Clean lines and sleek profiles tend to stay in timeless style when it comes to interior design, They draw less attention and allow for plenty of light flow. Try a sleek set of nesting side tables for your coffee table, or a sofa that sits on an exposed metal leg.
Choose your statement pieces wisely
Not every piece in the room needs to make a bold statement. The goal is to create a space that feels relaxing and inviting, yet offers plenty of visual interest. Too many trendy pieces will be distracting in a space. Be sure to use only a few of these so they get the attention they deserve.
Go for abstract art
Abstract pieces are visually dramatic and versatile, making this style of art an investment with longevity. Layer graphic pieces of varying scale against the wall on top of a console or change up the placement or hanging direction of each piece for a new look every once in a while.
Bring the outdoors in
In keeping with an earthy palette, bring in some greenery to bring the space to life – quite literally. Large plants like fiddle leaf figs or palms are particularly on trend at the moment, but any type of greenery is timeless and always in style.
Show off souvenirs from your travels
Stack smaller travel souvenirs like decorative boxes or sculptures on top of design books. These pieces serve reminders of happy memories. They also add a story to your space. Keepsakes remain special for years to come.
Photography courtesy of Hudson's Bay