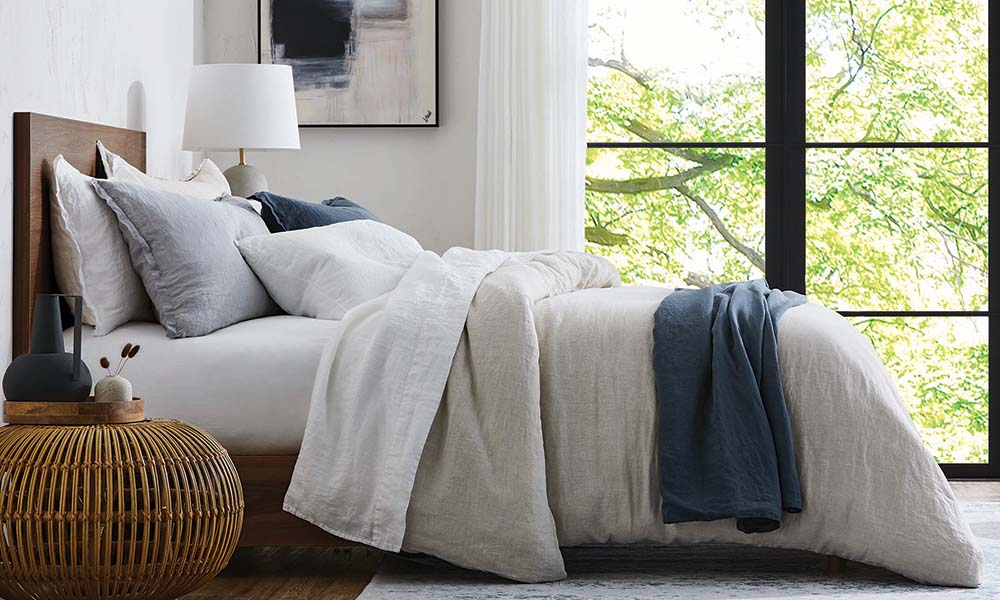 If you love the look of those casually elegant Parisian bedrooms that look effortlessly put together, you're not alone. And the secret ingredient that many of those spaces have in common? Casual, cool linen bedding. Traditionally reserved for the summer months, the easy style of linen bedding is quickly becoming a popular year-round choice. If you're considering making a switch to linen bedding, here's everything you need to know about this new favourite.
What is Linen?
Like cotton, linen is a natural fibre and it's derived from the flax plant. Found throughout Europe, flax is a hearty annual. After the plant is harvested and separated, the longer stem pieces are reserved for finer fabrics like bedding. Other products commonly made from the flax plant include flax seed, flax meal, and the seed by-product linseed oil.
Benefits of Linen
There are many benefits to know about linen bedding. With its inherent cooling capabilities, linen is a popular summer bedding option. In fact, the fibres absorb sweat and wick it away from the body, making the material self-cooling. But its benefits extend beyond temperature regulation. The fibre is lint free (which means your bedding won't pill!), hypoallergenic, and highly durable. All of which makes it a very low maintenance choice for the bedroom.
How to Care for Linen Bedding
Similar to linen clothing, your linen bedding will soften over time and maintain a beautiful textural feel. You can machine wash linen bedding at home with mild detergent and even dry it on a low setting. Line drying is another option and it adds to the relaxed look and feel. Linen fibres have a low elasticity, giving the bed a more casual, lived-in feel. If you prefer your bedding to have a smoother look, just press it out with a light iron to release the creases.
Photography courtesy of Hudson's Bay