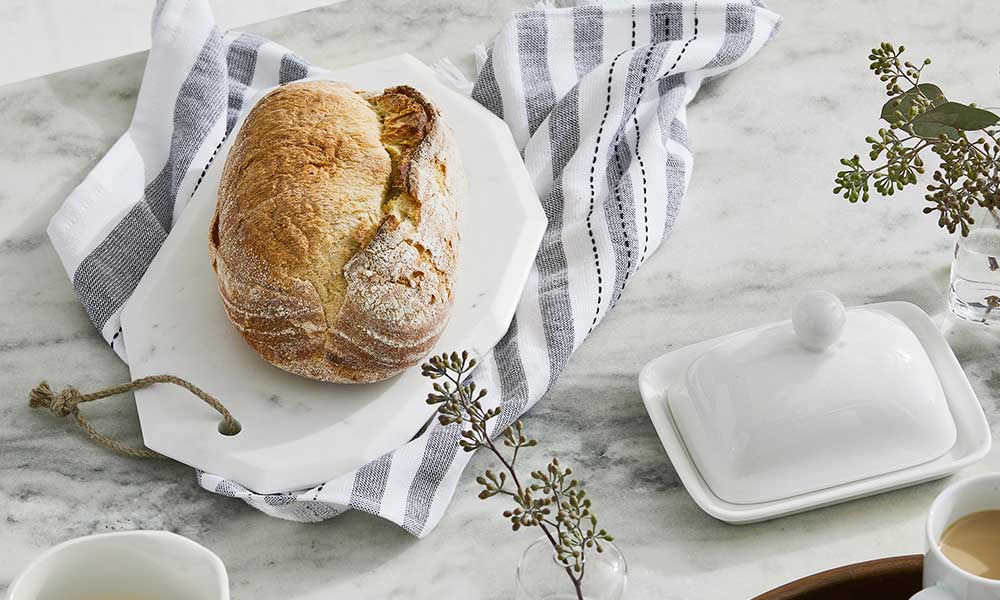 It's hard not to fall for the effortlessly stylish and cool look that the French are so well known for, and that includes taking cues from them when it comes to home décor. Lately, we've been inspired by how they set the table in that perfectly fuss-free countryside style. After all, it's always fun to change up your table with a new look and feel, especially when it's this chic and relaxed. If you want to experiment with the look, we're sharing our tips to set a cool French country inspired table for your next big meal.
Go for Natural Colours
Think soft, earthy hues when it comes to your French country inspired table set up. Go mostly monochrome with creamy whites, taupes, and greys for a pared back, effortless look. Feel free to bring in a bit of classic blue that the French love so much, especially when it comes to your linens or dinnerware.

Shop GlucksteinHome tabletop at Hudson's Bay
Mix and Match
Add a casualness to your table by including plates and glasses in a variety of styles. Creating a mix makes sure nothing feels too precious and also adds a bit of variety to make the table more interesting. Opt for clear water and stemmed wine glasses to keep the table looking serene and effortless.
Be Wild with Your Flowers
When it comes to florals for your French country inspired table, go for simple bud vases and incorporate more foliage into your vessels than you might usually on your table for a more natural look. Let those few pops of colour from the flowers really steal the show on that neutral, natural palette. Bud vases are great because they're shorter and don't obstruct views across the table, making sure eye contact is encouraged and things can be easily passed.
Put Away the Iron
Keep it casual with a linen tablecloth that feels quintessentially French country inspired. The soft, wrinkled texture of linen looks elegantly undone. Add linen napkins next to each place setting – no fancy napkin origami required here – and don't be afraid to mix in a couple of different colours for a varied look on the table.

Clear Your Schedule
For a real, French-inspired meal, do as the French do and revel in a luxurious amount of time spent at the table. Enjoy courses separately, slowly, and be sure to leave room for long conversations and laughter with the company you're in. Bon appetit!
Photography courtesy of A Plus Creative (lead) and Hudson's Bay (2,3)