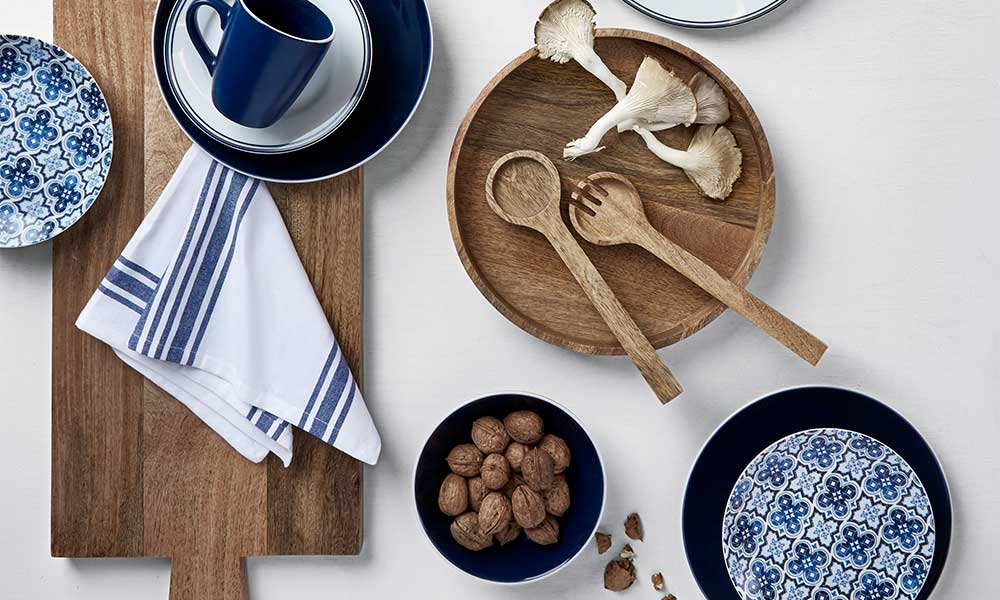 When we think of the Mediterranean, we think of beautiful beaches, delicious food, and rest and relaxation. So, why not bring all those wonderful sentiments to your dinner table this summer with a stylish, Mediterranean inspired table setting? With no travel required, think casual dining built for long, family-style meals at the table and an earthy palette that brings colourful summer salads, grilled meats, and fresh fish to life.
Read on for a step-by-step look at how to achieve a perfectly Mediterranean inspired table of your own.
Colour Palette
For a quintessential Mediterranean inspired table setting, focus on a palette of crisp whites paired with striking shades of blue. Accent plates with patterns inspired by gorgeous floral tiles bring personality to the table. Natural wood accents throughout add a rustic earthiness.
Table Settings
Heavy stoneware is popular in the Mediterranean, not to mention it offers up richer hues than other dinnerware materials. Try cobbled flatware to add texture to the table along with an organic, handmade aesthetic.
Serveware
Serve food on stylish wood cutting boards and in large bowls for the casual, unfussy nature of long, seaside dinners. Fill various sizes of wire and wood nesting baskets with fresh breads. Or opt for colourful fruits to prompt guests to help themselves and pass food around the table in true Mediterranean inspired table vibes.
Linens
Soft linens with navy accents keep with the dinnerware's colour palette and can also be used to line bread baskets. A simple table runner feels informal and looks modern and stylish placed on a natural wood table.
Extra Touches
For an all-out Mediterranean setting, arrange simple white vases with anemones or lavender to offer sweet reminders of the florals that bloom in the region. Lemons attached to the vine add a refreshing pop of colour to an otherwise cohesive colour scheme.
Photography A Plus Creative