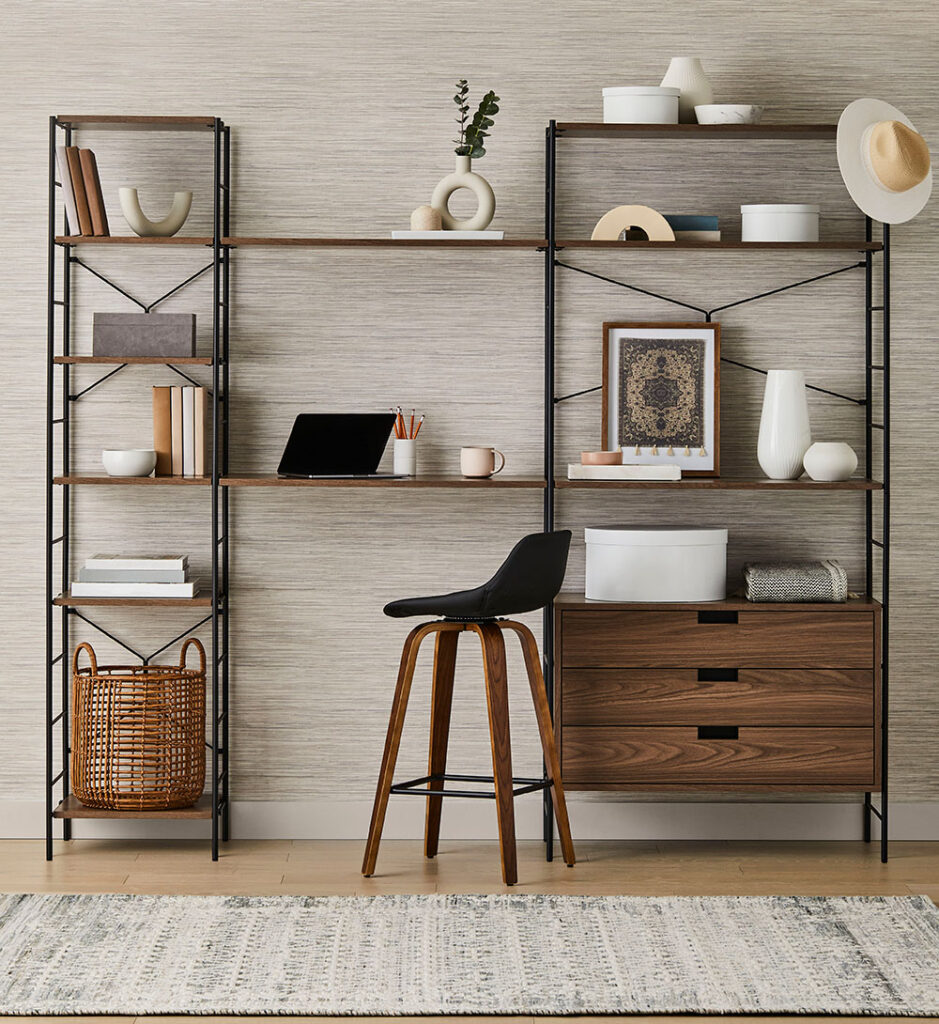 Whether you work from home regularly or once in a while, having a home office has become increasingly popular in recent years. You might have a dedicated room for this purpose or you may have simply carved out a corner in your living room or bedroom. But no matter the size or location, a practical yet stylish set up is the key to a happy and productive space. Follow our design tips below to make your home office work for you.
Think Vertically
Square footage is at a premium in many homes. So when it comes to your home office set up, think vertically. A multi-functional storage unit in a minimalist design that doesn't take up a ton of room is an ideal solution for almost any space. Take it a step further with a modular system, so you can choose a configuration that's perfect for your needs and your space. Look for a mix of drawers and adjustable shelves so you have all the flexibility you'll need to organize your home office for your own personal work flow. Layer in some stylish boxes and baskets that double as useful storage.
Add Greenery
Freshen up your workspace with a few indoor plants. A dose of greenery adds an uplifting feeling to any home office set up, especially where there's minimal natural light. Opt for low maintenance options, like a snake plant or a ZZ plant, and choose a pot that adds some cool texture and style to the space.
Make it Cozy
A home office should feel warm and welcoming. Keep the space comfortable with a soft throw. Try a chunky cable knit or lighter cotton fringed throw, depending on the season. And don't forget about the floor. There's nothing like a beautiful area rug or runner to bring an extra layer of comfort and style to any space. Choose a rug in a neutral tone and soft pattern to layer seamlessly with your office space.
Add an Accent Wall
An accent wall is an easy way to make your space feel like a dedicated home office. This is particularly true if you've carved out a nook in a larger room. It'll define the area and add some style and personality at the same time. For a big impact with a low commitment, try peel-and-stick wallpaper. It's easy to install and removable. If you're going for a cozy feel, try a textured-look like faux grass cloth or paper weave. If you want to add more flair, opt for a bold pattern in a rich hue.
Photography by A Plus Creative