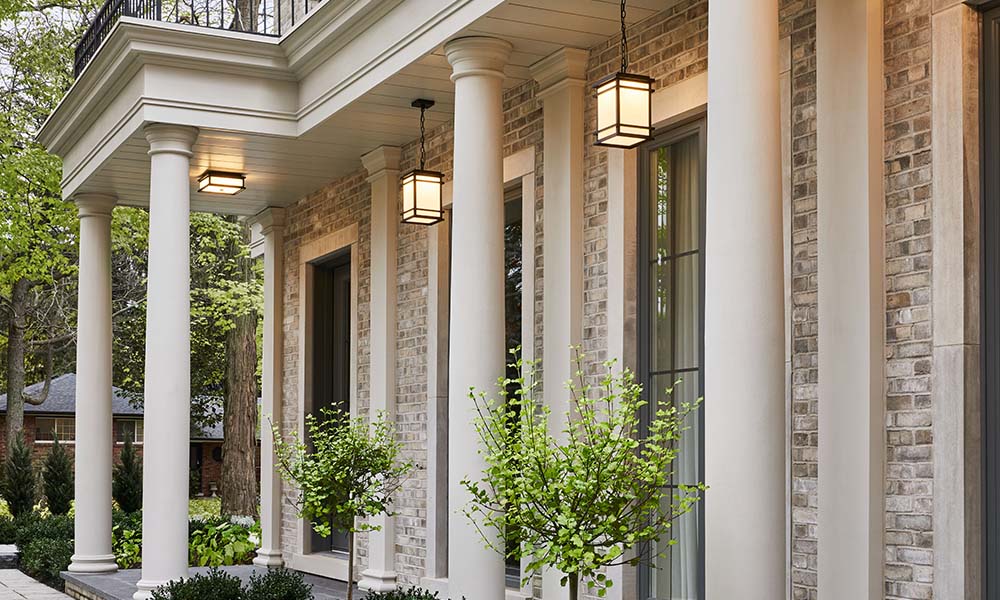 Every home deserves a little curb appeal, and outdoor lighting is one of the best ways to achieve just that. At sundown, exterior fixtures add a beautiful, glowing ambiance – and they're great for safety and security when walking around after hours, too. And with updated traditional and modern designs, there are so many ways to make a statement that reflects you and your home's style. With a few key choices and minimal effort, you can create a place you'll love coming home to just as much as you love spending time in.
Unsure of where to start with your outdoor lighting? Let's begin with a few of the basics when it comes to outdoor lighting:
1. Outdoor lighting should be layered
Just as it's a good idea to layer your lighting inside the home with a mix of pendants, sconces, and flushmounts to include ambient, accent, and task lighting, you'll want to do the same for the exterior. Aim for a variety of lighting options with different purposes and position your fixtures at different heights. This not only adds functionality but a beautiful ambiance too.
2. Outdoor lighting should connect to your interior style
Connect your home's interior aesthetic to the exterior by choosing a style of outdoor fixtures that complements it. If your exterior is more traditional but your interior décor leans modern, for example, don't be afraid to select outdoor lighting that's a little more contemporary to tie it all together.
3. Outdoor lighting fixtures should match
When choosing outdoor lighting, you'll usually want to keep the style consistent across your fixtures. After all, there are so many different design elements outside, from materials on the house and in the landscaping, that you don't want to overcomplicate it with mismatching lighting styles. Choose your fixtures –such as sconces, pendants, and posts– from the same collection to create a cohesive look.
4. You're mainly going to want to replace lighting fixtures where they already exist
Unless you're building a new home, you're probably not going to want to drill into your exterior to position new hardwired lighting. It's a difficult, time-consuming, and expensive task. Instead, focus on updating the existing hard-wired fixtures with pieces you love.
Now that we've got the basics covered, let's talk about some of the most common styles outdoor lighting, and where to use them:
Sconces
Probably the most common of outdoor lighting options, sconces are positioned vertically along the home exterior and offer ambient lighting. These lights are often positioned on either side of entranceways to the home whether that be a front, side, back, or balcony door. They're also a good choice when lighting narrow pathways around the home such a walkway between your house and your neighbour's, or on either side of or above the garage.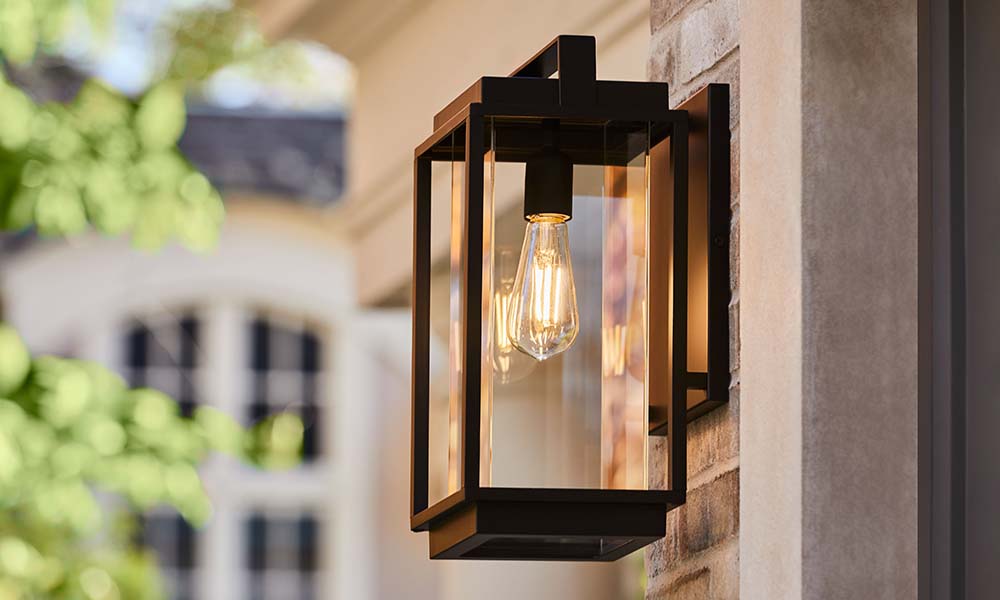 Pendants
Outdoor pendants – also known as hanging ceiling lights – are perfect in covered areas where you want lots of visibility at night. Suspended in the air, these fixtures can make a real style statement to the entrances of your home. Or try using them on a covered patio or balcony. Just make sure you have enough height to accommodate a pendant without interfering with movement. And be sure you don't live in an area with high wind, where the fixture will shift around too much.
Flushmounts
Flushmounts are the most common choice for overhead lighting. They provide lots of visibility and work under covered areas just as pendants do, however are the superior choice if you don't have space to allow a pendant, or live in a windy area where you want something more secure.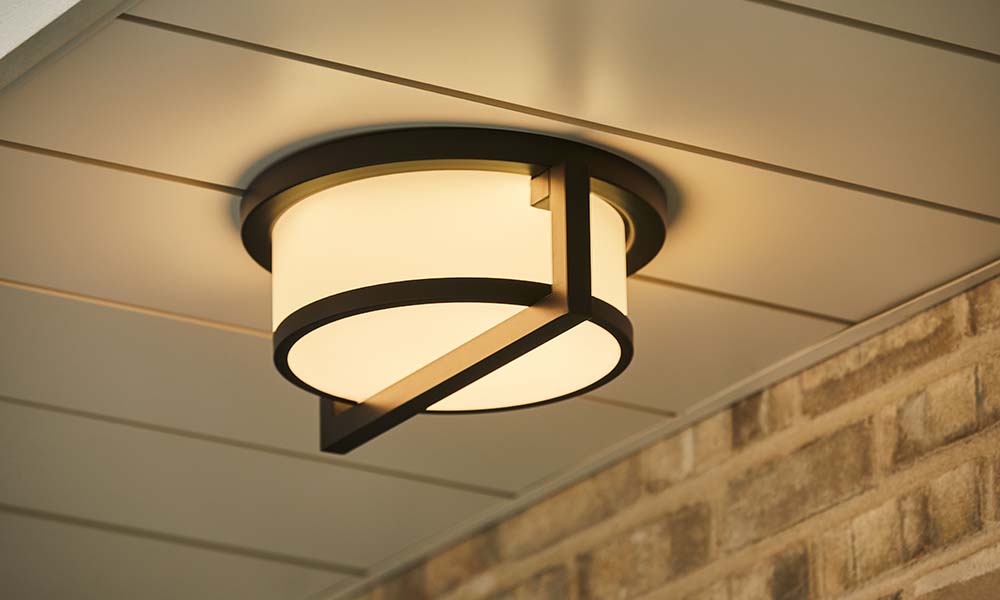 Post Mounts
Post mounts are tall fixtures that are used to illuminate gardens, paths, driveway entrances and entrances to the home. These versatile lights can be placed anywhere in your yard, as long as you have enough wire to connect them back to the power source. You'll need to wire them underground deep enough so that they won't interfere when gardening or mowing the lawn.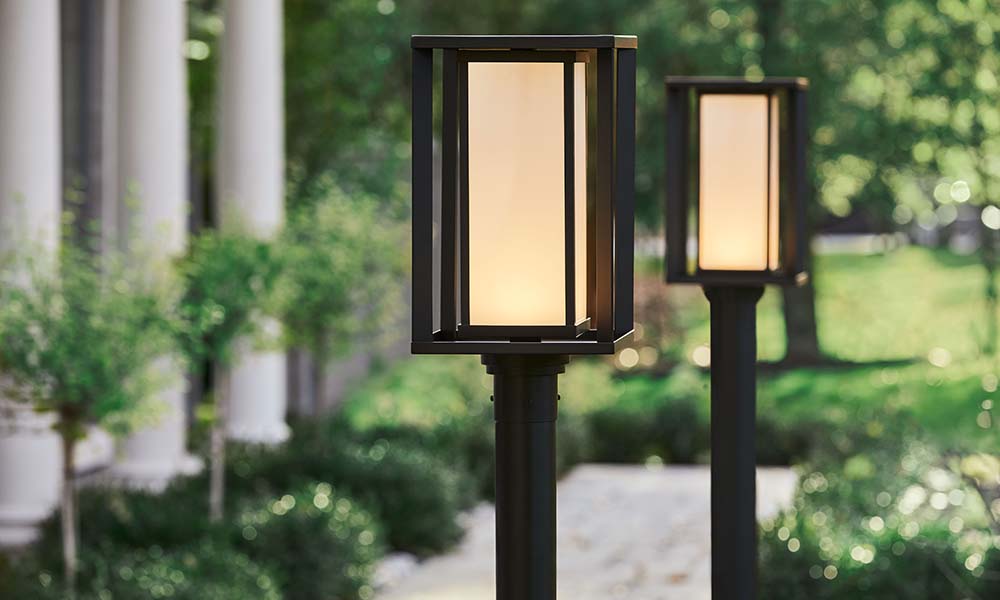 Photography courtesy of The Home Depot Canada