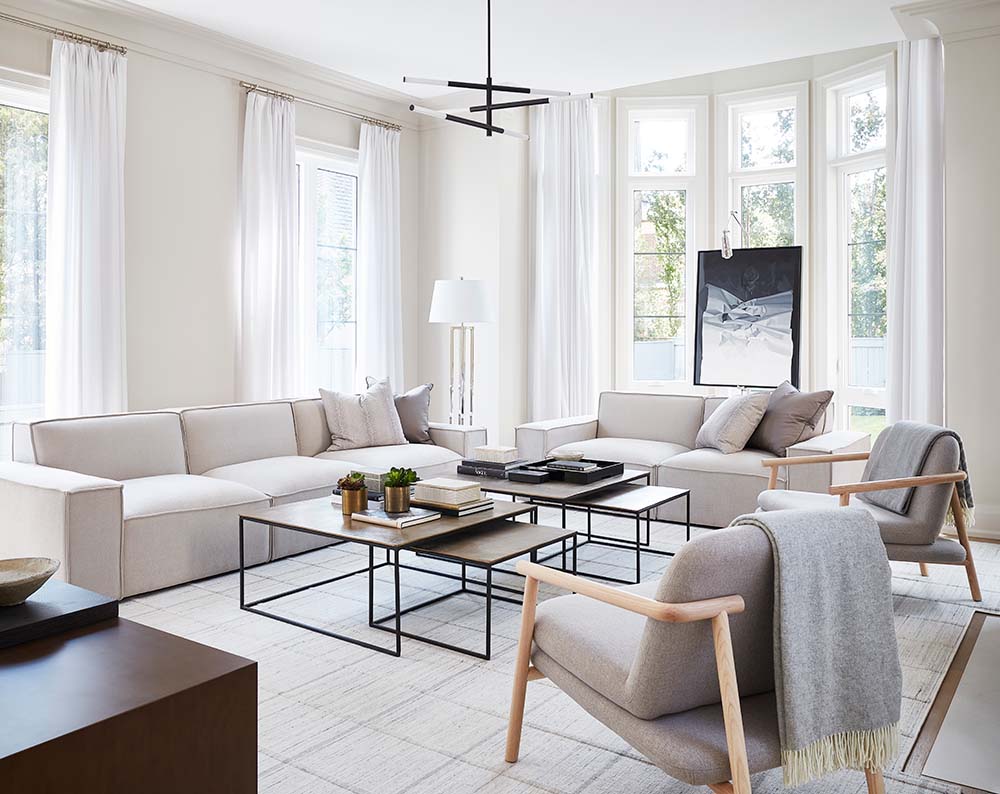 Monochromatic spaces – though incredibly popular – sometimes get a bad rap. Often, it's the claim that monochromatic spaces can feel cold or bland. However, we say that's only if the room has been designed poorly. Designed well, a monochromatic space is warm, calming, stylish, and timeless – and it's all about getting that balance just right.
If you're looking to design a beautiful monochromatic space injected with some cozy warmth, we're sharing our not-so-secret formula below to help inspire your home:
1. A mix of light and dark
For a well-balanced monochromatic space, choose one colour, plus a few darker and lighter variations, as your base to decorate 75% of the room. Leave 25% for contrasting accents. If you're aiming for a brighter, more neutral space, you may want to opt for creamy white walls and a light rug to ground the space, then bring in a few darker accents through furniture, art, and décor, or vice versa.
2. Don't underestimate texture
With so much of the same colour present in a monochromatic space, you're going to want to break it up with a mix of textures. Not only will this make the space more interesting to look at, it'll feel rich and layered too. Choose anything from faux fur throws to knit cushions to a tactile woven rug. A mix of textures is sure to bring added warmth to your space.
3. Go warm over cool
When it comes to your colour palette, look for warm undertones in the finishes and materials you select. Unsure of whether something has a cool or warm tone? Hold it next to a piece of white paper – warm undertones usually have hints of orange, red, or yellow, while cool undertones typically have doses of green, blue, or purple.
4. Woods and warm metals
When it comes to materials, woods and warm metals create coziness in a space. Brushed brass or bronze feel soulful and add a soft glow, while woods bring an earthiness that connect the room back to nature. A chair with a natural oak frame and nesting tables with a brushed brass surface, for example, are pieces that will have your monochromatic space feeling warm and inviting.
Photography by Angus Fergusson