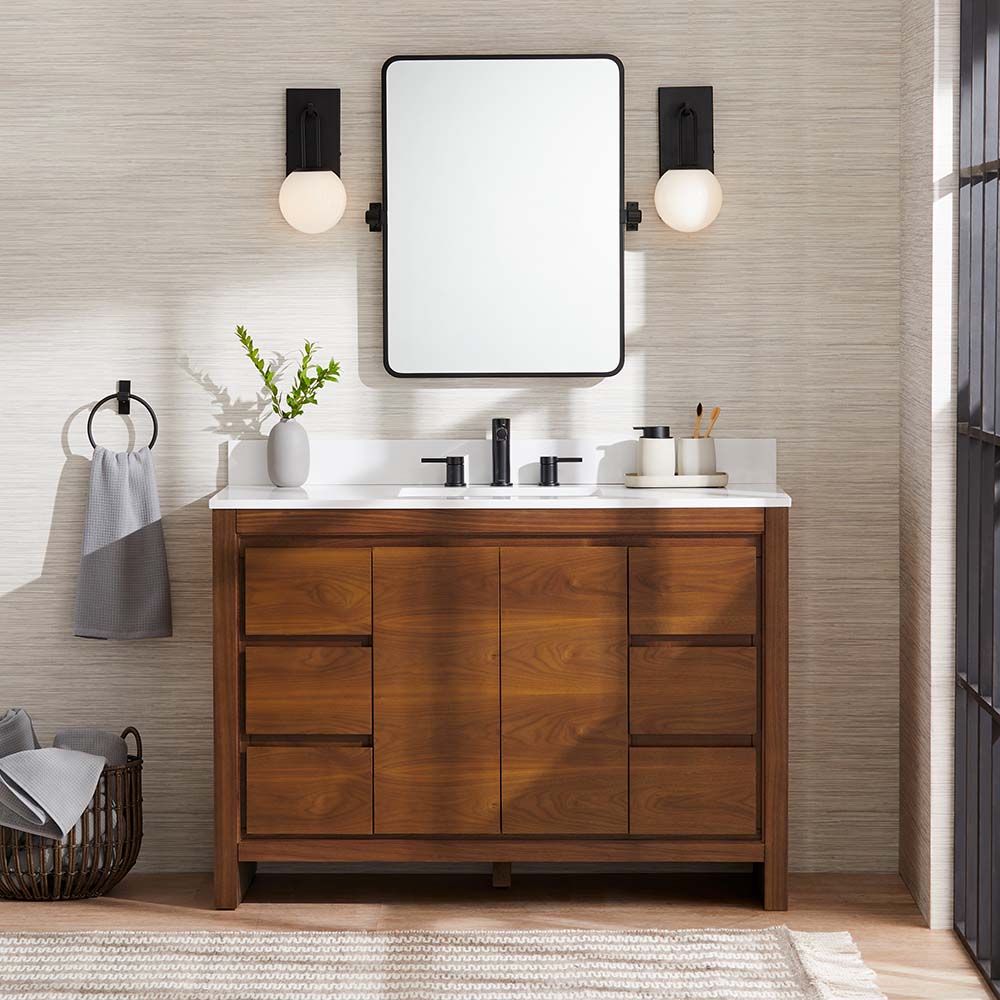 Of all the rooms throughout a home, bathrooms traditionally tend to be one of the coldest. Filled with sleek materials and plenty of metal fixtures, it can be difficult to add a sense of warmth and coziness to these spaces. Sometimes bathrooms get overlooked as a design opportunity, with home-dwellers seeing the space as more function than form. That said, we believe bathrooms deserve just as much design attention as other areas in the home, and that bringing in some warmth and charm can help yours feel just as inviting as those other spaces. Here are a few of our favourite ways to warm up your bathroom for a cozy space you'll love spending time in.
1. Pick the right palette
When it comes to creating a warm, inviting space, it starts with the palette. Look for paint, materials and finishes with undertones of reds, oranges or yellows that will make your space feel sunny and warm. If you're having difficulty identifying the undertones, holding samples next to a sheet of stark white paper can help. Keep undertones consistent throughout paints, finishes, and fixtures to help your space feels connected.
2. Warm it up with a wood vanity
Wood finish vanities are having a major moment. With the beautiful texture and colouring of natural wood grains, using this style of vanity is a sure-fire way to add warmth to your bathroom. Designs that mimic a vintage chest of drawers add soulfulness, while mid-century-inspired options are stylish and cool. Mix other wood elements into the space to create a gorgeous, layered look. Just make sure your woods aren't too similar. Spark some welcome contrast and limit to two or three wood finishes to avoid overwhelming the space.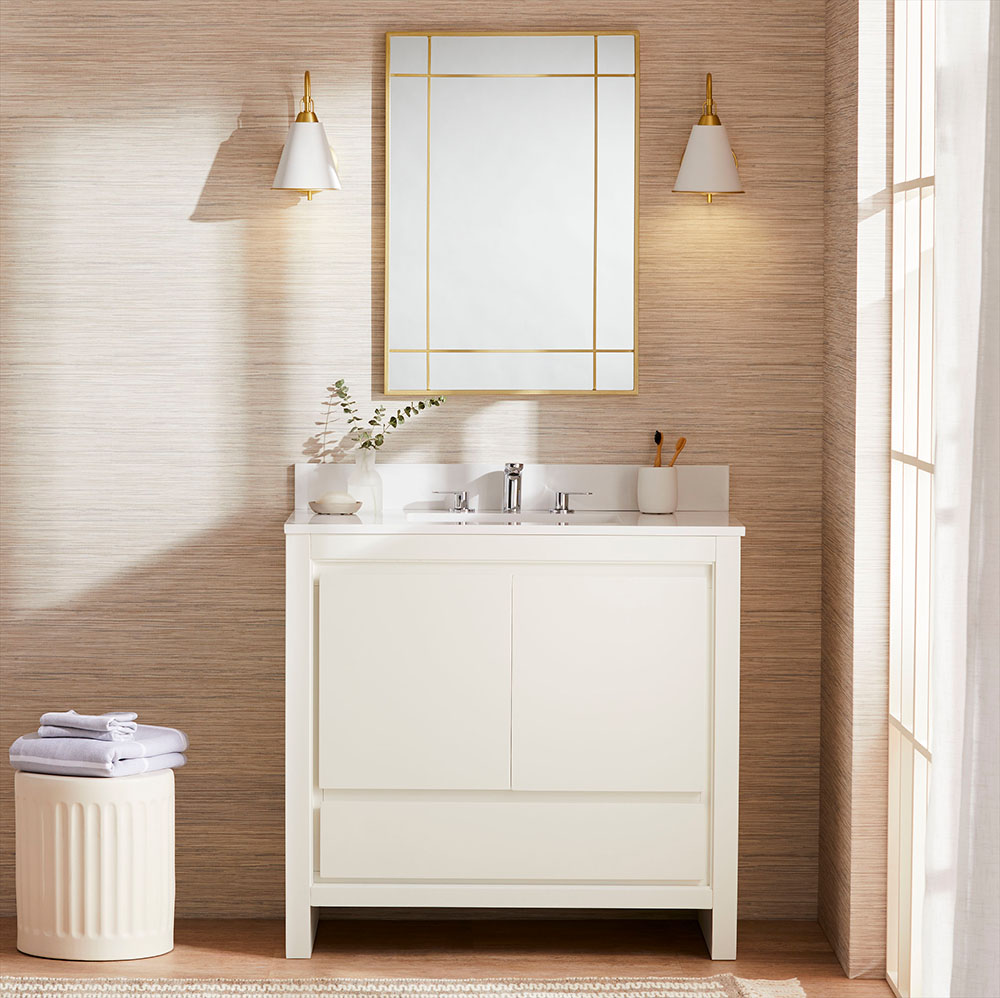 3. Add some allure with wallpaper
Wallpaper adds so much warmth to walls. It softens a space and creates a fresh, unexpected look. These days, wallpaper innovations have come a long way, with peel and stick options looking just as luxurious and textured as the real deal. Not only that, but they're better built to withstand areas of high humidity and traffic where a pasted option might not stand up. Go neutral with a grasscloth pattern or limestone look. Or bring in some allure with graphic metallic accents. There's something for every space and style.
Brian's Tip: Peel and stick wallpaper is easy to install and remove so that you can change up your look without damaging the walls, whether you rent or own.
4. Set the mood with lighting
Nothing cozies up a space like good lighting. And that certainly applies to the bathroom too. Add some ambiance by layering your lighting with a mix of overhead and vanity lights. Consider fixtures that incorporate warm metals like brushed brass or satin gold into their designs. And don't be afraid of mixing these in if your existing plumbing fixtures or door hardware is another finish such as chrome or black. There's so much beauty in creating a mix.
5. Bring in the finishing touches
While you may already have some hand and bath towels resting on a towel bar, consider showcasing a few more linens on a stylish ladder or in a woven basket. This adds soft texture to the space and creates a cozy and warm feel to the bathroom. Add in a set of bath accessories in smooth concrete or warm acacia wood to organize your essentials, set down a fluffy bathmat or textured runner, and finish it all off with a bud vase filled with a fresh green sprig.
Photography by A Plus Creative