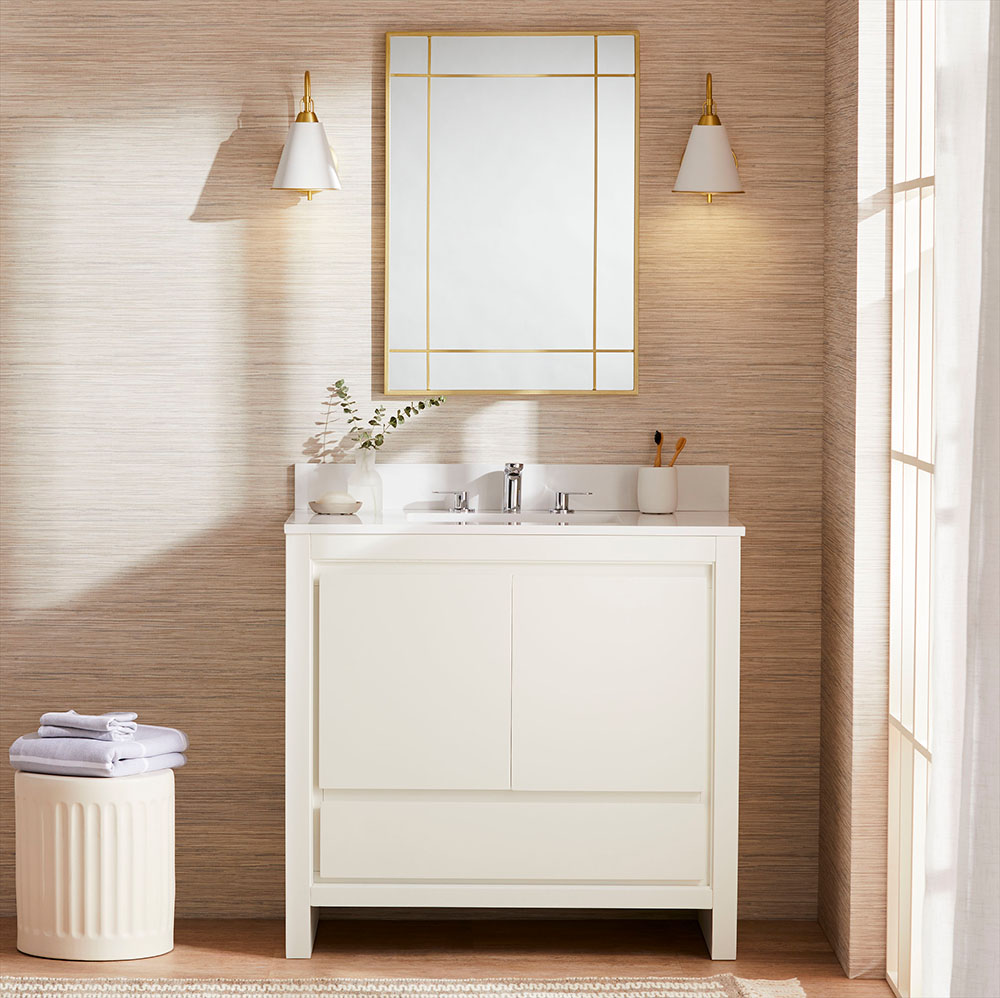 Designing a small bathroom can be a challenging task, but with the right tips and tricks, you can transform your compact space into a functional and stylish oasis. Whether you're working with a tiny powder room or a cramped ensuite, here are some small bathroom design tips to help you make the most of your space.
1. Use Light Colours
Light colours can make a small bathroom feel more spacious and airy. Consider painting the walls and ceiling a light, neutral shade to open the space up. You can add interest and texture with patterned tiles or wallpaper, but stick with light colours and subtle patterns to avoid overwhelming the room.
2. Use a Monochromatic Palette
A monochromatic palette is easy on the eyes and also helps to make a small bathroom design feel bigger. Choose a soothing colour like white, cream, or soft blue and keep everything –from towels, to tiles, to walls– in a similar tone.
3. Go Big With Tile
Sometimes bigger is better in a smaller space. This is certainly true when it comes to bathroom tile design. A smaller scale tile pattern can look busy and overwhelm a small bathroom. Opt for a larger tile style. It will look more expensive and elevated.
4. Opt For a Vanity on Legs
In a small bathroom, the vanity can make all the difference. And here, we love the style of a vanity elevated on legs. Not only does it emulate the look of a beautiful piece of furniture, you'll see more of the overall floor space which adds an airy sense of spaciousness to the room.
5. Go For a Glass Shower Door
If you're short on square footage, a glass shower door feels more spacious in a small bathroom. It also adds a touch of sleek style. If you do have a shower curtain, use a lighter colour and keep it open.
6. Add Storage Solutions
In a small bathroom design, storage is essential to corral clutter and keep things tidy. Look for sleek, compact standing or wall-mounted cabinets that add a lightness to the room without sacrificing storage. Or opt for creative solutions, like a ladder shelf that can hold towels and toiletries.
7. Use Mirrors to Create the Illusion of Space
Mirrors can make a small bathroom feel larger by reflecting light and creating the illusion of more space. Install the largest mirror possible above the sink or add a mirrored medicine cabinet to maximize the effect.
8. Choose the Right Lighting
Lighting can also make a big difference in a small bathroom and it's particularly important if there's little to no natural light available. To create a cozy, spa-like atmosphere, use a variety of fixtures, such as wall sconces and a ceiling fixture. Consider installing a dimmer switch, so you can adjust the lighting to suit your mood.
Photography by A Plus Creative