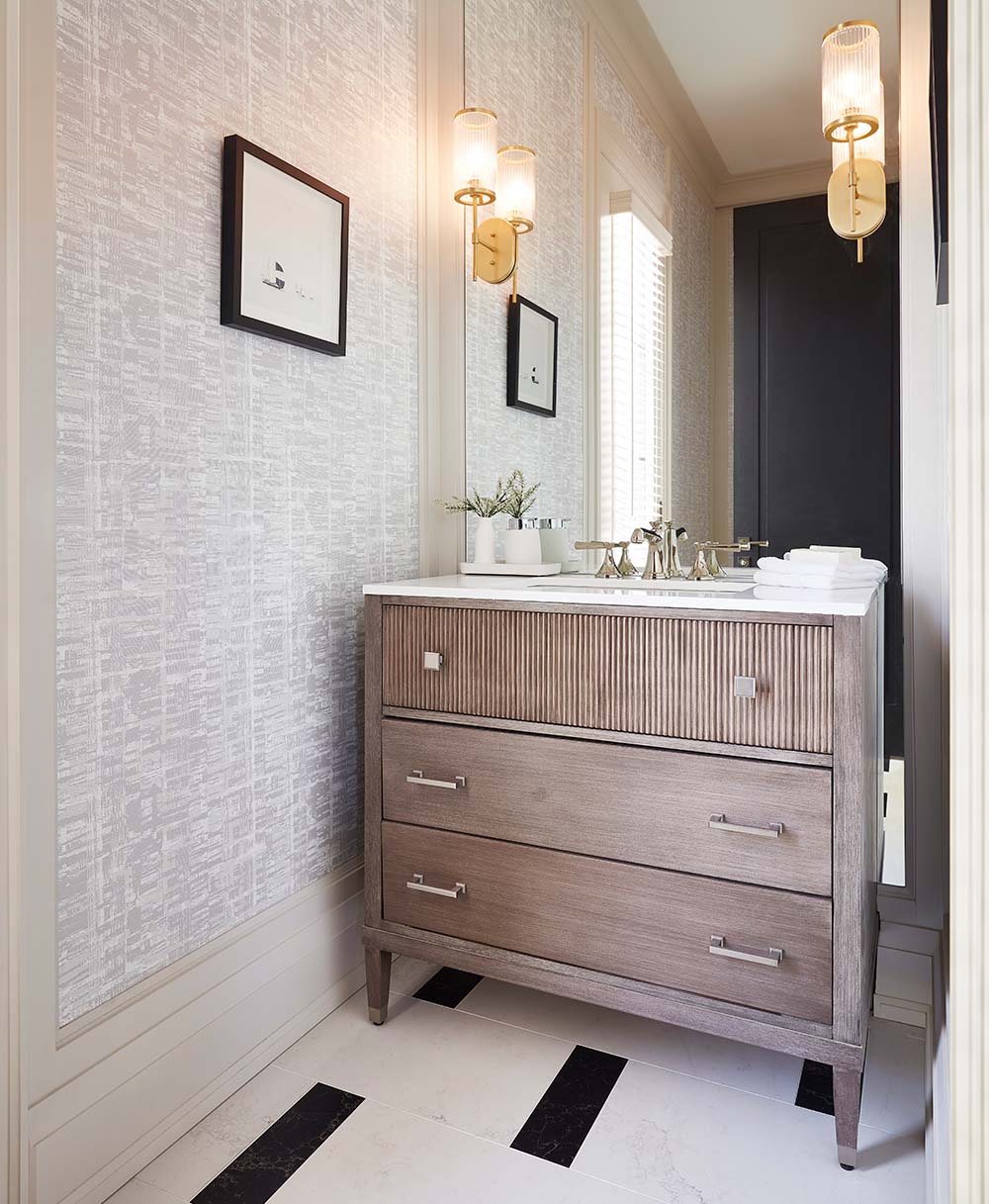 A bathroom makeover tops the home renovation list for many of us. This small space is both hardworking and the perfect opportunity to make a high impact style statement. Are you thinking of a bathroom update? Our advice is to start with the vanity. It's typically the largest piece in the room and can dictate the overall design of the space. Here we share five incredible bathroom design styles featuring vanities from our GlucksteinElements collection. Consider it all the inspiration you'll need for your next makeover.
Vintage-Inspired Glamour
This powder room design by @briangluckstein is full of vintage-inspired glamour. The Somerset vanity used here was designed to feel like a chest of drawers. With the reeded top drawer and wood finish, it feels like a beautiful piece of furniture. And the mix of pulls and knobs in an aged nickel finish adds character and style to the piece. Brushed brass wall sconces add warmth, while shimmering wallpaper and plenty of mirror adds a touch of glam.
Modern Drama
This black and white bathroom designed by @briangluckstein is fresh, modern, and full of contrast. The overall look starts with the Beaumont vanity. In crisp white, the matte black hardware adds contrasting style. Chic black trim along the walls defines the area around the vanity. Fluting detail on the vanity drawer fronts and a tonal wall covering softens the space. Paired with the GlucksteinElements Burke mirror and Ashbury sconces in matte black, this black and white bathroom look is one of our favourite trends.
Southern Charm
This powder room refresh by @p.arruda is charming, stylish, and practical. Featuring the GlucksteinElements Somerset vanity in white, the bathroom design is warmed up with the GlucksteinElements Ashbury vanity light and Burke mirror in a brushed brass finish. A botanical print wallpaper adds loads of charm and impact.
It Takes Two
Rather than opting for a double vanity in her bathroom design update, @christinekissickhome went modern and light with two of the GlucksteinElements Larson vanities. Oak front drawers and sleek black metal legs make this mid-century-inspired vanity style hard to resist. This kids' bathroom has a modern cool vibe that will continue to feel perfect as they grow.
Mixed Materials
@helentenutdesign adds the warmth of wood to this sleek bathroom, designed for a busy family. We love the way the mix of materials in this space contrast one another. The pretty patterned floors and classic subway tile feel modern and cool. And then the furniture-style Somerset vanity adds a dose of dark drama to all those light and bright finishes.
Lead photograph by Angus Fergusson