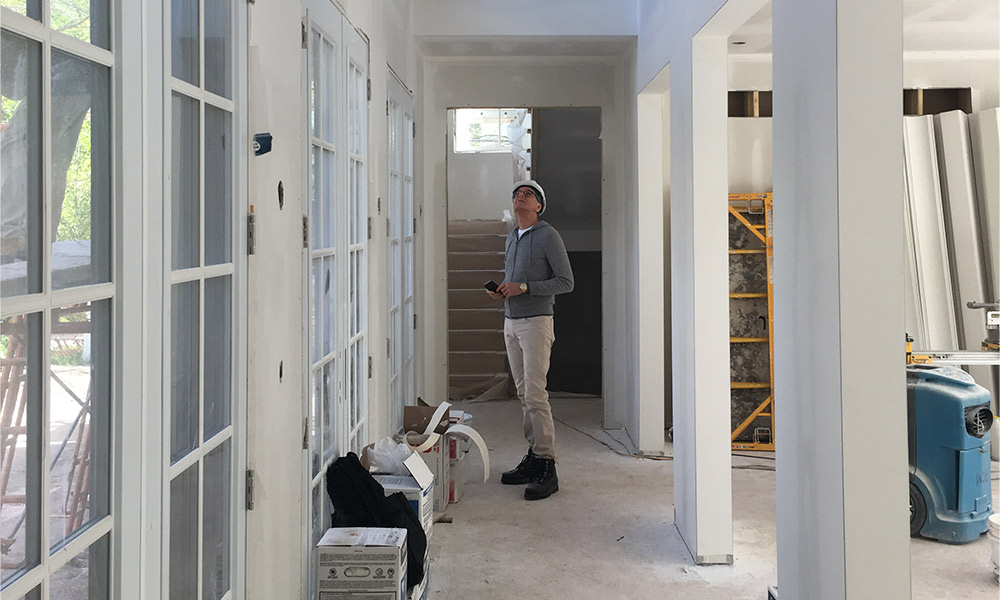 Brian tackles design dilemmas from you! Be sure to follow @glucksteinhome on Instagram to submit your questions for our next Ask Me Anything with Brian.
Q: Do you recommend hardwood floors in the kitchen?
A: I love hardwood flooring in the kitchen. It's comfortable to stand on, not like tile that can be hard on your back, and if you drop something it is less likely to break. You can get laminated floors or even vinyl that looks exactly like wood flooring. Hardwood in the kitchen is a great solution.
Q: Should you replace all the doors and windows at the same time or just the areas you are renovating?
A: If you can, do them all at once. Often you can see from one room to the next and will see the new windows and the old – so if you can, do it all at the same time.
Q: Is it possible to get an accurate budget from contractors bidding on my reno?
A: You have to have proper drawings, with all the details so your architect or designer has to do a complete set of drawings. Select all the finishes and all millwork – everything – then you can give your contractor a complete package and they can give you an accurate price.
Q: What are the tricks to create visual flow from room to room?
A:  It's usually through colour. We have a consistency through our base colour that goes light to dark. All the rooms can have different accents and patterns, but colour will be what unifies the spaces.
Q: Do you think brass pulls and lighting are just a trend or here to stay?
A: I think they are here to stay, but we are looking at more of an aged, softer brass not that shiny brass you've seen. And don't be afraid to mix metals, you can do a brass light fixture over your island with a stainless steel sink.
Q: How do you choose light fixture styles? Similar styles through the home? Worth wiring wall lamps?
A: There should be a point of view that runs through the house, especially if you can see a lot of the lighting, but maybe you do a contrast with one major piece in the dining room or foyer that is completely different in period and style. When it comes to lamps, I like those plugs to be connected to a switch so when you come into a room, you aren't just turning on the lights of the ceiling but all lights at the same time.
Q: Best way to design your home with some trends without it looking dated in five years?
A: When it comes to designing and incorporating trends, whether it is a classic modern or a classic traditional space, inject trends through accent colours, wall covering, maybe some accent fabrics. Try not to go too overboard with current trends when it comes to major things like kitchen cabinets or flooring.
Q: For an ensuite reno, do I need a double sink vanity or single? Are heated floors essential?
A: If you do two sinks, you minimize the amount of storage you have. If you have a lot of drawers, you might only get them between the two sinks.  If you have a single sink, you can have lots of drawer storage on either side. When it comes to heated floors, if you have so-so heating, then heated floors are the best thing – especially in cool climates.
Q: Laundry room in mud room, second floor, or basement?
A: This sparks a lot of debate because some people like them in the mudroom, others in the basement, and some prefer upstairs. The best place is on the bedroom level because that is where most of the laundry comes from. If you don't have a lot of space, have your big laundry room on the lower level and maybe a stacked washer/dryer in what would be a linen closet for times when you want to do a light load.
For more renovation inspiration, Shop The Art of Home by Brian Gluckstein in Canada, at Amazon, Indigo, or Hudson's Bay. In the US, at Amazon, Barnes and Noble, or Rizzoli.
Photography by GlucksteinHome