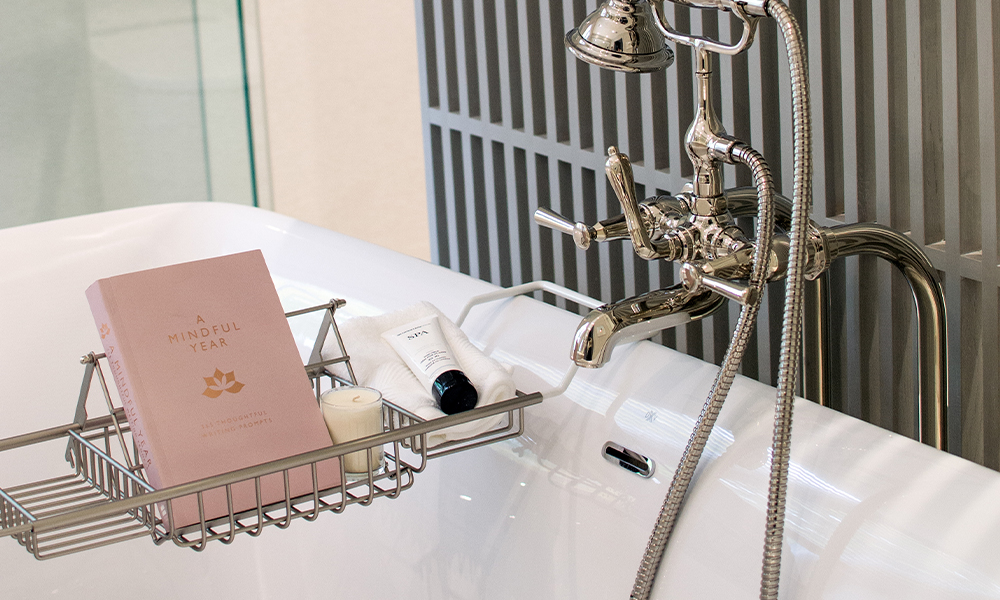 It's no surprise that each year, we want to take advantage of the fresh start to introduce some mindful new routines into our lives. And this year, one routine that's well-deserving of a slot in our busy schedules, is the practice of self-care. This time to pause and reflect is essential to keep us energized and motivated for our days ahead, and since treating ourselves is so enjoyable, it's a routine we don't think we'll have too much difficulty keeping up. When it comes to self-care, there's no better place to set ourselves up for success than in the bathroom.
Here are a few items to introduce self-care into your bathroom routine this year:
1. Spa products
Line your bathroom with luxurious bath products like moisturizing lotions, invigorating body washes, soothing bath salts, and refreshing bath bombs. Seeing these items out on display regularly will remind you to use them and take the time for yourself at least a few times per week. Aim to choose spa products with stylish glass bottles and sleek labels to blend into your space beautifully.
2. Plants
Improve the air quality of your space with some leafy, green plants. Houseplants have been shown to be able to improve concentration, reduce stress levels, and even boost people's moods. Pay attention to the humidity of your bathroom, which may be a better environment for some plants than others.
3. Luxurious towels
There are so many incredible options when it comes to choosing towels for your bathroom, and we suggest investing in some high-quality ones for a more luxurious everyday routine that allows for a little bit of self-care. You can never go wrong with fluffy, Turkish cotton towels, or opt for a lighter weight Hammam towel in the warmer months
4. A tub tray
A tray for your bathtub is such a simple yet effective way to unwind in your space. Line yours up with a candle, your latest reading material, a glass of wine or water, and anything else you might like for a long, soothing soak in the tub a few nights a week
5. A bath accessory set
A bath accessory set keeps your space a little calmer from the chaos with instantly improved organization. Give everyday basics, like soaps and toothbrushes, a home with a stylish set of accessories that ties in the design of your space. We promise this little trick will do wonders for making your bathroom feel more like a relaxing retreat where you'll want to take a bit more time for yourself.
Photography by GlucksteinHome