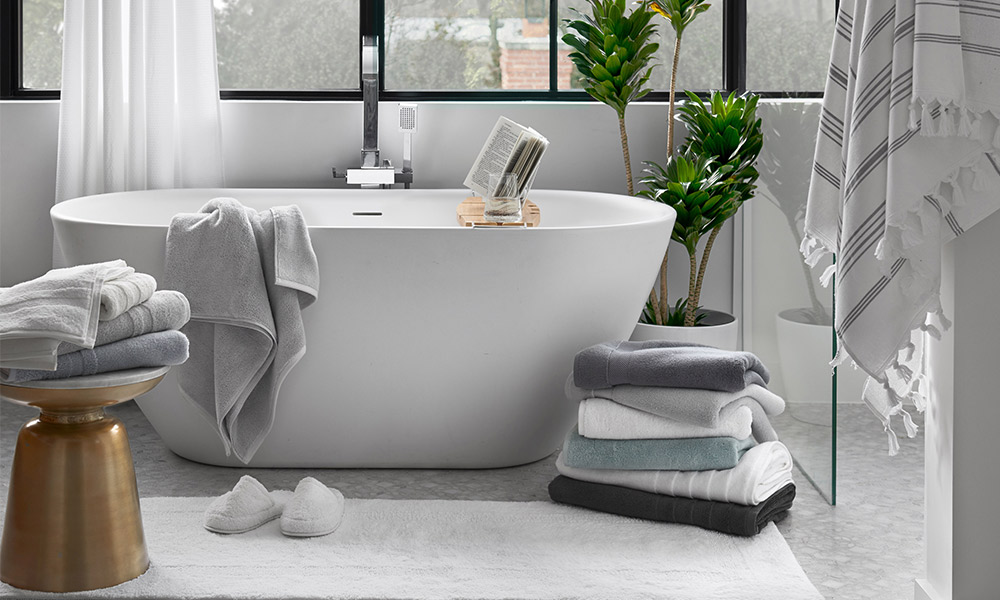 When it comes to shopping for bath towels, we typically make choices based on colour and style. But there are actually a few other factors to think about. Material, size, and care are all important considerations when it comes to finding the perfect towel for you. After all, not every towel is made with the same type of cotton and different sizes perform better in certain scenarios. From how a towel feels to how it was made, understanding the unique properties will help you make the best choice the next time you're ready for a new set. Use this bath towel guide and shop with these tips in mind.
Bath Towel Materials
There are so many bath towel materials available and you'll want to find the features that suit you best. Here's a quick guide to our favourite cotton options.
Cotton Modal. Naturally sourced, modal is made from wood pulp making it soft, quick drying, and more absorbent than cotton. It's blended with cotton for added strength.
Micro-cotton. This trademarked name is high-grade 100% natural cotton with a luxuriously silky-soft feel that's highly absorbent.
Bamboo. Believe it or not, this is actually a blend of bamboo and cotton. It's naturally mildew and odor resistant – perfect for rooms with low or no ventilation – durable, and very absorbent.
Aegean Cotton. Grown in the Aegean region of Turkey, this luxurious cotton gets softer with each wash.
Bath Towel Sizes
Bath towels come in a variety of sizes. Get to know the options so you can opt for the sizes you'll need to stay warm and dry. We break down the most common sizes to help you get it right.
Washcloth. The smallest of the bunch, this towel is perfect soaking in hot water for a soothing face wash or a luxurious compliment to a shave.
Hand Towel. A mid-size

towel

, this one is ideal for bathroom tasks like drying hands or wringing out hair.

It's also perfect to hang in the powder room.

Bath Towel. True to its name, this is ideal for drying off post bath or shower.
Bath Sheet. Generously sized, a bath sheet is perfect for taller people or anyone who wants to feel luxuriously wrapped up.
Tub Mat. No one wants to step out onto a cold bathroom floor after a relaxing soak. This towel-like mat is the perfect solution.
Brian's Tip: When it comes to quantity, use the rule of three. You'll have one set of towels on the towel rack, one freshly laundered set in the linen closet, and one set in the hamper.
Towel Care Tips
After you've found your perfect set, care and maintenance is key to keeping everything fresh. In this bath towel guide, we've rounded up our top tips so you can launder like a pro.
Water Temperature. Warm water is best to keep colours from bleeding and to maintain softness.
Detergent. A mild liquid detergent is key to keeping towels soft and ensuring it rinses out thoroughly.
Bleach. Constant use of bleach can eat away at the fibres, shortening the lifespan of your towel. It's a good idea to wash white towels separately and only use non-chlorine bleach if necessary.
Softener. Because it can build up a waxy coating on fibres, making them less absorbent, it's best to skip fabric softener or use it very sparingly.
Photography courtesy of Hudson's Bay