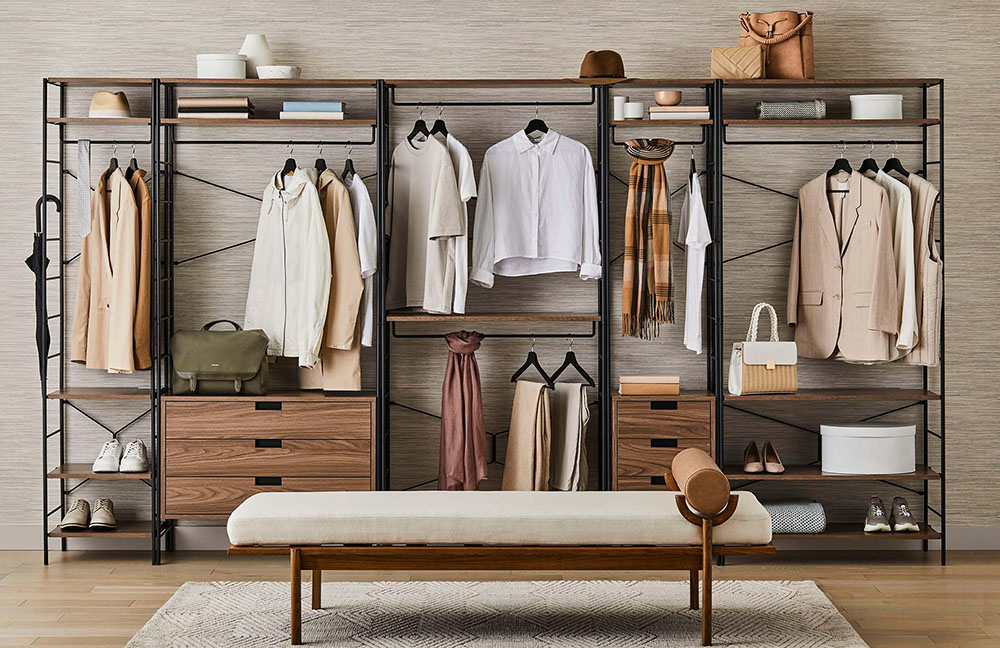 You know the type. They put their luggage away as soon as they return from a trip. They colour code their books and alphebatize their record collection. They love nothing more than a good to-do list. While we aren't suggesting you embrace all of these typical type A quirks – we are who we are for good reason, after all – we do have to admit that, in many ways, the hyper-organized might be on to something. Not only can home organization make you feel more powerful and in charge, your days will function a little more seamlessly too. Are you looking to improve your day-to-day routines? Check out the three sneaky ways you'll benefit from better home organization, plus our best tips to get there.
1. Reduced Stress
Have you ever been pressed for time and unable to find that perfect pair of pants or top you'd been planning to wear? A frustrating search through a disorganized closet is nothing but stressful. The solution? Have a storage systems that work for you, with thoughtful areas to place your favourite pieces. It can make tasks like getting dressed for the day that much more enjoyable. Look for organization options with a mix of drawers, shelves, and hanging rods and choose what best suits your wardrobe. Create a ritual out of organizing your closets, shelves, and storage cupboards every few months. Declutter and make sure things are where they should be. Once you get in the habit of putting things back in their rightful place, you'll start to notice how much calmer you feel during daily routines.
2. More Time For What You Love
If you spend less time worrying about where you've left something, you'll end up with more time for the things you love. Like a game night with friends or picking up your favourite hobby. Great home organization may save just a few minutes a day, but that's hours of added downtime over a year. As an easy start, reconsider where you place things in your kitchen cupboards for easier access. It'll cut down on time spent prepping dinner or kids' lunches for school. Another area where we accumulate dozens of products we don't really use is the bathroom, making drawers and cupboards more cluttered than necessary. Take stock of what's in yours and consider giving away unused items to others who might appreciate them. Make use of drawer organizers and bins. And think about adding storage solutions, like a freestanding or wall-mounted cabinet, to add extra space.
3. Adaptability to unforeseen circumstances
Another benefit of having a more organized home, is that you'll be better able to adapt to unforeseen circumstances. Impromptu dinner party? Good thing you know exactly where those high-count linens and extra pieces of serveware are stored away. Last-minute trip to the beach? You'll thank yourself when you can easily access those beach towels and cooler bags you'd tucked away from last summer. Whatever life throws at you, you'll have peace of mind knowing you're able to quickly adapt and find exactly what you need around your home. And if this sounds like an unrealistic goal considering the current state of your cupboards and closets, remember that it takes many small changes to amount to big change overall. Take your time and consider reorganizing a closet or cabinet each week.
Organizing a home doesn't happen overnight. It's a process, and the last thing you want to do is make that process seem overwhelming and unsustainable. Improving your home organization should be fun and exciting, especially when there are so many sneaky benefits to reap.
Photography by A Plus Creative