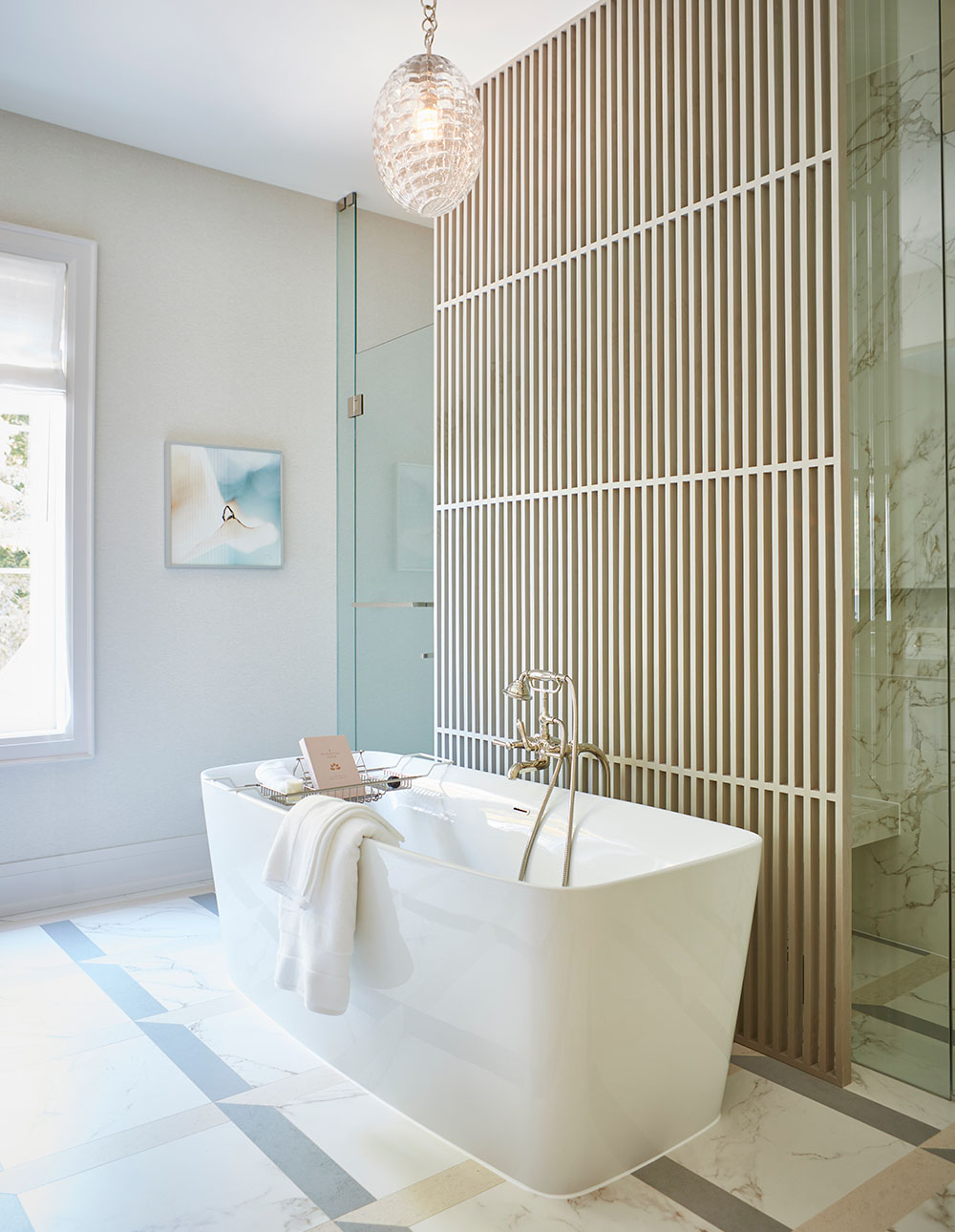 As we spend more time at home these days, creating a place of calming comfort is proving to be essential. With the winter months approaching – bringing us indoors for more of our recreational time – we want a place to escape to for quiet moments. Your bedroom is the perfect place to serve as a winter sanctuary to start and end your day. While a full-scale renovation may not be on your agenda, it's never too early to start planning and collecting ideas for when the time is right. This principal suite designed by Brian Gluckstein is full of great ideas to save for later. And perhaps for some inspiration you can tap into right now.
Read on for four design ideas to steal from this principal suite.
1. Lean into modern glamour
If you're a fan of contemporary or modern design, don't be afraid to dip into a bit of glamour. A few details can instantly elevate your space and add a true sense of luxury. In the dressing area of this principal suite, oak trims the mirrored walls and drawer fronts of the makeup vanity to match the adjacent ensuite. The area, adjacent to the suite entrance, includes art deco style sconces that reflect beautifully off the mirrored surfaces and tie into the subtle deco elements throughout the rest of house.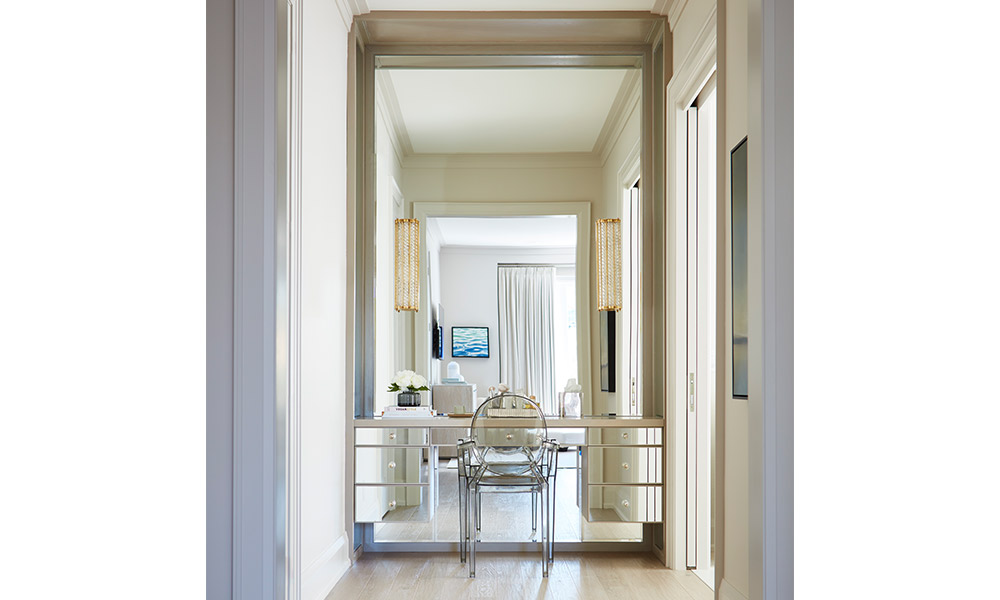 2, Find moments of subtle drama
This principal ensuite is full of ideas through its many understated yet striking design choices. The cerused oak from the vanity is repeated in the stylish Japanese inspired wood screen behind the tub, which lends privacy to the shower and water closet. The oversized vanity features wall-to-wall mirror, reflecting lots of natural light from the adjacent window. A classically inspired pattern on the floor gets an update in a contemporary palette to complete the space.
3. Strike a balance
The focal point of the principal bedroom is this four-poster bed in a brushed brass finish, which adds a lot of sparkle, especially when paired with the casually relaxed look of the wire brushed oak finish dresser and nightstands. The floral bedding adds a softness to the space, making it an inviting place to unwind.
Brian's Tip: An oversize floral brings a softer, more organic point of view to the bedroom.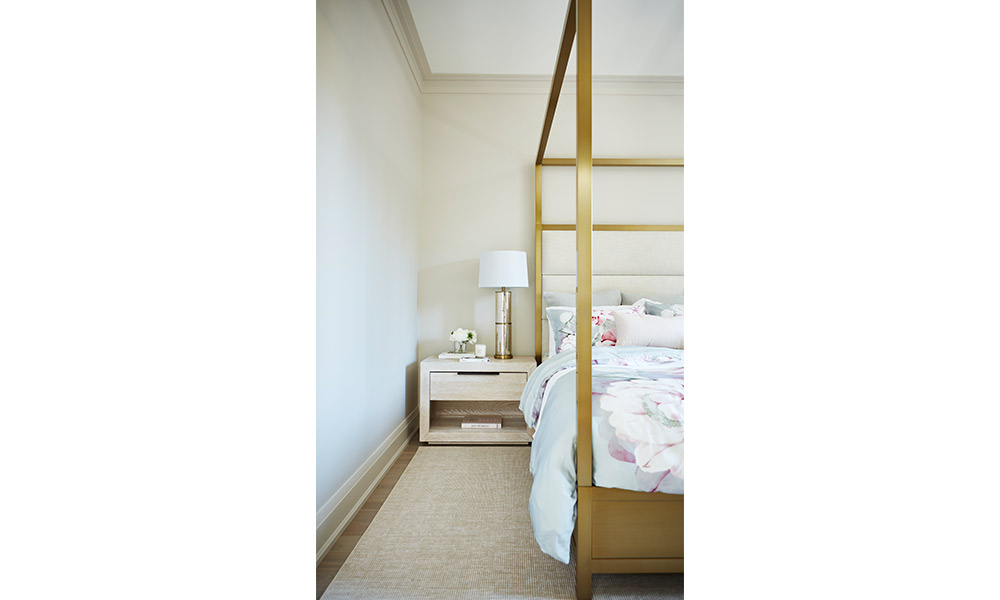 4. Create a place to relax and unwind
A perfectly cozy sitting area is another design idea to steal from this principal suite. A comfortable chair and ottoman by the window is an ideal place to wind down with a book at the end of the day – and take advantage of garden or city views. Escape the chill of winter and enjoy the sunshine from the cozy haven of your bedroom suite.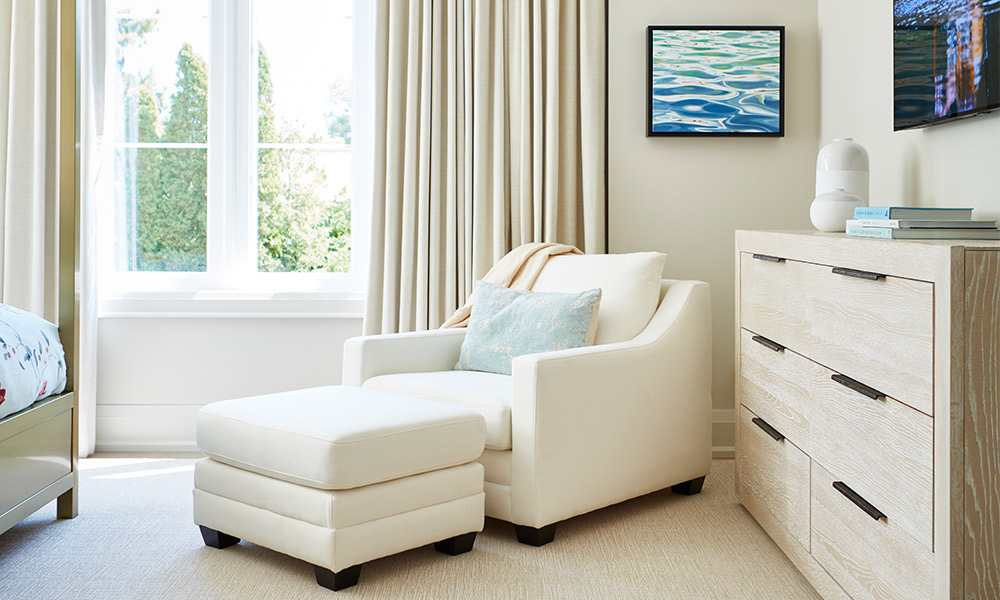 Photography courtesy of Nourish Marketing (lead) Angus Fergusson (2-6)