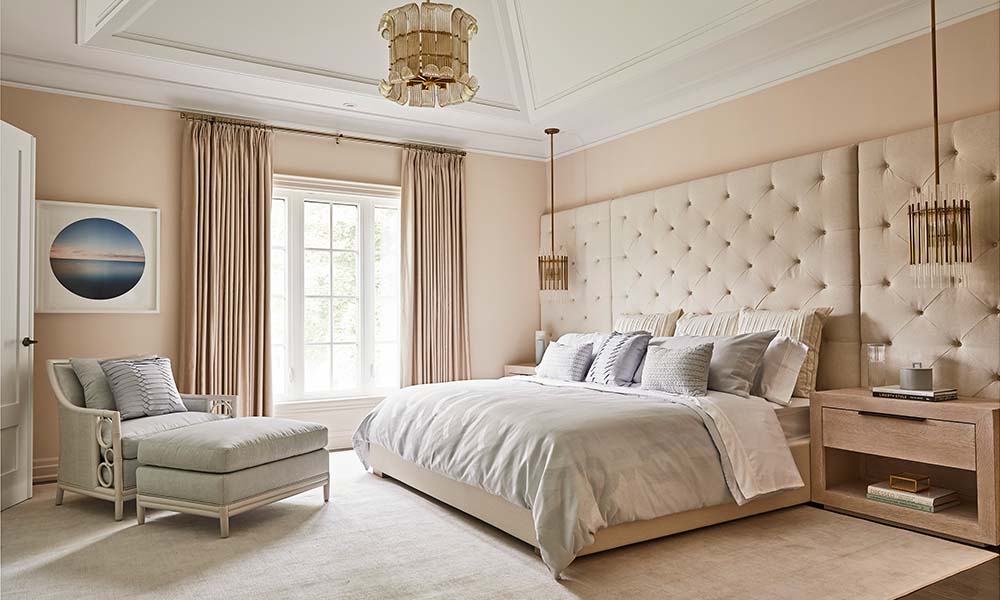 Bedrooms are our sanctuaries away from the chaos of the outside world. They're one of the rooms we spend the most time in, and they're where we begin and end each day, so it makes sense we want them to be peaceful retreats. But if you're someone who likes a little more glamour, you can still find the balance between drama and serenity for a relaxing space you'll love coming home to at the end of the day. Here's how Brian achieved his soothing balance of quiet drama in this glamorous principal bedroom.
A Palette of Soft Neutrals
Light pinks and soft blues give the room an elegant charm. Blue is an incredibly calming colour, while light pink adds subtle warmth. Brian finds these colours so versatile, he even refers to them as "the new neutrals".
Lighting with Drama
In this glamorous bedroom, vintage brass lighting fixtures add visual depth and contrast to a very serene, neutral space. The ceiling fixture is a showstopper, adding instant drama to the serene room. And choosing pendants over the nightstands add a unique look with tons of sophistication.
Oversized Headboards
Nothing says glamour like an oversized, tufted headboard. Not only does it look cozy and inviting, it's a great way to add texture to the wall. Larger headboards have a built in bonus when it comes to functionality as well. A large upholstered headboard helps to absorb sound, which makes it perfect for sleeping.
Keep it Light
Light, cerused oaks and furniture in shades of white make the space look bright and ethereal, and pair well with pastels. In this bedroom, Brian painted out a dark vintage chair in white for an glamorous update that feels fresh.
Photography by A Plus Creative