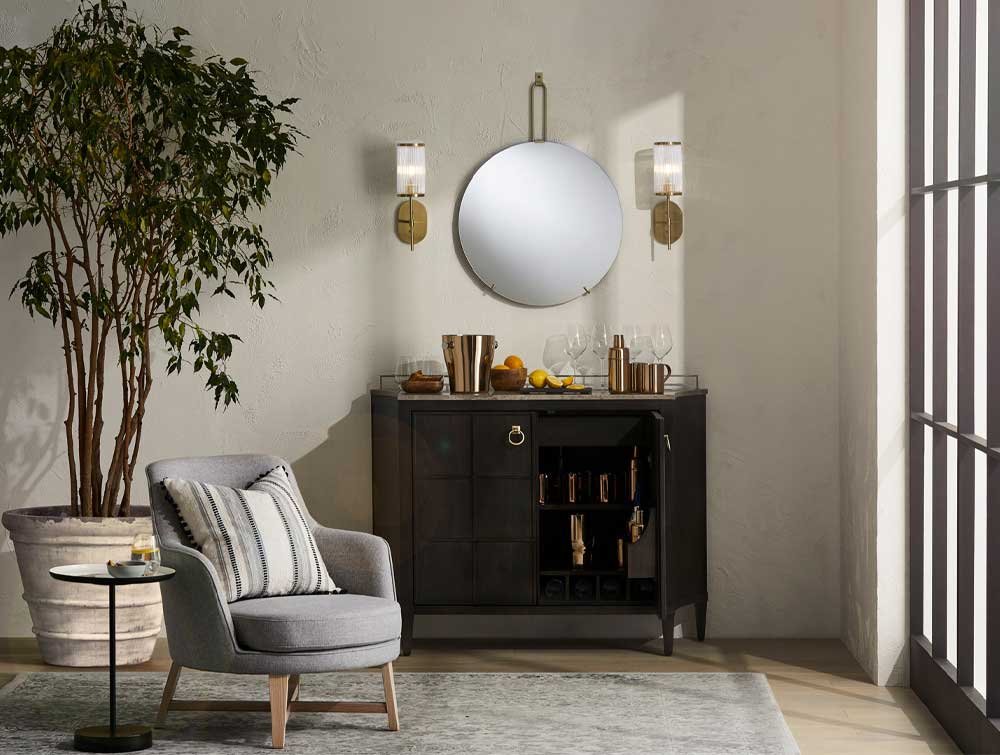 This past while has shown us that when it comes to entertaining and celebrating, creativity and flexibility are key. Facetime catch-ups, online dinner parties, and zoom cocktail hours have all become the norm. Whether you're clinking glasses in person or virtually, getting your home bar set up now will surely make your next soiree feel special and more luxurious. Here are three easy steps to set up a home bar that your inner mixologist will love.
Step 1: The bar
To start your home bar, it is important to know where you'll physically house all your alcohol, accessories, and glasses. Adding a cabinet to the living room will not only contain everything in one place, but the closed storage will also help protect your bottles from unwanted sunlight exposure. Look for a cabinet with ample space for your collection and a stone top to make for easy cleaning in the event of a spill.
Step 2: The accessories
Recreating your favourite bar drink at home goes beyond the ingredients. Bartenders use a variety of tools to layer all the flavours into a drink, so having your own on hand is important. If you're starting from scratch, look for an all-in-one tool kit that will have the essentials like a muddler, strainer, and garnish peel. Be sure your bar also has a cocktail shaker, ice bucket, and wine cooler on hand so you're ready for any request.
Step 3: The Glassware
A great cocktail or mocktail is more than just the beverage itself. Serving your drinks in the right glassware plays a big part in enjoying your drink. Different drinkware allows for the right balance of ice, alcohol, and additional ingredients to ensure your cocktail tastes its best. So, stock up on highball and double old fashioned glasses. Don't forget about wine! Specific profiles for white and red allow for the characteristics of each wine to be appreciated.
Lead photograph by A Plus Creative