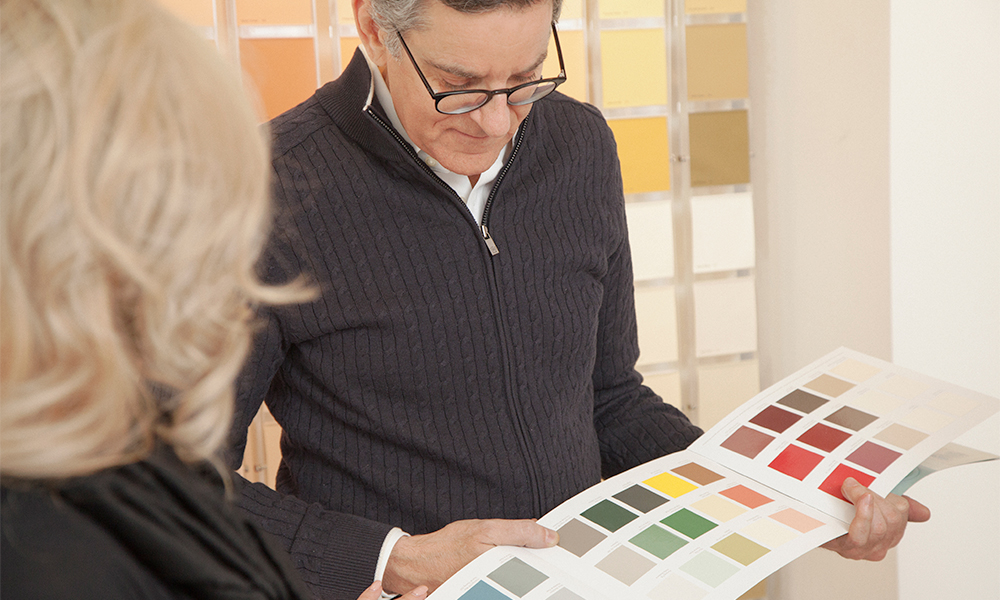 Brian tackles design dilemmas from you! Be sure to follow @glucksteinhome on Instagram to submit your questions for our next Ask Me Anything with Brian.
Q: What do you recommend for flooring in the basement?
A: What I really like is vinyl wood flooring – it looks so real and it's soft. Even ceramic or porcelain wood-look flooring, so if there is any moisture down there, it's no problem. You can put area rugs on them and you can even put heating underneath the floors.
Q: If you can't do a full bathroom renovation, what do you suggest to update the look?
A: Painting is the best thing to do, or wallpapering in the space. If you can, maybe change the vanity or even paint the existing one and change the hardware. A great shower curtain, beautiful towels, maybe change up a decorative mirror and some lighting and that will make a big change to your bathroom.
Q: What is the proper length of a drape? Just grazing the floor? Just above?
A: People are always asking me how long drapes should be. Should they be above the floor, should they be sagging on the floor? I like them to be a quarter inch longer than the floor, so they just graze the floor. That gives a nice weight to it and a relaxed look.
Q: What is the suggested height of a bedside table in relation to the bed? Side table to a sofa?
A: When it comes to bedside tables, I like it a few inches higher than the mattress or level with the mattress. When it comes to the sofa, I like an end table to be at arm height, or a couple of inches lower, or an inch or two higher, but not more than that.
Q: How to dress window on a window seat if I also want drapes on either side?
A: I like to do either soft romans at the top or wood venetians. I would do drapery to the floor on the outside of the window area, so it really frames the window seat.
Q: What do you think about painting kitchen cabinets with chalk paint?
A: Now I'm sure a lot of you are thinking about painting your kitchen cabinets, which is a great idea and an easy way to change up your space. Even just painting the island out. Chalk paint has a matte finish. It's very much like paint finishes you see on furniture from the Netherlands or Sweden. I love chalk paint. It is a great look if you want that really cool traditional look, and maybe even rub the edges to give it an antique feel.
Q: What are your thoughts on sectional couches?
A: Well I love sectionals, especially L-shaped. I like to have an L-shaped sectional in TV rooms or relaxed areas, with a couple of chairs in a different material on the other side. Especially ones that are chaise lounges, so you can lie down and watch TV or work on your computer or read a great book.
Q: Favourite colours for 2020? What's in, what's out?
A: Grey has been so popular for so long, and it is still popular, but we are seeing a lot of beautiful vanillas and light gold colours. Great greens and blues and we're seeing a lot of this deep copper coming in for fall of this year. Colour is the easiest way to change up your home.
Q: Can I change kitchen hardware without a template?
A: Absolutely you need a template because you want all the handles at the same height. You could make it out of anything – cardboard, paper – as long as you keep that consistent height.
Q: What are you must haves for a walk-in closet?
A: When it comes to a walk-in closet, I love a lot of flexibility. First of all you have to have drawers and shelves, which means you won't have to have so much furniture in the bed area and a mirror on the back of the door. Keep it flexible with the hanging elements. You can do double hanging, short hanging, and adjustable shelves at the very top where you can put carry-on luggage or things you don't use very often.
Photography Landon Speers