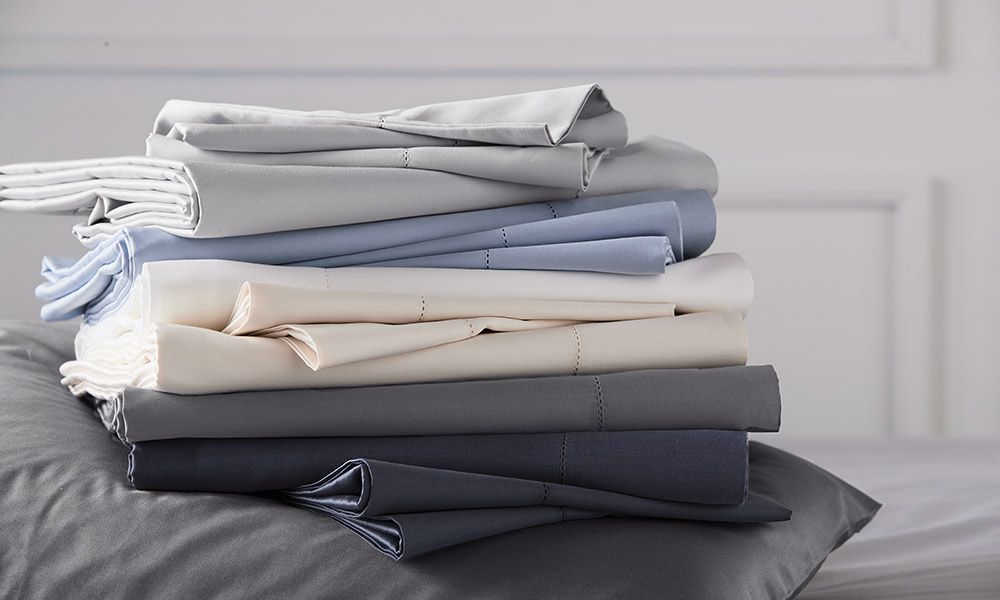 Wrinkle resistant sheet collection
When it comes to household items, we can all be guilty of hanging onto things a little too long. We want to make best use of the items we have, and sometimes it can be hard to tell when things need refreshing. Tattered and worn towels are a dead giveaway it's time for a new set, but what about replacing those items that aren't always so obvious? To help your home get clean and fresh for the year ahead, we're sharing suggested timelines for when those common items in your home likely deserve a refresh.
And remember, the better you care for any of the items below – or the more sets you have in rotation – the longer they'll last you. But even so, it's important to have an idea in mind for when it's time to invest in some freshness for a healthy, comfortable home.
In the Bedroom:
Sheets:
We spend around a third of our lives sleeping on them, which means that even the highest quality sheets will be due for a change within a few years. A good guideline is to replace sheets every two to three years if you have around three sets in rotation. Best practice tip: Air dry or tumble dry until just slightly damp to avoid overheating and breaking down the fibres.
Sleeping Pillows:
For a good night's sleep – and a hygienic one – aim to update your pillows every year if they're synthetic, and every two years if they're made from natural materials or memory foam. Shake and fluff your pillows as often as you can to help maintain the filling.
Duvets:
Synthetic or down, duvets have a longer lifespan and usually last for around five years. Avoid vacuuming the duvet as this can cause damage to the filling. To make the filling fluffy and airy again, tumble-dry your duvet for 10-20 minutes with a few dryer balls. This can also be done with sleeping pillows.
Shop GlucksteinHome bedding at Hudson's Bay.
In the Bathroom:
Towels:
These are likely used on a daily basis in your home, meaning they see a ton of wear. Nothing beats a fluffy, fresh towel, which is why we suggest updating yours every two to three years for them to be in great shape. If you have additional sets in rotation – or fewer family members using them – your towels typically will live a little longer.
Shower Liners:
Shower liners are known to collect mildew, and even if you wash yours as frequently as every other week, they're bound to be due for an upgrade within a year to a year and a half. In smaller bathrooms steam can get trapped and liners can be especially vulnerable to mildew, so keep on top of cleaning yours regularly – even if once a month is all you can manage.
Bathmats:
A fluffy, soft bathmat adds luxury to the bathroom. Keep yours fresh by replacing it every two years or so, and a bit more frequently if it's in a particularly high-traffic bathroom.
Shop GlucksteinHome bath at Hudson's Bay.
In the Kitchen:
Kitchen sponges:
When something is designed to clean, you definitely aren't going to want to hang onto one of these for too long. Aim to replace sponges every two to four weeks to get those dishes squeaky clean.
Microwaves:
Always be sure to check with the manufacturer, but most microwaves are built to last for around ten years. If yours is starting to make strange noises, smells, or isn't as effective as it used to be, it might be time to consider an upgrade.
Water Filters:
Water filters should be changed an average of every two months for healthy drinking water, though many of them are conveniently designed to let you know exactly when it's time for a change.
Photography courtesy of Hudson's Bay